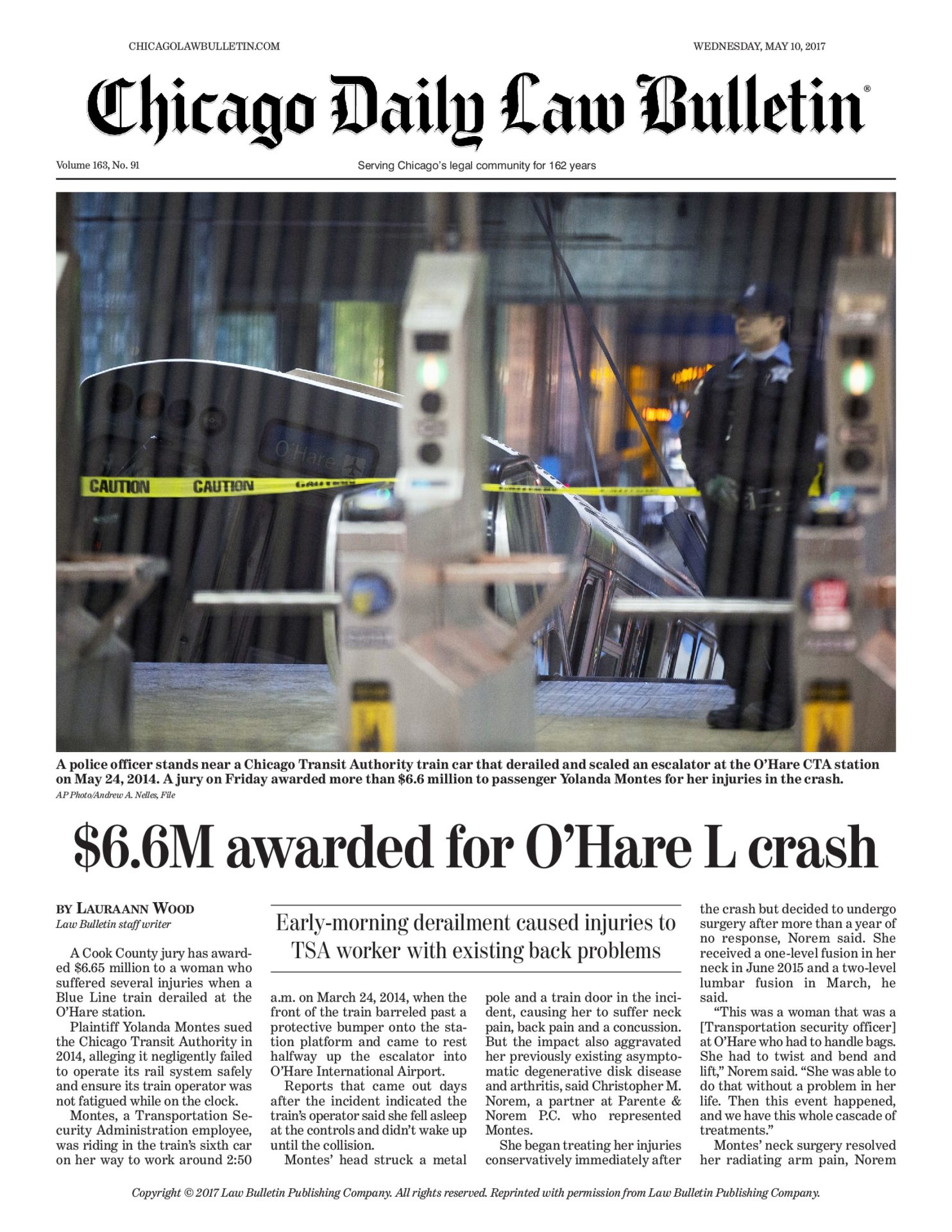 by Sal Terracciano
CHICAGOLAWBULLETIN.COM // In the News
Volume 163, No. 31 // WEDNESDAY, MAY 10, 2017
BY LAURAANN WOOD Law Bulletin staff writer
A Cook County jury has awarded $6.65 million to a woman who suffered several injuries when a Blue Line train derailed at the O'Hare station.
Plaintiff Yolanda Montes sued the Chicago Transit Authority in 2014, alleging it negligently failed to operate its rail system safely and ensure its train operator was not fatigued while on the clock.
Montes, a Transportation Security Administration employee, was riding in the train's sixth car on her way to work around 2:50 a.m. on March 24, 2014, when the front of the train barreled past a protective bumper onto the station platform and came to rest halfway up the escalator into O'Hare International Airport.
Reports that came out days after the incident indicated the train's operator said she fell asleep at the controls and didn't wake up until the collision.
Montes' head struck a metal pole and a train door in the incident, causing her to suffer neck pain, back pain and a concussion. But the impact also aggravated her previously existing asymptomatic degenerative disk disease and arthritis, said Christopher M. Norem, a partner at Parente & Norem P.C. who represented Montes.
She began treating her injuries conservatively immediately after Early-morning derailment caused injuries to TSA worker with existing back problems
the crash but decided to undergo surgery after more than a year of no response, Norem said. She received a one-level fusion in her neck in June 2015 and a two-level lumbar fusion in March, he said.
"This was a woman that was a [Transportation security officer] at O'Hare who had to handle bags. She had to twist and bend and lift," Norem said. "She was able to do that without a problem in her life. Then this event happened, and we have this whole cascade of treatments."
Montes' neck surgery resolved her radiating arm pain, Norem said, but it did not treat the local neck pain. Now 37, Montes works as an administrative assistant with the TSA in a position that meets all of her permanent restrictions related to lifting, bending and standing, Norem said.
The CTA admitted negligence in the suit and acknowledged Montes' neck pain, back pain and concussion. However, it denied that her aggravated degenerative disk and arthritis symptoms resulted from the train crash.
"They fought us tooth and nail on that," Norem said, noting the CTA retained a medical expert to support its contention during trial.
To challenge that argument, Norem presented jurors with two options. He said the jury could find it more likely than not that the collision triggered his client's aggravating symptoms, or it could accept the CTA's contention that the crash didn't cause the symptoms. Norem called that contention "the world's biggest coincidence."
The CTA was represented by its managing attorney Jade G. Simmons-Ford and senior attorney Calvin A. Townsend II. Townsend deferred comment to its media relations department, which declined to comment.
Norem said the parties did not engage in settlement discussions, but the CTA offered $600,000 to settle about two weeks before and then $2 million during their weeklong trial before Circuit Judge Arnette R. Hubbard.
On Friday, The jury awarded Montes $440,000 for past loss of a normal life, $840,000 for future loss of a normal life, $50,000 for disfigurement, $840,000 for past pain and suffering, $2.75 million for future pain and suffering, $617,000 for past medical expenses, $617,000 for future medical expenses and $500,000 for lost earnings.
Norem said his client is pleased with the jury's verdict.
"She's made the best out of a bad situation, but unfortunately her dreams of becoming a full time law enforcement officer are never going to come true," he said. "But she's satisfied with her outcome. She put her trust in the jury, and it made a fair and just decision for her."
Parente & Norem associate Amanda M. Martin also represented Montes.
The case is Yolanda Montes v. Chicago Transit Authority, 14 L 4695.
Copyright © 2017 Law Bulletin Publishing Company. All rights reserved. Reprinted with permission from Law Bulletin Publishing Company.