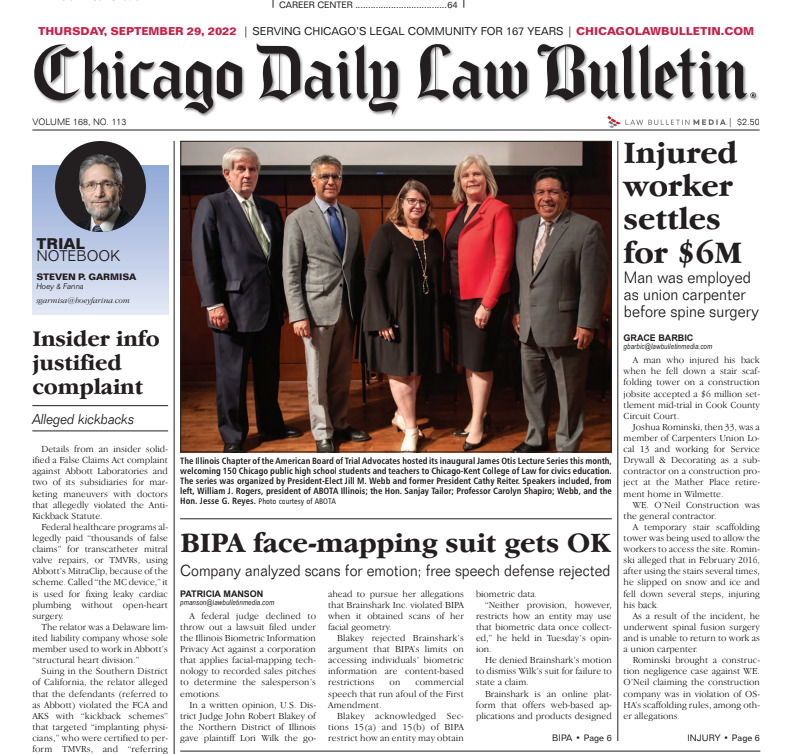 by Jennifer Gulbrandsen
$6,000,000 settlement for carpenter after offer is increased by $2,000,000
following opening statements
A Cook County construction negligence case has settled for $6,000,000 mid-trial.
Joshua Rominski was a Local 13 Union Carpenter when he was injured on the job on February 9, 2016. Rominski was working for Service Drywall and Decorating doing rough carpentry during construction of an addition to the Mather Place retirement home in Wilmette, Illinois. W.E. O'Neill was the general contractor for the project.
As part of the project, a temporary scaffold staircase was constructed to allow each worker to access the site. Rominski alleged that on the morning of February 9, 2016, after using the stairs several times, he slipped on snow and ice and fell down several steps, injuring his back. Weather reports showed there was minimal snow that morning – .04 of an inch – and Rominski's foreman and coworkers could not recall there being snow or ice on the stairs. Accident reports filled out later that day indicated there was ice and snow.
Plaintiff claimed that any ice or snow on the stairs violated OSHA's scaffolding rules. They further claimed that W.E. O'Neill was short staffed on the day of the accident – its site safety supervisor has left W.E. O'Neill and had not been replaced, the labor foreman was sent to another jobsite that day, and the project manager did not come to work until later in the day. One W.E. O'Neil laborer testified that he would have gotten to work early and cleared any snow and ice from the stairs before any subcontractors started working.
As a result of his fall, Rominski had an L5-S1 fusion and was unable to return to work as a union carpenter. However, W.E. O'Neil claimed Rominski was able to work at the medium demand level, which was all that Service Drywall's job description required. Rominski's father and grandfather were union carpenters, and his inability to return to that job had a profound impact on him.
The case was twice mediated before Judge William Gomolinski of ADR Systems. Prior to opening statements, W.E. O'Neill offered $4,000,000. After opening statements, W.E. O'Neil offered $6,000,000, which was accepted by Rominski. Additionally, Service Drywall agreed to reduce its workers' compensation lien by half. Judge Israel Desierto presided over the trial.
Rominski was represented by Matthew Coleman, Dennis Lynch and Taylor Matichak of Parente & Norem.
Attorney Matt Coleman also represented Rominski in his workers' compensation case. In that case, the Workers' Compensation Commission Arbitrator denied the claim – finding that Rominski only suffered a back strain and could return to work. The Workers' Compensation Commission reversed the arbitrator and awarded benefits. This decision was recently affirmed by the Appellate Court. Service Drywall and Decorating v. Illinois Workers' Compensation Commission, 2022 IL App (1st) 210965WC-U (4/22/22). As a result of the Arbitrator's ruling denying the claim, Rominski went without pay or medical benefits for over 5 years.
W.E. O'Neil was represented by Katherine Crouch and Howard Trafman of Lindsey, Picket and Postel.
Service Drywall and Decorating was represented by Brad Smith of Keefe, Campbell, Biery.