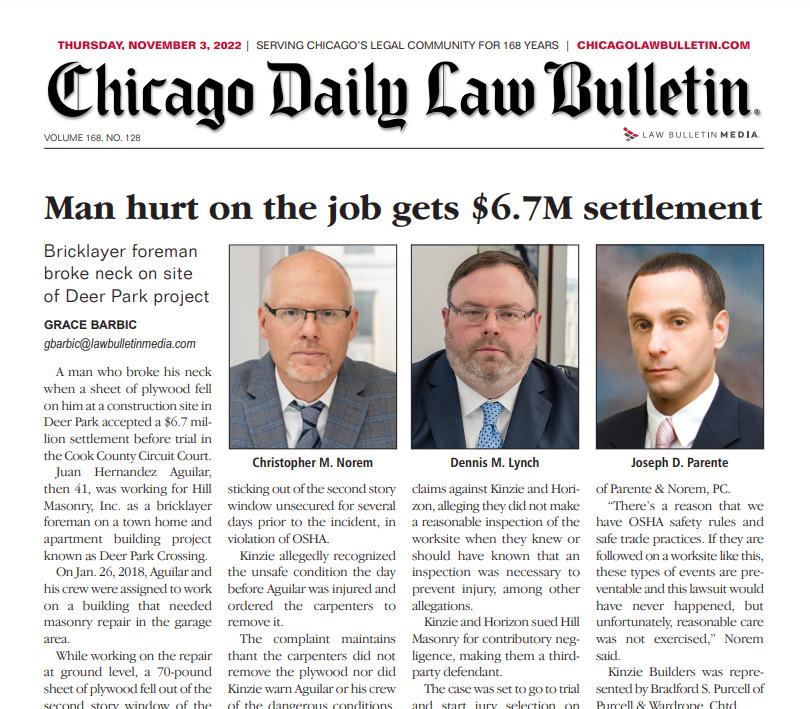 by Jennifer Gulbrandsen
$6.785M settlement (plus the complete waiver of a $269K worker's comp. lien) in the matter of Juan Hernandez Aguilar v. Kinzie Builders, LLC, et al. (2018 L 010486) pending in Cook County, IL before the Honorable Judge Jerry A. Esrig.
This matter settled late Friday afternoon (10/28) following motions in limine, which occurred earlier in the week. Jury selection was scheduled to begin Monday, 10/31/22.
Juan Hernandez Aguilar is a 41 year-old bricklayer foreman working for Third-Party Defendant, Hill Masonry, Inc. in Lake County, Illinois on a large town home and apartment project known as "Deer Park Crossing." The General Contractor on the project was Kinzie Builders, LLC and the Carpentry Subcontractor on the project was Horizon Carpentry, Inc.
On January 26, 2018, Juan and his crew were assigned to work on a building that was in need of a masonry repair in the garage area on the ground floor. While he and his crew were working on the repair, a 70lb sheet of plywood fell out of a second story window of the building striking him on the top of his head and fracturing his C6 vertebrae requiring a C5-C7 double level fusion surgery with plates. After 10 months of rehabilitation Juan returned to his position as a foreman bricklayer for Hill Masonry in a "Medium" job capacity. His employer accommodates his permanent restrictions.
The plywood was brought onto the job site by the Carpentry Subcontractor, Horizon Carpentry, and left sticking out of the second story window for several days prior to the event. The General Contractor, Kinzie recognized the unsafe condition presented by the plywood the day before the event and ordered the carpenters to remove it but they did not do so prior to high winds displacing one of the sheets causing it to fall onto Juan.
On October 1, 2021, Judge Esrig granted plaintiff's motion for leave to plead punitive damages against Defendant Horizon Carpentry based on their reckless disregard for safety on the job site. That order is attached.
Plaintiff did not seek medical bills or wage loss as part of his damages in this case.
The $6.785M settlement was apportioned $4,642,500.00 on behalf of Horizon Carpentry and $2,142,500.00 on behalf of Kinzie Builders.
The plaintiff was represented by:
Christopher M. Norem
Dennis Lynch
Joseph D. Parente, all of The Law Offices of Parente & Norem, PC