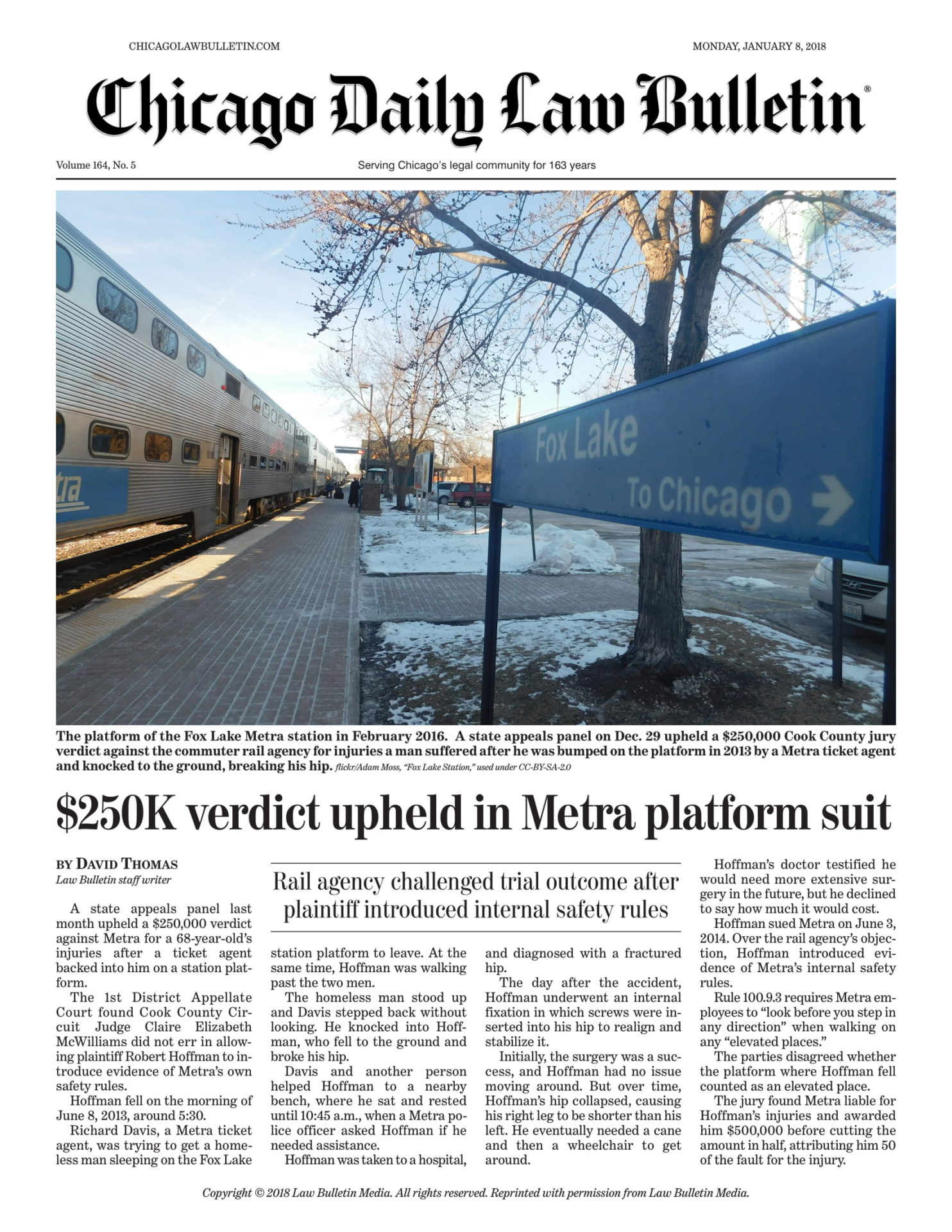 by Sal Terracciano
BY DAVID THOMAS
Law Bulletin staff writer
A state appeals panel last month upheld a $250,000 verdict against Metra for a 68-year-old's injuries after a ticket agent backed into him on a station platform.
The 1st District Appellate Court found Cook County Circuit Judge Claire Elizabeth McWilliams did not err in allowing plaintiff Robert Hoffman to introduce evidence of Metra's own safety rules.
Hoffman fell on the morning of June 8, 2013, around 5:30.
Richard Davis, a Metra ticket agent, was trying to get a homeless man sleeping on the Fox Lake station platform to leave. At the same time, Hoffman was walking past the two men.
The homeless man stood up and Davis stepped back without looking. He knocked into Hoffman, who fell to the ground and broke his hip.
Davis and another person helped Hoffman to a nearby bench, where he sat and rested until 10:45 a.m., when a Metra police officer asked Hoffman if he needed assistance.
Hoffman was taken to a hospital and diagnosed with a fractured hip.
The day after the accident, Hoffman underwent an internal fixation in which screws were inserted into his hip to realign and stabilize it.
Initially, the surgery was a success, and Hoffman had no issue moving around. But over time, Hoffman's hip collapsed, causing his right leg to be shorter than his left. He eventually needed a cane and then a wheelchair to get around.
Hoffman's doctor testified he would need more extensive surgery in the future, but he declined to say how much it would cost.
Hoffman sued Metra on June 3, 2014. Over the rail agency's objection, Hoffman introduced evidence of Metra's internal safety rules.
Rule 100.9.3 requires Metra employees to "look before you step in any direction" when walking on any "elevated places."
The parties disagreed whether the platform where Hoffman fell counted as an elevated place.
The jury found Metra liable for Hoffman's injuries and awarded him $500,000 before cutting the amount in half, attributing him 50 of the fault for the injury.
"[T]he jury was free to accept Davis' testimony that the particular rule in question did not apply to him and that he also had 'a valid reason' for moving quickly in this particular situation, namely, because a homeless man was suddenly standing up in front of him," Justice Robert E. Gordon wrote. "By the same token, the jurors were also free to reject it and consider the rule, 'along with other evidence,' in reaching their determination that defendant was 50 [percent] responsible for the incident."
According to Matthew J. Coleman, an associate at the Law Offices of Parente & Norem P.C. and one of Hoffman's attorneys, the question of the platform's elevation was not a major factor.
Matthew J. Coleman
"It really didn't come into play that much. It's really whether I could confront Rich Davis with the safety rules," Coleman said. Davis acknowledged the rule's existence, but argued it didn't apply to him at the time.
Within the original $500,000 verdict before reduction, the jury awarded $70,000 for future medical expenses. Metra singled out that valuation on appeal.
But the panel rejected Metra's argument that the $35,000 amount after reduction should be further reduced, finding no abuse of discretion by the trial court.
On appeal, Metra argued McWilliams erred in introducing the railroad's internal safety rules, requiring a new trial. The rail agency argued the violation of an internal rule does not constitute negligence, although the 1st District panel noted Metra misquoted the decision it cited.
Under Morton v. City of Chicago, 286 Ill. App. 3d 444 (1997), the 1st District panel found that while an internal rule violation does not automatically translate to willful and wanton conduct, a jury can consider it as evidence. That is what the jury did in Hoffman's case, Gordon wrote.
The panel found that even if McWilliams had erred in introducing the evidence, it would not have affected the jury's decision.
Metra was represented by Associate General Counsel Kenneth Jones and attorney Jamie Victoria Harrmann.
Metra spokesman Michael Gillis said, "We'll abide by the appellate decision."
Hoffman was also represented by Jordan W. LaClair of Parente & Norem.
Justices Margaret Stanton McBride and David W. Ellis concurred with the opinion.
The case is Robert Hoffman v. Northeast Illinois Regional Commuter Railroad Corp., 2017 IL App (1st) 170537.
dthomas@lawbulletinmedia.com
Copyright © 2018 Law Bulletin Media. All rights reserved. Reprinted with permission from Law Bulletin Media.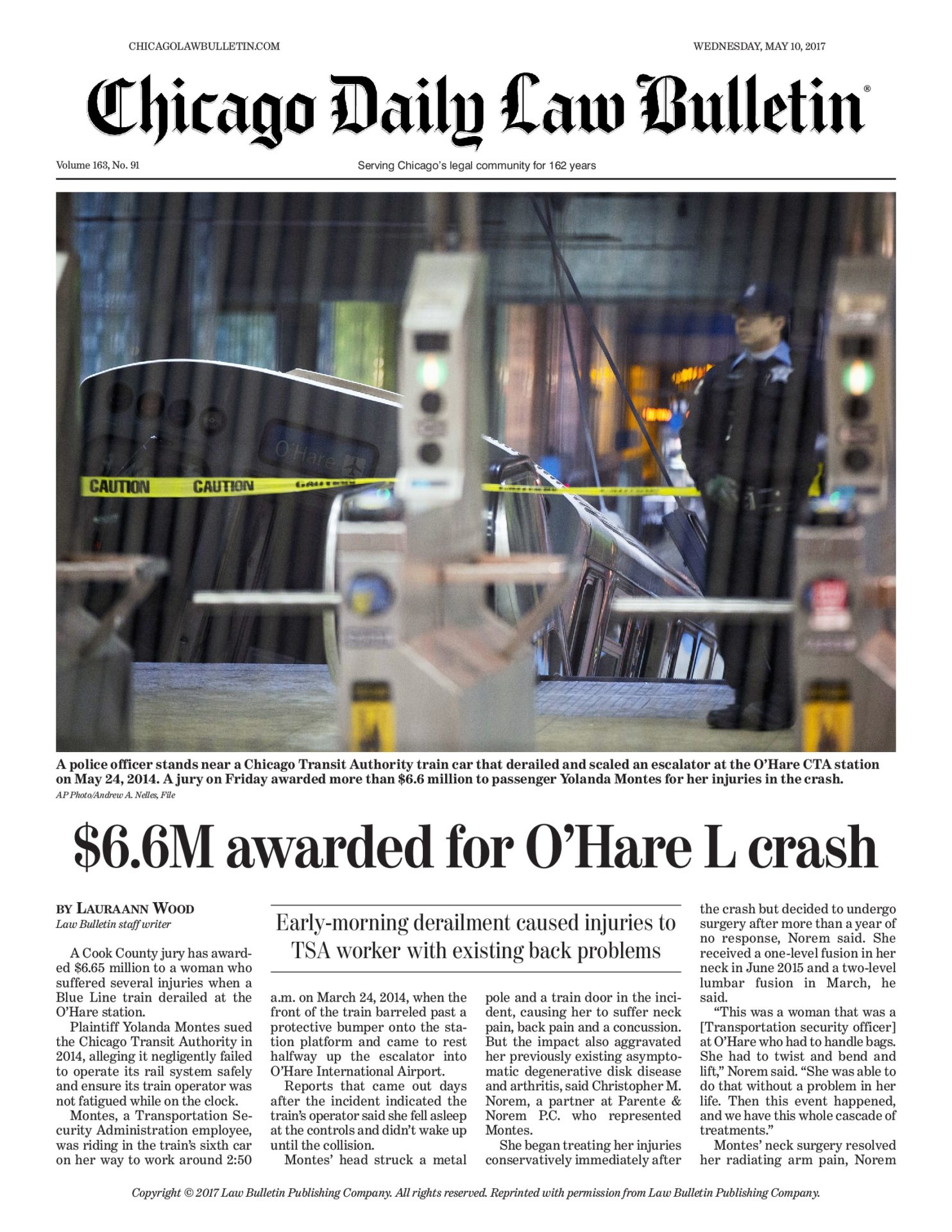 by Sal Terracciano
CHICAGOLAWBULLETIN.COM // In the News
Volume 163, No. 31 // WEDNESDAY, MAY 10, 2017
BY LAURAANN WOOD Law Bulletin staff writer
A Cook County jury has awarded $6.65 million to a woman who suffered several injuries when a Blue Line train derailed at the O'Hare station.
Plaintiff Yolanda Montes sued the Chicago Transit Authority in 2014, alleging it negligently failed to operate its rail system safely and ensure its train operator was not fatigued while on the clock.
Montes, a Transportation Security Administration employee, was riding in the train's sixth car on her way to work around 2:50 a.m. on March 24, 2014, when the front of the train barreled past a protective bumper onto the station platform and came to rest halfway up the escalator into O'Hare International Airport.
Reports that came out days after the incident indicated the train's operator said she fell asleep at the controls and didn't wake up until the collision.
Montes' head struck a metal pole and a train door in the incident, causing her to suffer neck pain, back pain and a concussion. But the impact also aggravated her previously existing asymptomatic degenerative disk disease and arthritis, said Christopher M. Norem, a partner at Parente & Norem P.C. who represented Montes.
She began treating her injuries conservatively immediately after Early-morning derailment caused injuries to TSA worker with existing back problems
the crash but decided to undergo surgery after more than a year of no response, Norem said. She received a one-level fusion in her neck in June 2015 and a two-level lumbar fusion in March, he said.
"This was a woman that was a [Transportation security officer] at O'Hare who had to handle bags. She had to twist and bend and lift," Norem said. "She was able to do that without a problem in her life. Then this event happened, and we have this whole cascade of treatments."
Montes' neck surgery resolved her radiating arm pain, Norem said, but it did not treat the local neck pain. Now 37, Montes works as an administrative assistant with the TSA in a position that meets all of her permanent restrictions related to lifting, bending and standing, Norem said.
The CTA admitted negligence in the suit and acknowledged Montes' neck pain, back pain and concussion. However, it denied that her aggravated degenerative disk and arthritis symptoms resulted from the train crash.
"They fought us tooth and nail on that," Norem said, noting the CTA retained a medical expert to support its contention during trial.
To challenge that argument, Norem presented jurors with two options. He said the jury could find it more likely than not that the collision triggered his client's aggravating symptoms, or it could accept the CTA's contention that the crash didn't cause the symptoms. Norem called that contention "the world's biggest coincidence."
The CTA was represented by its managing attorney Jade G. Simmons-Ford and senior attorney Calvin A. Townsend II. Townsend deferred comment to its media relations department, which declined to comment.
Norem said the parties did not engage in settlement discussions, but the CTA offered $600,000 to settle about two weeks before and then $2 million during their weeklong trial before Circuit Judge Arnette R. Hubbard.
On Friday, The jury awarded Montes $440,000 for past loss of a normal life, $840,000 for future loss of a normal life, $50,000 for disfigurement, $840,000 for past pain and suffering, $2.75 million for future pain and suffering, $617,000 for past medical expenses, $617,000 for future medical expenses and $500,000 for lost earnings.
Norem said his client is pleased with the jury's verdict.
"She's made the best out of a bad situation, but unfortunately her dreams of becoming a full time law enforcement officer are never going to come true," he said. "But she's satisfied with her outcome. She put her trust in the jury, and it made a fair and just decision for her."
Parente & Norem associate Amanda M. Martin also represented Montes.
The case is Yolanda Montes v. Chicago Transit Authority, 14 L 4695.
Copyright © 2017 Law Bulletin Publishing Company. All rights reserved. Reprinted with permission from Law Bulletin Publishing Company.