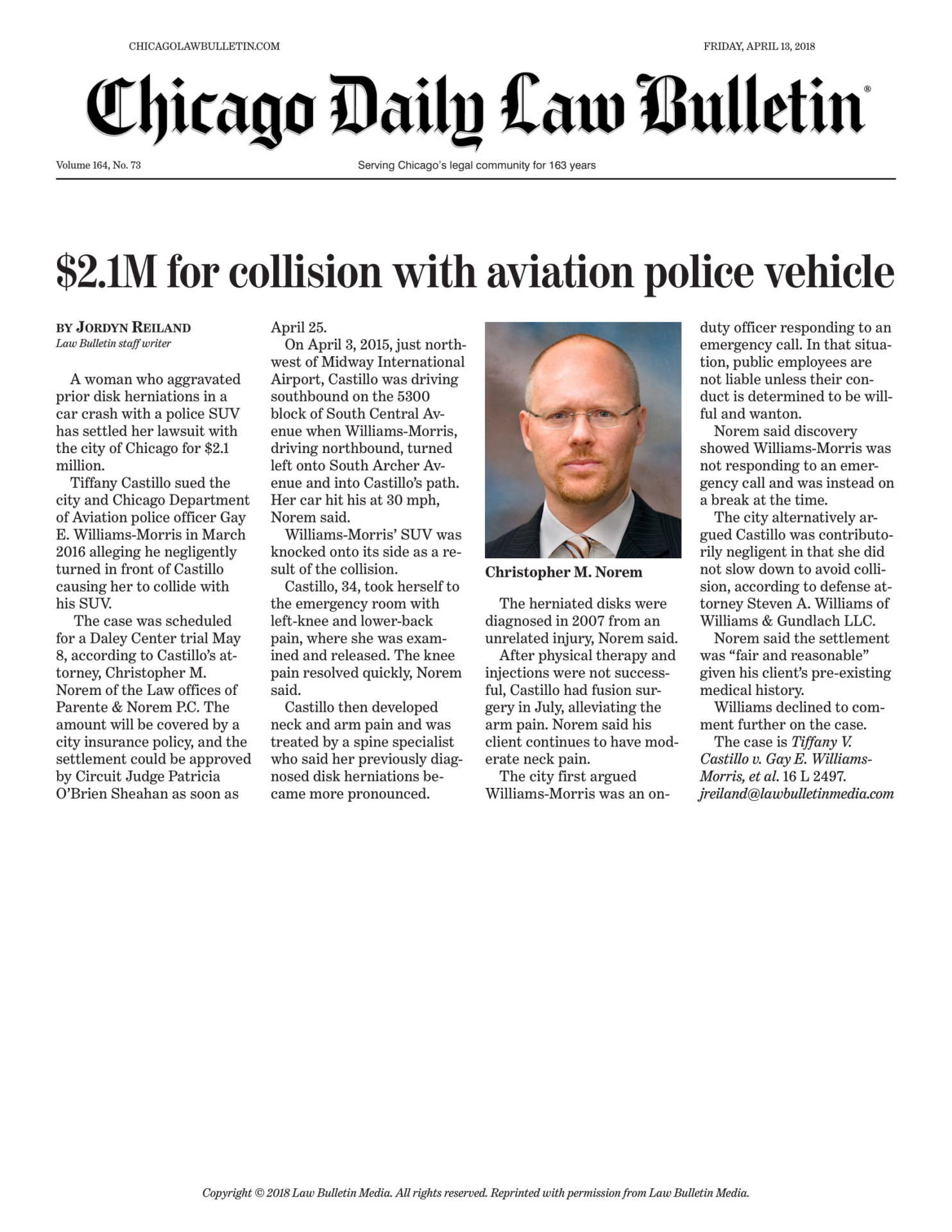 by Sal Terracciano
BY JORDYN REILAND
Law Bulletin staff writer
A woman who aggravated prior disk herniations in a car crash with a police SUV has settled her lawsuit with the city of Chicago for $2.1 million.
Tiffany Castillo sued the city and Chicago Department of Aviation police officer Gay E. Williams-Morris in March 2016 alleging he negligently turned in front of Castillo causing her to collide with his SUV.
The case was scheduled for a Daley Center trial May 8, according to Castillo's attorney, Christopher M. Norem of the Law offices of Parente & Norem P.C. The amount will be covered by a city insurance policy, and the settlement could be approved by Circuit Judge Patricia O'Brien Sheahan as soon as April 25.
On April 3, 2015, just northwest of Midway International Airport, Castillo was driving southbound on the 5300 block of South Central Avenue when Williams-Morris, driving northbound, turned left onto South Archer Avenue and into Castillo's path. Her car hit his at 30 mph, Norem said.
Williams-Morris' SUV was knocked onto its side as a result of the collision.
Castillo, 34, took herself to the emergency room with left-knee and lower-back pain, where she was examined and released. The knee pain resolved quickly, Norem said.
Castillo then developed neck and arm pain and was treated by a spine specialist who said her previously diagnosed disk herniations became more pronounced.
The herniated disks were diagnosed in 2007 from an unrelated injury, Norem said.
After physical therapy and injections were not successful, Castillo had fusion surgery in July, alleviating the arm pain. Norem said his client continues to have moderate neck pain.
The city first argued Williams-Morris was an on-duty officer responding to an emergency call. In that situation, public employees are not liable unless their conduct is determined to be willful and wanton.
Norem said discovery showed Williams-Morris was not responding to an emergency call and was instead on a break at the time.
The city alternatively argued Castillo was contributorily negligent in that she did not slow down to avoid collision, according to defense attorney Steven A. Williams of Williams & Gundlach LLC.
Norem said the settlement was "fair and reasonable" given his client's pre-existing medical history.
Williams declined to comment further on the case.