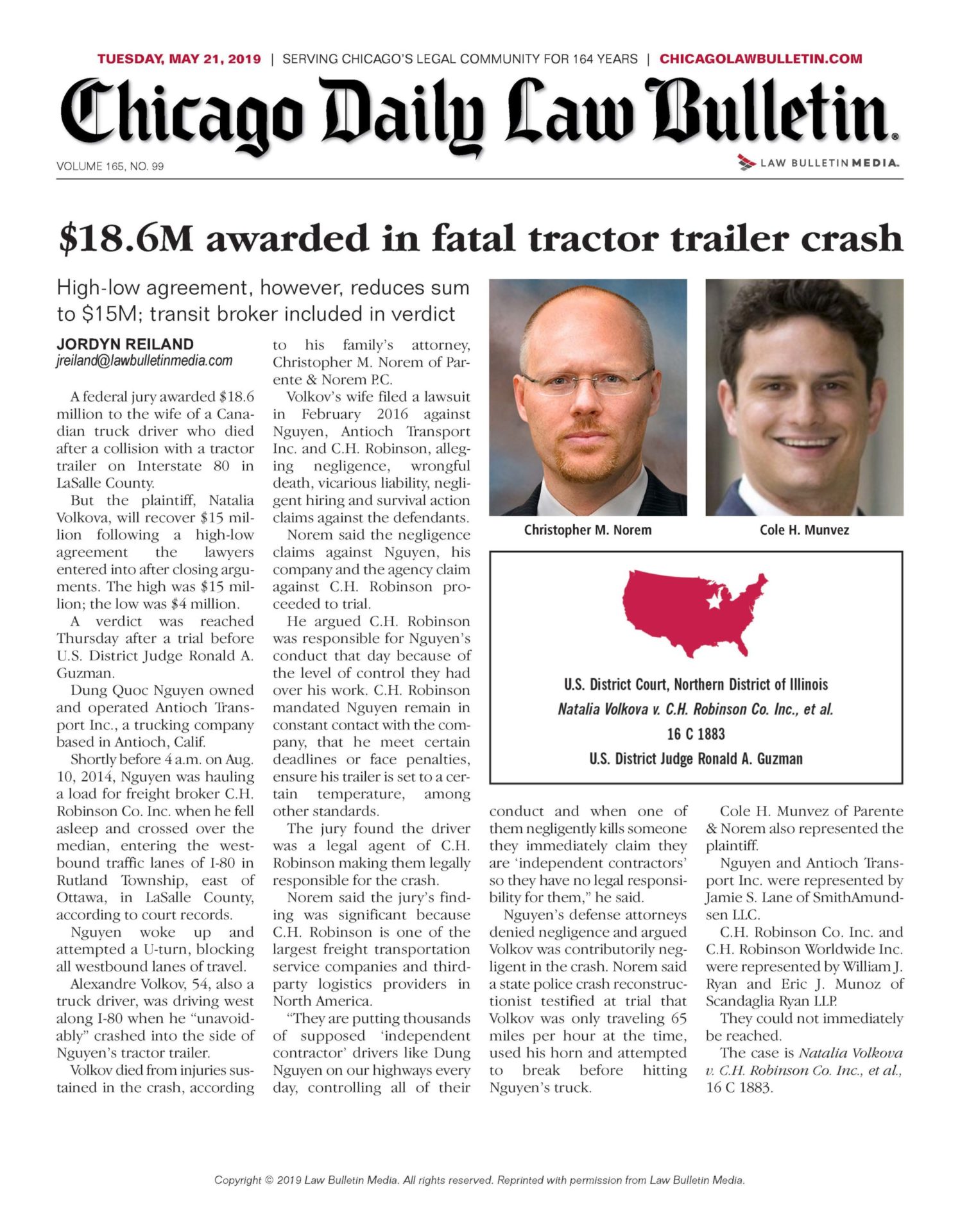 $18.6M awarded in fatal tractor trailer crash
High-low agreement, however, reduces sum to $15M; transit broker included in verdict
BY JORDYN REILAND
Law Bulletin staff writer
A federal jury awarded $18.6 million to the wife of a Canadian truck driver who died after a collision with a tractor trailer on Interstate 80 in LaSalle County.
But the plaintiff, Natalia Volkova, will recover $15 million following a high-low agreement the lawyers entered into after closing arguments. The high was $15 million; the low was $4 million.
A verdict was reached Thursday after a trial before U.S. District Judge Ronald A. Guzman.
Dung Quoc Nguyen owned and operated Antioch Transport Inc., a trucking company based in Antioch, Calif.
Shortly before 4 a.m. on Aug. 10, 2014, Nguyen was hauling a load for freight broker C.H. Robinson Co. Inc. when he fell asleep and crossed over the median, entering the westbound traffic lanes of I-80 in Rutland Township, east of Ottawa, in LaSalle County, according to court records.
Nguyen woke up and attempted a U-turn, blocking all westbound lanes of travel.
Alexandre Volkov, 54, also a truck driver, was driving west along I-80 when he "unavoidably" crashed into the side of Nguyen's tractor trailer.
Volkov died from injuries sustained in the crash, according to his family's attorney, Christopher M. Norem of Parente & Norem P.C.
Volkov's wife filed a lawsuit in February 2016 against Nguyen, Antioch Transport Inc. and C.H. Robinson, alleging negligence, wrongful death, vicarious liability, negligent hiring and survival action claims against the defendants.
Norem said the negligence claims against Nguyen, his company and the agency claim against C.H. Robinson proceeded to trial.
He argued C.H. Robinson was responsible for Nguyen's conduct that day because of the level of control they had over his work. C.H. Robinson mandated Nguyen remain in constant contact with the company, that he meet certain deadlines or face penalties, ensure his trailer is set to a certain temperature, among other standards.
The jury found the driver was a legal agent of C.H. Robinson making them legally responsible for the crash.
Norem said the jury's finding was significant because C.H. Robinson is one of the largest freight transportation service companies and third party logistics providers in North America.
"They are putting thousands of supposed 'independent contractor' drivers like Dung Nguyen on our highways every day, controlling all of their conduct and when one of them negligently kills someone they immediately claim they are 'independent contractors' so they have no legal responsibility for them," he said.
Nguyen's defense attorneys denied negligence and argued Volkov was contributorily negligent in the crash. Norem said a state police crash reconstructionist testified at trial that Volkov was only traveling 65 miles per hour at the time, used his horn and attempted to break before hitting Nguyen's truck.
Cole H. Munvez of Parente & Norem also represented the plaintiff.
Nguyen and Antioch Transport Inc. were represented by Jamie S. Lane of SmithAmundsen LLC.
C.H. Robinson Co. Inc. and C.H. Robinson Worldwide Inc. were represented by William J. Ryan and Eric J. Munoz of Scandaglia Ryan LLP.
They could not immediately be reached.
The case is Natalia Volkova v. C.H. Robinson Co. Inc., et al., 16 C 1883.
Latest Posts
by Jennifer Gulbrandsen
In the world of personal injury law, negligence is a concept that holds immense significance. It forms the foundation of many personal injury...
by Jennifer Gulbrandsen
The Law Offices of Parente & Norem, P.C. was proud to support the Elevators Local 2 Golf Outing! This outing was held on Saturday, September 16...
by Jennifer Gulbrandsen
The Law Offices of Parente & Norem, P.C. was proud to support the Fox Valley Building Trades Golf Outing! This outing was held on Wednesday,...