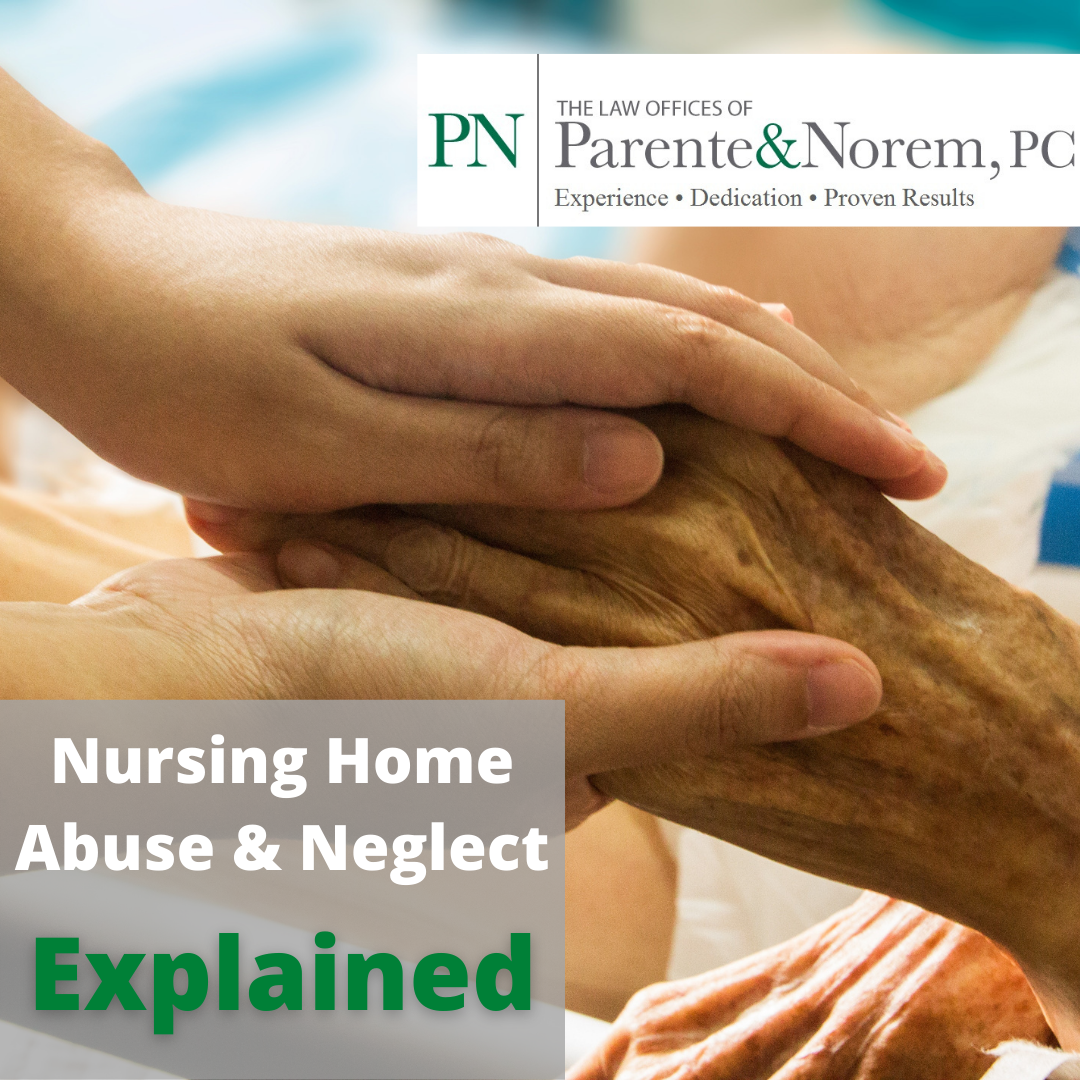 P&N BLOG | Nursing Home Abuse & Neglect Explained
Nursing home abuse and neglect affects thousands of families each year. According to the NCOA, as many as 5,000,000 people are affected by elder abuse annually. However, when it comes to nursing home abuse and neglect, it's important to understand the facts. At Parente & Norem, P.C., our experienced attorneys can help guide you through the process of getting justice for your loved one who may be a victim of nursing home abuse and neglect. In this article, we will cover some of the facts regarding these cases to help you better understand what nursing home abuse and neglect is, how to spot it, and what you can do to help your loved one.
Abuse Vs. Neglect in a Nursing Home
One of the biggest myths about nursing home abuse and neglect, is that abuse only covers physical injuries that occur while someone is in the care of a long term care facility. Many don't realize that neglect is also a form of abuse. Even accidental neglect is abusive, and intent does not absolve the facility and its staff from liability. Accidents such as a resident getting the wrong dosage of medication, or being given the wrong medication in error can have severe life altering consequences.
Neglect can also cover staffing shortages, improper training, and the facility's failure to properly screen and background check their employees. Also, failing to report any injury, illness, or incident to family or guardians in a timely manner are also forms of neglect. Other forms of neglect can be medical, social and emotional, refusal of basic living needs, and lack of personal hygiene.
Abuse is also not limited to physical injury. Abuse can be emotional, sexual, and financial as well.
How to Spot Nursing Home Abuse and Neglect
While nursing home abuse can be very hard to detect, there are some common warning signs and symptoms. These can include:
Sudden onset of aggression, anxiety, agitation, or significant personality changes

Bedsores, broken bones, bruises, and burns

Dehydration, malnutrition, or sudden change in appetite

New or untreated medical conditions

Insomnia or changes in sleeping patterns

Personal hygiene issues

Other unexplained injuries, illnesses, or behaviors
How to help your loved one
Be sure to document any changes, incidents, injuries, etc., and communications with the facility's staff. Then contact an experienced nursing home abuse and neglect attorney. Click here for your free case evaluation.
Latest Posts
by Ryan
...following a long surgery where the patient's breathing tube was removed too quickly after surgery and he was then not properly monitored in the recovery...
by Ryan
...obtained against a south side medical group and hospital due to defendants' alleged medical negligence in prescribing an insufficient dose of blood...
by Ryan
...who was severely burned as a result of a Canadian National train derailment and fire in Rockford, Illinois as she was legally stopped at the crossing...