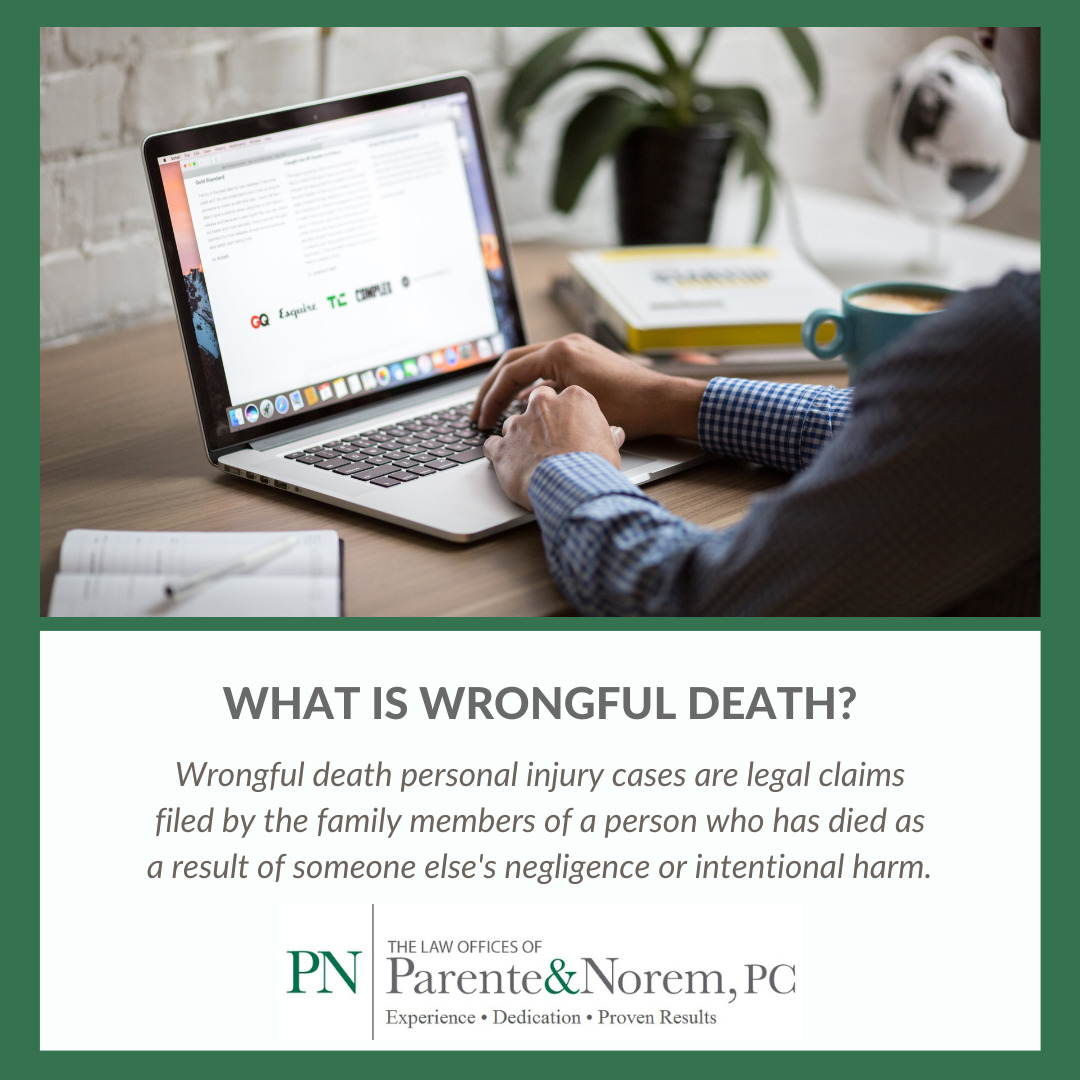 P&N BLOG | What Is Wrongful Death?
This article is for informational purposes only, and does not constitute legal advice.
What is a Wrongful Death Lawsuit?
A wrongful death lawsuit is a civil action that can be filed by the family members of a person who has been killed due to the negligence or misconduct of another party. A wrongful death claim allows families to recover compensation for their loss, including:
Medical expenses and burial costs

Loss of income due to the deceased's death

Pain and suffering endured by surviving family members
Who Can File a Wrongful Death Lawsuit?
If you are the personal representative of your loved one's estate, then you have the right to file a wrongful death lawsuit. A personal representative is someone who has been appointed by the court to handle all of the affairs of an estate when there is no will or trust in place. This person usually takes on this responsibility because he or she was named as such in their loved one's last will and testament, but sometimes it happens if there was no formal document stating what should happen with their assets after they die (for example, if they died without leaving behind any heirs). In this case, whoever was responsible for filing paperwork with government agencies like Social Security would be considered a personal representative as well; however, it's important to note that not every state allows non-family members such as friends or acquaintances from serving in this role so check local laws before proceeding further down this path!
The Benefits of Having an Attorney Represent You in a Wrongful Death Lawsuit
The benefits of having an attorney represent you in a wrongful death lawsuit are many. First, it's important to note that these cases can be extremely complicated and difficult to navigate on your own. Your attorney will have experience with the legal process, which means they can help guide you through it as well as explain any steps along the way that may seem unclear or confusing. Additionally, having an experienced lawyer by your side gives you an advantage over other parties involved in the case because they will know what evidence needs to be presented in order for their claim to succeed – something that might not come up during initial meetings with other parties' lawyers/representatives (or even yours).
Finally, having someone who knows how best handle all aspects of litigation means that they'll be able to ensure everything goes smoothly from start until finish – including court appearances if necessary!
Types of Damages in a Wrongful Death Lawsuit
In a wrongful death lawsuit, the plaintiff can recover damages for loss of companionship and financial support. These are called compensatory damages. They include:
Funeral expenses

Medical bills related to the accident or illness that caused death (if those bills were paid by insurance)

Loss of income from work or other activities that would have been performed by the deceased person if he/she had not died. This includes money lost during any period when you were unable to work because of grief or mental anguish resulting from your loved one's death.
There are other types of damages available in a wrongful death case as well; these include punitive damages and statutory damages (see below).
Preparing for a Wrongful Death Lawsuit
If you have lost a loved one due to the negligence or recklessness of another party, it is important to understand what steps you should take in order for your case to be successful.
A wrongful death lawsuit is a civil action brought against someone who has caused the death of another person through their actions or inaction. The goal of these lawsuits is not only compensation for medical bills and funeral costs, but also to punish those responsible for causing the harm in question. This can help prevent similar tragedies from occurring again in the future by deterring others from engaging in similar behavior.
The first thing that any potential plaintiff needs before filing suit is evidence: photos showing how close together two cars were when they collided; videos taken by bystanders showing how quickly one driver was driving before hitting another vehicle; police reports detailing what happened when an officer arrived at scene after hearing about an accident on his radio scanner (and so forth). This kind of information will help attorneys determine whether there's enough evidence against defendants' legal defenses such as contributory negligence (when both parties share responsibility) or comparative negligence (when one party bears more responsibility than another).
How to Choose an Attorney for a Wrongful Death Lawsuit
Choosing a lawyer for your wrongful death case is an important decision. There are several things you can do to make sure you choose the right attorney for your needs and circumstances:
Researching attorneys is key when choosing an attorney for a wrongful death lawsuit, as it will give you insight into their experience and reputation. You should look at their websites and social media accounts to see what kind of work they have done in the past, as well as how much experience they have with cases similar to yours. It's also helpful if they have been featured in any newspapers or magazines that cover legal issues, because this shows that there is public interest in what they do!
Scheduling consultations with potential attorneys will allow both parties (the client and attorney) time together so that each party knows exactly what type of service will be provided by one another before signing any contracts/agreements. Interviewing attorneys before hiring them helps ensure both sides know exactly what kind of services will be provided by one another after signing contracts/agreements.
Common Mistakes to Avoid in a Wrongful Death Lawsuit
There are a number of common mistakes that people make when trying to file a wrongful death lawsuit. The most important thing to remember is that you should hire an experienced attorney who can help you navigate the legal system and ensure your case has the best chance of success.
Here are some other things you should avoid:
Failing to gather evidence in a timely manner. If someone else's negligence caused your loved one's death, they may try to argue that they were not at fault because there wasn't enough time between the incident and their death for them to file suit against them (this is called 'statute of limitations'). Make sure that all relevant evidence is gathered as soon as possible after becoming aware of what happened–this includes photos or video footage from witnesses; medical records showing injuries sustained during an accident; police reports filed by officers who responded at accident scenes; written statements made by witnesses who saw what happened before or after accidents occurred…the list goes on!
The Cost of a Wrongful Death Lawsuit
The cost of a wrongful death lawsuit can vary greatly, depending on the circumstances surrounding your case. Attorney fees and court costs are typically the largest expenses that you will incur during litigation, but there may also be other associated expenses such as medical records, expert witness testimony and depositions.
The amount of money awarded for damages in a wrongful death lawsuit depends on several factors including:
The nature of the negligence or wrongdoing (was it reckless? intentional?)

The age of your loved one at time of death; if they were young children or elderly adults who had lived full lives already, then their loss will be felt more acutely than someone who had not yet reached middle age when they died.
The Outcome of a Wrongful Death Lawsuit
The outcome of a wrongful death lawsuit is dependent on the facts of your case and the law in your state. The most common result is a settlement, where both parties agree to resolve their dispute without going to trial. If you do not reach an agreement with the defendant before trial, then your case will go before a jury who will decide whether or not they believe that you have proven all elements necessary for recovery under your claim. If they do find in favor of you, they can award damages based on those findings.
If there is no settlement and instead judgment is entered against the defendant(s), this means that there was no dispute between them over liability (i.e., whether or not there was negligence) but rather only over how much compensation should be paid out by each party involved in causing harm or loss due to negligence (or other wrongful conduct).
Conclusion
If you or a loved one has been injured in an accident, it's important to know your rights. If you've lost someone to wrongful death, it's even more critical that you understand how the process works and what steps need to be taken.
If you're looking for more information on wrongful death lawsuits and how they work, please contact The Law Offices of Parente and Norem today at 312.641.5926, or fill out the contact form here on our website. We're here 24/7!
Latest Posts
by Jennifer Gulbrandsen
The Law Offices of Parente & Norem, P.C. was proud to attend Roofers Local 11 Apprenticeship Program! This event was held on Saturday, December...
by Jennifer Gulbrandsen
Thanksgiving is a time for gratitude, family, and, inevitably, travel. As we prepare for the festivities of Thanksgiving 2023, a familiar challenge...
by Jennifer Gulbrandsen
The Law Offices of Parente & Norem, P.C. would like to congratulate Chris Norem and Dennis Lynch, who were honored last Wednesday at the 2023...