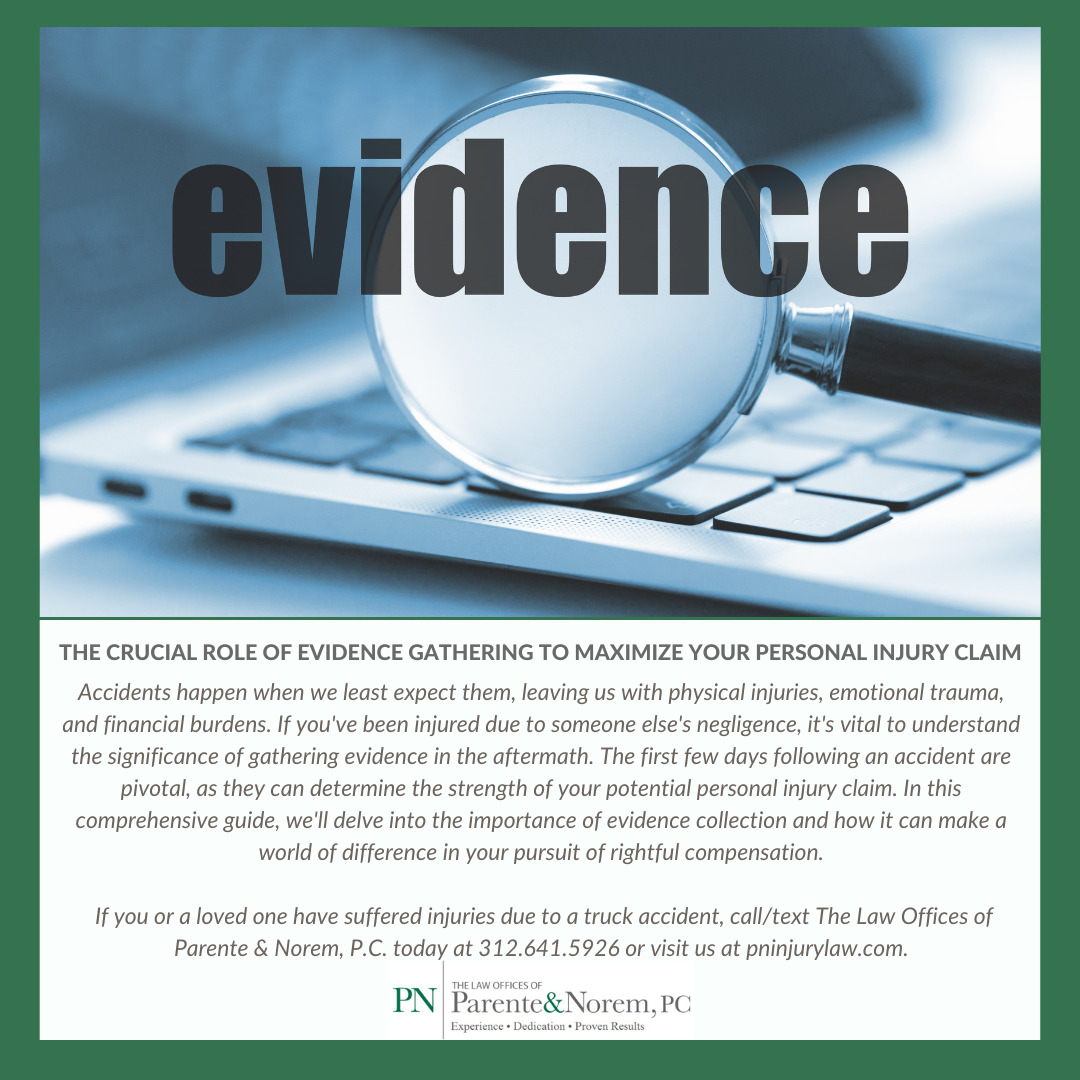 P&N BLOG | The Crucial Role of Evidence Gathering To Maximize Your Personal Injury Claim
Accidents happen when we least expect them, leaving us with physical injuries, emotional trauma, and financial burdens. If you've been injured due to someone else's negligence, it's vital to understand the significance of gathering evidence in the aftermath. The first few days following an accident are pivotal, as they can determine the strength of your potential personal injury claim. In this blog post, we'll delve into the importance of evidence collection and how it can make a world of difference in your pursuit of rightful compensation.
Why Evidence Matters When Building a Strong Personal Injury Case
The journey to compensation begins with evidence, the cornerstone of any personal injury claim. Evidence provides the foundation upon which your case rests. It empowers you to establish the following critical points:
Fault Identification: Determining who is responsible for the accident is essential for obtaining compensation. Your evidence can point directly to the party at fault, proving their negligence or carelessness.
Liability Establishment: To win a personal injury case, you must show that the other party was negligent and that this negligence directly led to your injuries. Strong evidence solidifies your claim and increases your chances of success.
Damage Documentation: Comprehensive evidence demonstrates the extent of your injuries and the damages you've suffered. This includes physical injuries, medical bills, emotional distress, and lost wages.
Causation Proof: Your evidence must show a clear cause-and-effect relationship between the other party's negligence and your injuries. This establishes the link between their actions and your suffering.
Negotiation Leverage: Strong evidence gives you a powerful bargaining chip when negotiating with insurance companies or in court. It showcases the strength of your case and can lead to more favorable settlements.
Types of Evidence to Gather
Now that we understand the importance of evidence, let's delve into the specific types you should gather:
Scene or Accident Evidence: If possible, return to the scene of the accident promptly. Photograph and document any conditions that may have contributed to the incident, such as worn-out surfaces, broken equipment, or malfunctioning lights. These seemingly insignificant details can later play a crucial role in proving negligence.
Physical Evidence: Tangible proof, such as broken items, damaged vehicles, or torn clothing, can substantiate your claims. It's important to preserve physical evidence as it was at the time of the accident, or take clear photographs if preservation is not possible.
Medical Records: Comprehensive medical records detailing your injuries, treatments, and prognosis are essential. They serve as concrete evidence of the extent of your injuries and the costs associated with your recovery.
Witness Testimonies: Eyewitness accounts are powerful tools in supporting your version of events. Speak to anyone who saw the accident unfold, and gather their contact information for future reference.
Documents: Keep all relevant documents, such as accident reports, insurance correspondence, medical bills, and receipts. These documents create a paper trail that reinforces your claims.
Expert Opinions: Depending on the complexity of your case, expert opinions may be crucial. Professionals in relevant fields can provide insights that strengthen your argument, especially when dealing with intricate medical issues or technical details.
Photos and Video: Visual evidence, including photographs and videos of the accident scene, injuries, and damaged property, can provide undeniable proof of the events.
Preserving Your Evidence
Equally vital as gathering evidence is preserving it effectively. Here are some guidelines to ensure your evidence remains intact and accessible:
Backup and Store: Digitize your evidence, such as photos and videos, and store them securely on a reliable device or cloud storage. Physical evidence should be stored in a safe place where it won't deteriorate or be tampered with.
Organize Chronologically: Arrange all documents, medical records, and correspondence chronologically. This makes it easier for you and your legal team to present a coherent narrative.
Consult with an Attorney: Enlisting the expertise of a personal injury lawyer is invaluable. They can guide you through the evidence collection process, provide legal advice, and ensure you're on the right track.
Gathering evidence is the bedrock of a successful personal injury claim. It's a meticulous process that requires attention to detail, organization, and diligence. By following these guidelines and enlisting the support of the skilled personal injury attorneys at The Law Offices of Parente & Norem, P.C., you'll be equipped to build a compelling case that maximizes your chances of obtaining the compensation you deserve. Remember, your evidence can speak volumes when words fall short—so don't underestimate its significance.
If you or a loved one have been injured by another's negligence, call/text The Law Offices of Parente & Norem, P.C. today at 312.641.5926 or fill out a contact form here on our website.
Latest Posts
by Jennifer Gulbrandsen
In the world of personal injury law, negligence is a concept that holds immense significance. It forms the foundation of many personal injury...
by Jennifer Gulbrandsen
The Law Offices of Parente & Norem, P.C. was proud to support the Elevators Local 2 Golf Outing! This outing was held on Saturday, September 16...
by Jennifer Gulbrandsen
The Law Offices of Parente & Norem, P.C. was proud to support the Fox Valley Building Trades Golf Outing! This outing was held on Wednesday,...