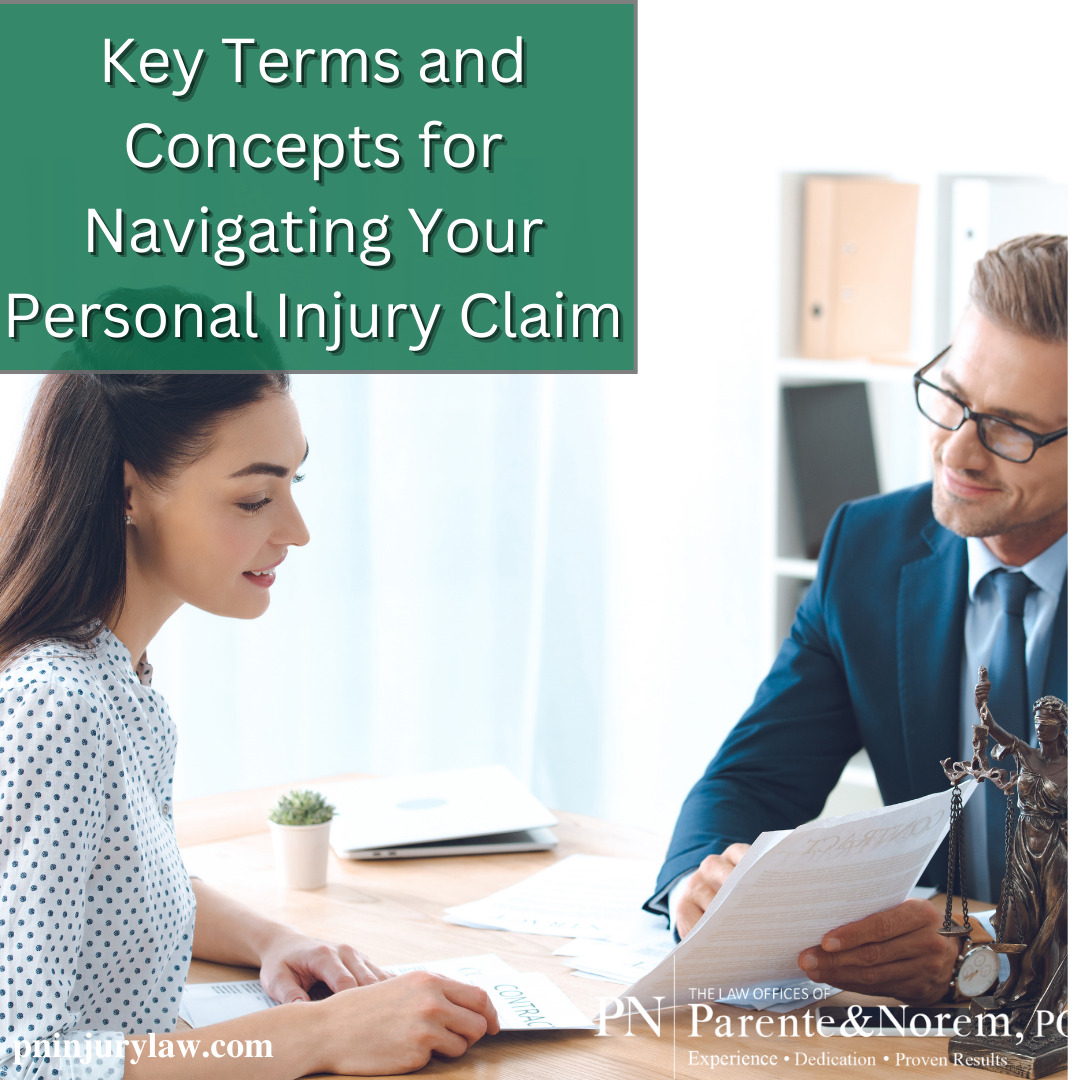 P&N BLOG | Key Terms and Concepts for Navigating Your Personal Injury Claim
If you've found yourself reading this, chances are you or a loved one are facing the daunting prospect of a personal injury claim. We understand that this can be a confusing and overwhelming experience, especially when legal jargon starts flying around. Fear not, for we're here to demystify the process and empower you with knowledge. In this guide, we'll define and explain essential terms and concepts you need to know to navigate the world of personal injury claims in Illinois.
Personal Injury Claim
A personal injury claim arises when an individual suffers harm due to another party's negligence, recklessness, or intentional actions. This harm can be physical, emotional, or financial in nature.
Negligence
Negligence refers to the failure to exercise reasonable care, resulting in harm to another person. To establish a personal injury claim, you must prove that the other party owed you a duty of care, breached that duty, and directly caused your injuries as a result.
Duty of Care
This is the legal obligation that individuals and organizations have to act in a manner that prevents harm to others. For example, drivers have a duty to follow traffic laws and drive responsibly to avoid accidents.
Breach of Duty
A breach of duty occurs when someone fails to uphold their duty of care. For instance, if a property owner neglects to repair a hazardous condition on their premises, resulting in an injury, they may be considered to have breached their duty of care.
Causation
To succeed in a personal injury claim, you must prove that the defendant's breach of duty directly caused your injuries. This involves demonstrating a clear link between their actions (or lack thereof) and the harm you suffered.
Damages
Damages are the losses and harms you've experienced as a result of the accident. These can include medical bills, lost wages, pain and suffering, emotional distress, and more.
Statute of Limitations
The statute of limitations is the time limit within which you must file a personal injury lawsuit Failing to file within this timeframe may result in losing your right to seek compensation.
Comparative Negligence
Illinois follows a comparative negligence rule, which means that even if you were partially at fault for the accident, you can still recover damages. However, your compensation may be reduced in proportion to your level of responsibility.
Pre-existing Conditions
If you had a pre-existing medical condition that was worsened by the accident, you may still be eligible for compensation. However, it's important to differentiate between the pre-existing condition and the new injuries caused by the accident.
Demand Letter
A demand letter is a written communication from your attorney to the at-fault party or their insurance company, outlining the details of your claim, the extent of your damages, and the compensation you're seeking. It's a critical step before filing a lawsuit.
Settlement
A settlement is an agreement reached between you and the at-fault party or their insurance company, usually before a lawsuit goes to trial. It involves you accepting a certain amount of compensation in exchange for dropping any further legal action.
Litigation
Litigation refers to the process of taking a legal dispute to court. If negotiations and settlements fail, your case may proceed to litigation, where a judge or jury will determine the outcome.
Trial
A trial is the formal process during which both sides present their evidence and arguments to a judge and/or jury. This occurs when a settlement cannot be reached, and a decision must be made by the court.
Compensatory Damages
These are monetary awards intended to compensate you for actual losses incurred due to the accident. Compensatory damages can be economic (quantifiable, like medical bills and lost wages) or non-economic (subjective, like pain and suffering).
Punitive Damages
In rare cases, punitive damages may be awarded to punish the defendant for particularly reckless or malicious behavior. These damages go beyond compensation and aim to deter similar conduct in the future.
Insurance Adjuster
An insurance adjuster is a representative of the insurance company responsible for assessing the value of your claim. Remember, their goal is to minimize the amount the insurance company pays out, so it's wise to have your own legal representation.
Deposition
A deposition is a formal interview conducted under oath as part of the discovery process. Both parties' attorneys can question witnesses, including the parties involved, to gather information and evidence for the case.
Mediation
Mediation is an alternative dispute resolution process where a neutral third party helps both sides negotiate a settlement. It can be a less adversarial and time-consuming way to resolve a claim.
Contingency Fee
Many personal injury attorneys work on a contingency fee basis, which means they only get paid if you win your case. Their fees are a percentage of the compensation you receive, making legal representation more accessible.
Initial Consultation
This is your first meeting with a personal injury attorney. During this meeting, you'll discuss the details of your case, your injuries, and your potential legal options. It's a crucial step in determining whether you have a viable claim.
Navigating a personal injury claim can be complex, but armed with these key terms and concepts, you're better equipped to understand the process and make informed decisions. Remember, seeking legal counsel early on can significantly increase your chances of receiving fair compensation for your injuries and losses. If you're in Illinois and need guidance on a personal injury claim, our experienced team is here to help. Contact The Law Offices of Parente & Norem, P.C. at 312.641.5926 or fill out the contact form here on our website for a free consultation, and let's work together to secure the justice you deserve.
Latest Posts
by Jennifer Gulbrandsen
In the world of personal injury law, negligence is a concept that holds immense significance. It forms the foundation of many personal injury...
by Jennifer Gulbrandsen
The Law Offices of Parente & Norem, P.C. was proud to support the Elevators Local 2 Golf Outing! This outing was held on Saturday, September 16...
by Jennifer Gulbrandsen
The Law Offices of Parente & Norem, P.C. was proud to support the Fox Valley Building Trades Golf Outing! This outing was held on Wednesday,...