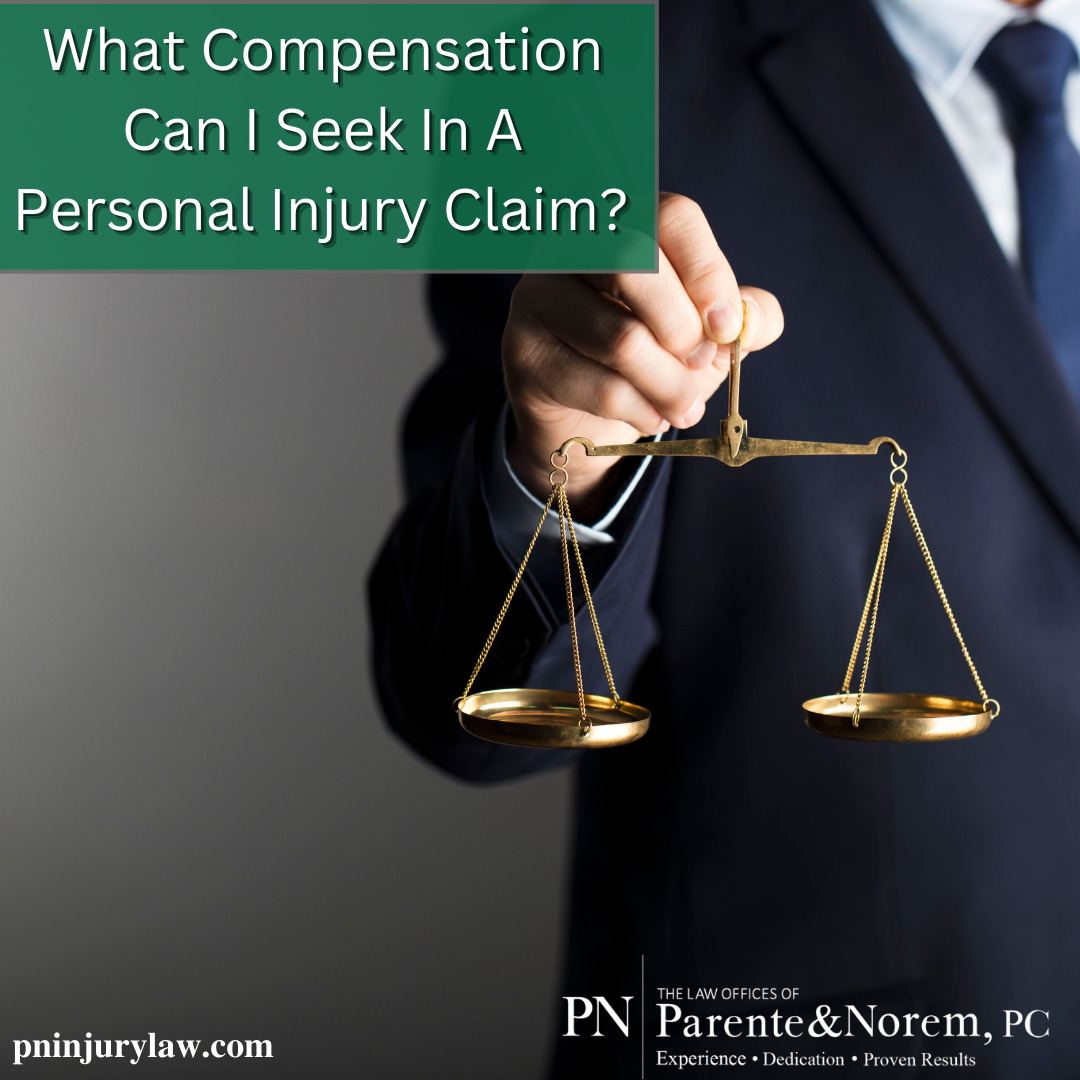 P&N BLOG | What Compensation Can I Seek In A Personal Injury Claim?
If you've been injured due to someone's negligence or wrongful actions, understanding the types of compensation available to you is crucial in assessing the value of your personal injury claim. Laws are in place to protect your rights and entitle you to seek compensation for the losses you've incurred. In this blog post, we'll walk you through the various types of personal injury compensation, including economic damages, non-economic damages, punitive damages, and wrongful death damages. We'll also explore the limitations on injury compensation and offer insights into how you can obtain the compensation you rightfully deserve. For a free case evaluation with one of our experienced trial attorneys here at The Law Offices of Parente & Norem, P.C. call/text us at 312.641.5926 or fill out a contact form right here on our website.
Types of Personal Injury Compensation:
Medical Bills

: Reimbursement for all medical expenses related to your injury, including hospital stays, surgeries, lab tests, and prescription medications.
Future Medical Costs

: If your injuries are permanent or require ongoing care, you can seek compensation for anticipated future medical expenses.
Lost Wages

: Compensation for income lost due to missed workdays, sick days, or vacation days necessitated by your injury.
Future Lost Earnings

: If your ability to work has been affected, you may be entitled to compensation for the income you would have earned had the injury not occurred.
Property Damage

: Reimbursement for the loss of or damage to your property resulting from the injury.
Other Out-of-Pocket Expenses

: Compensation for additional financial losses incurred due to the defendant's negligent or wrongful actions.
Estimating these losses involves reviewing medical bills, paychecks, and working with experts to project future care needs and lost earnings.
Non-Economic Damages: Non-economic damages account for losses that do not have a direct financial impact but significantly affect your quality of life. These damages include:
Pain and Suffering

: Compensation for physical and mental pain resulting from your injuries.
Emotional Distress

: Damages for mental anguish caused by the accident and resulting injuries.
Loss of Consortium

: Compensation for the loss of companionship, intimacy, or interaction with loved ones due to the accident or injuries.
Disfigurement

: Reimbursement for any physical disfigurement caused by the injury.
Loss of Enjoyment of Life

: Compensation for the inability to partake in activities that once brought joy.
Calculating non-economic damages can be complex, involving methods like the per diem or multiplier approach. Our personal injury lawyers at The Law Offices of Parente & Norem, P.C. can help you document the extent of these losses to maximize the compensation available.
Punitive Damages: If the defendant's conduct was more than just negligent, but intentionally harmful or reckless, your injury compensation may include punitive damages. Unlike other forms of compensation, punitive damages aim to punish the defendant rather than make you whole. The court determines the amount based on the severity of the defendant's actions.
Wrongful Death Damages: In cases where a person is killed due to negligence or intentional wrongdoing, wrongful death damages may be pursued by the estate of the deceased person or close family members. These damages can include:
Medical Bills Incurred Before Death
Pain and Suffering Experienced Before Death
Funeral and Burial Expenses
Loss of the Financial Contribution the Deceased Would Have Made
Emotional Distress and Mental Anguish Experienced by Surviving Family Members
Loss of Consortium: Compensation for the loss of the relationship shared with the deceased.
Limitations on Injury Compensation:
Tort Reform Limits: Some states have enacted tort reform laws that limit the amount of compensation victims can receive in specific injury claims. These laws, which may cap non-economic and punitive damages, are particularly prevalent in medical malpractice cases.
Insurance Policy Limits: In many cases, insurance companies will be responsible for paying out compensation for your injury. Be aware that insurance policies have liability limits, and while you can pursue a claim for more than the policy limit, the excess amount won't be covered by the insurer. In such cases, collecting from the defendant personally may be challenging.
Personal injury compensation is a comprehensive and intricate process. It encompasses various types of damages, each serving a unique purpose in providing you with the compensation you deserve. To ensure you receive fair compensation for your injuries, consult an experienced personal injury lawyer who can guide you through the process, whether through settlement negotiations or court litigation. Remember, you have rights and options to recover the damages for your losses, and a dedicated attorney will be your advocate in the pursuit of justice. If you or a loved one have been injured due to another's negligence, The Law Offices of Parente & Norem, P.C. can help! Call/Text us today at 312.641.5926 for a free case evaluation.
Latest Posts
by Jennifer Gulbrandsen
The Law Offices of Parente & Norem, P.C. was proud to attend Roofers Local 11 Apprenticeship Program! This event was held on Saturday, December...
by Jennifer Gulbrandsen
Thanksgiving is a time for gratitude, family, and, inevitably, travel. As we prepare for the festivities of Thanksgiving 2023, a familiar challenge...
by Jennifer Gulbrandsen
The Law Offices of Parente & Norem, P.C. would like to congratulate Chris Norem and Dennis Lynch, who were honored last Wednesday at the 2023...