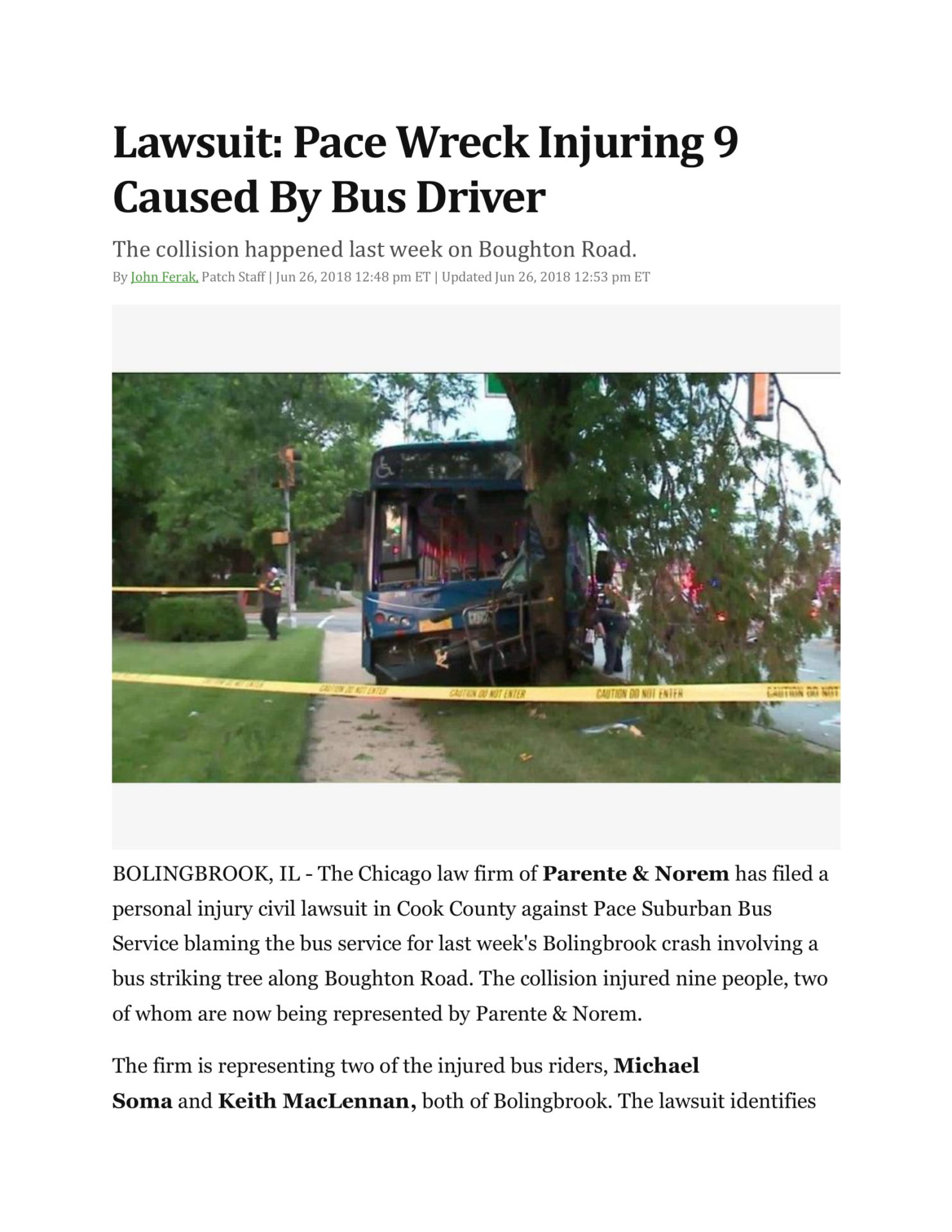 by Sal Terracciano
Lawsuit: Pace Wreck Injuring 9 Caused By Bus Driver
The collision happened last week on Boughton Road.
By John Ferak, Patch Staff | Jun 26, 2018 12:48 pm ET | Updated Jun 26, 2018 12:53 pm ET
BOLINGBROOK, IL – The Chicago law firm of Parente & Norem has filed a personal injury civil lawsuit in Cook County against Pace Suburban Bus Service blaming the bus service for last week's Bolingbrook crash involving a bus striking tree along Boughton Road. The collision injured nine people, two of whom are now being represented by Parente & Norem.
The firm is representing two of the injured bus riders, Michael Soma and Keith MacLennan, both of Bolingbrook. The lawsuit identifies the Pace driver as Donnah Bufkin, a resident of Sauk Village. Another defendant in the lawsuit is Bolingbrook resident Jocelyn Williams, whose car collided with the bus at the intersection of Boughton Road and Winston Drive, according to the filing.
"Plaintiff Keith MacLennan (was) thrown forward from his seat with great force and violence, causing (him) to sustain catastrophic injuries, both internally and externally … he has been unable to follow his usual occupation for a period of time, he has and will continue to suffer mental pain and anguish."
ORIGINAL STORY: Bolingbrook Pace Bus Crash Injures 9
An identical complaint is outlined regarding the injuries to Soma.
According to the lawsuit, this is what happened around 7:10 p.m. June 18 in Bolingbrook:
Bufkin was driving the Pace bus west on Boughton approaching the intersection of Winston Drive where the posted speed limit is 40 mph.
Bufkin "entered the intersection of Boughton Road and Winston Drive when the traffic signal was not green."
Williams was driving her car east on Boughton and she "attempted to make her left hand turn onto Winston Drive when the traffic signal for eastbound traffic turned yellow and then to red as Williams began to make her turn in order to clear the intersection."
Bufkin, operating the Pace bus, "entered the intersection … and collided with the motor vehicle operated by defendant, Joceyln Williams with extreme force and violence."
The bus veered off the roadway, striking a tree on the west side of Boughton Road.
The law firm of Parente & Norem indicated that it also plans to file a court motion seeking an emergency protection order to preserve the damaged Pace bus as well as the video and data related to the crash.
The lawsuit blames the Pace bus driver for not yielding the right of way and for not taking evasive maneuvers to avoid colliding with Williams' car.
Main Image via Parente & Norem, P.C.
© 2018 Patch Media. All Rights Reserved.
https://patch.com/illinois/bolingbrook/lawsuit-pace-wreck-injuring-9-caused-bus-driver