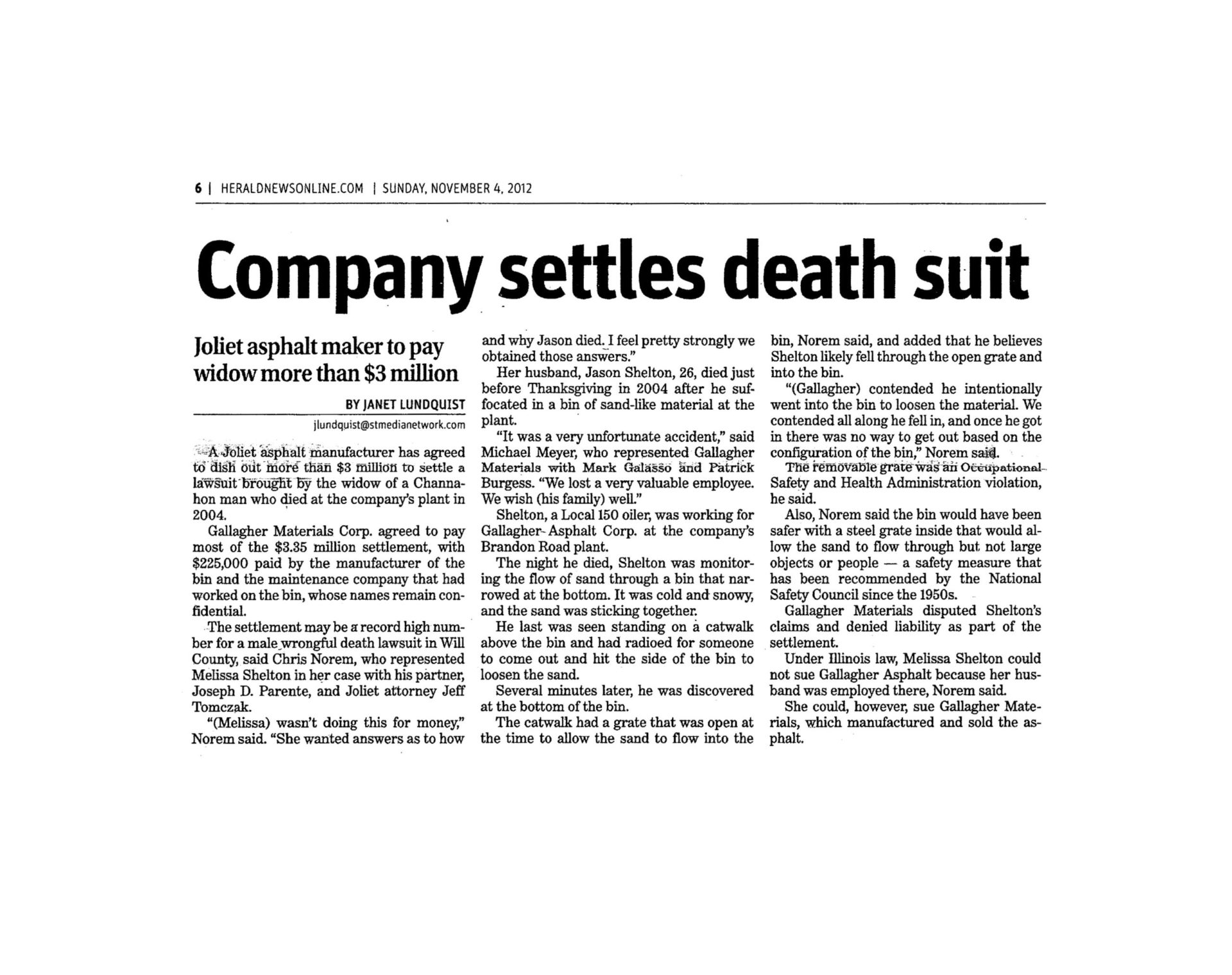 Company settles death suit
Joliet asphalt maker to pay widow more than $3 million
By Janet Lundquist // Joliet Herald News // jlundquist@stmedianetwork.com 
A Joliet asphalt manufacturer has agreed to dish out more than $3 million to settle a lawsuit brought by the widow of a Channahon man who died at the company's plant in 2004.
Gallegher Materials Corp. agreed to pay most of the $4.45 million settlement, with $225,000 paid by the manufacturer of the bin, whose name remains confidential.
The settlement maybe a record high number for a male wrongful death lawsuit in Will County, said Chris Norem, Who represented Melissa Shelton in her case with his partner, Joseph D. Parente, and Joliet attorney Jeff Tomczak.
"(Melissa) wasn't doing this for money, " Norem said. "She wanted answers as to how and Why Jason died feel pretty strongly We obtained those answers."
Her husband, Jason Shelton, 26, died just before Thanksgiving in 2004 after he suffocated in a bin of sand-like material at the plant.
"It was a very unfortunate accident," said Michael Meyer, who represented Gallagher Materials with Mark Burgess. "We lost a very valuable employee. We Wish (his family) well. "
Shelton, a Local 150 oiler, was working for Gallagher Asphalt Corp. at the company's Brandon Road plant.
The night he died, Shelton was monitor ing the flow of sand through a bin that narrowed at the bottom. It was cold and snowy, and the sand was sticking together.
He last was seen standing on a catwalk above the bin and had radioed for someone to come out and hit the side of the bin to loosen the sand.
Several minutes later, he was discovered at the bottom of the bin.
The catwalk had a grate that was open at the time to allow the sand to flow into the bin, Norem said, and added that he believes Shelton likely fell through the open grate and into the bin.
"(Gallagher) contended he intentionally went into the bin to loosen the material. We contended all along he fell in, and once he got in there was no way to get out based on the configuration of the bin," Norem said.
The removable grate was an Occupational Safety and Health Administration violation, he said.
Also, Norem said the bin would have been safer with a steel grate inside that would allow the sand to flow through but not large objects or people  –  a safety measure that has been recommended by the National Safety Council since the 1950's.
Gallagher Materials disputed Shelton's claims and denied liability as part of the settlement.
Under Illinois law, Melissa Shelton could not sue Gallagher Asphalt because her band was employed there, Norem said.
She could, however, sue Gallagher Materials, which manufactured and sold the asphalt.
Latest Posts
by Jennifer Gulbrandsen
The Law Offices of Parente & Norem, P.C. was proud to attend Roofers Local 11 Apprenticeship Program! This event was held on Saturday, December...
by Jennifer Gulbrandsen
Thanksgiving is a time for gratitude, family, and, inevitably, travel. As we prepare for the festivities of Thanksgiving 2023, a familiar challenge...
by Jennifer Gulbrandsen
The Law Offices of Parente & Norem, P.C. would like to congratulate Chris Norem and Dennis Lynch, who were honored last Wednesday at the 2023...