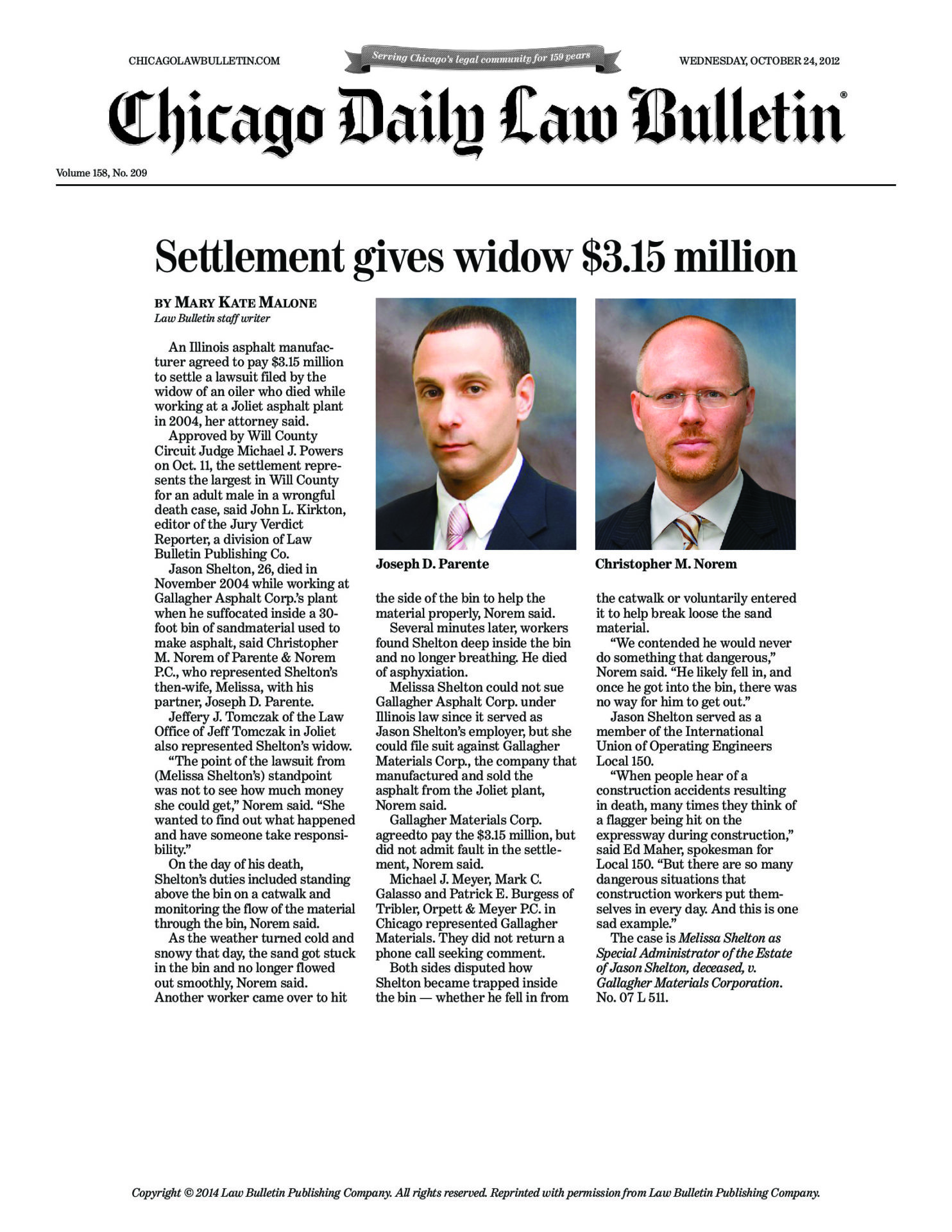 Settlement gives widow $3.15 million
BY MARY KATE MALONE Law Bulletin staff writer
An Illinois asphalt manufac- turer agreed to pay $3.15 million to settle a lawsuit filed by the widow of an oiler who died while working at a Joliet asphalt plant in 2004, her attorney said.
Approved by Will County Circuit Judge Michael J. Powers on Oct. 11, the settlement repre- sents the largest in Will County for an adult male in a wrongful death case, said John L. Kirkton, editor of the Jury Verdict Reporter, a division of Law Bulletin Publishing Co.
Jason Shelton, 26, died in November 2004 while working at Gallagher Asphalt Corp.'s plant when he suffocated inside a 30- foot bin of sandmaterial used to make asphalt, said Christopher M. Norem of Parente & Norem P.C., who represented Shelton's then-wife, Melissa, with his partner, Joseph D. Parente.
Jeffery J. Tomczak of the Law Office of Jeff Tomczak in Joliet also represented Shelton's widow.
"The point of the lawsuit from (Melissa Shelton's) standpoint was not to see how much money she could get," Norem said. "She wanted to find out what happened and have someone take responsi- bility."
On the day of his death, Shelton's duties included standing above the bin on a catwalk and monitoring the flow of the material through the bin, Norem said.
As the weather turned cold and snowy that day, the sand got stuck in the bin and no longer flowed out smoothly, Norem said. Another worker came over to hit the side of the bin to help the material properly, Norem said.
Several minutes later, workers found Shelton deep inside the bin and no longer breathing. He died of asphyxiation.
Melissa Shelton could not sue Gallagher Asphalt Corp. under Illinois law since it served as Jason Shelton's employer, but she could file suit against Gallagher Materials Corp., the company that manufactured and sold the asphalt from the Joliet plant, Norem said.
Gallagher Materials Corp. agreedto pay the $3.15 million, but did not admit fault in the settle- ment, Norem said.
Michael J. Meyer, Mark C. Galasso and Patrick E. Burgess of Tribler, Orpett & Meyer P.C. in Chicago represented Gallagher Materials. They did not return a phone call seeking comment.
Both sides disputed how Shelton became trapped inside the bin — whether he fell in from the catwalk or voluntarily entered it to help break loose the sand material.
"We contended he would never do something that dangerous," Norem said. "He likely fell in, and once he got into the bin, there was no way for him to get out."
Jason Shelton served as a member of the International Union of Operating Engineers Local 150.
"When people hear of a construction accidents resultng in death, many times they think of a flagger being hit on the expressway during construction," said Ed Maher, spokesman for Local 150. "But there are so many dangerous situations that construction workers put them- selves in every day. And this is one sad example."
The case is Melissa Shelton as Special Administrator of the Estate of Jason Shelton, deceased, v. Gallagher Materials Corporation. No. 07 L 511.
———————————————————————-
CHICAGOLAWBULLETIN.COM // In the News
Volume 158, No. 209 // WEDNESDAY, OCTOBER 24, 2012
Latest Posts
by Jennifer Gulbrandsen
In the world of personal injury law, negligence is a concept that holds immense significance. It forms the foundation of many personal injury...
by Jennifer Gulbrandsen
The Law Offices of Parente & Norem, P.C. was proud to support the Elevators Local 2 Golf Outing! This outing was held on Saturday, September 16...
by Jennifer Gulbrandsen
The Law Offices of Parente & Norem, P.C. was proud to support the Fox Valley Building Trades Golf Outing! This outing was held on Wednesday,...