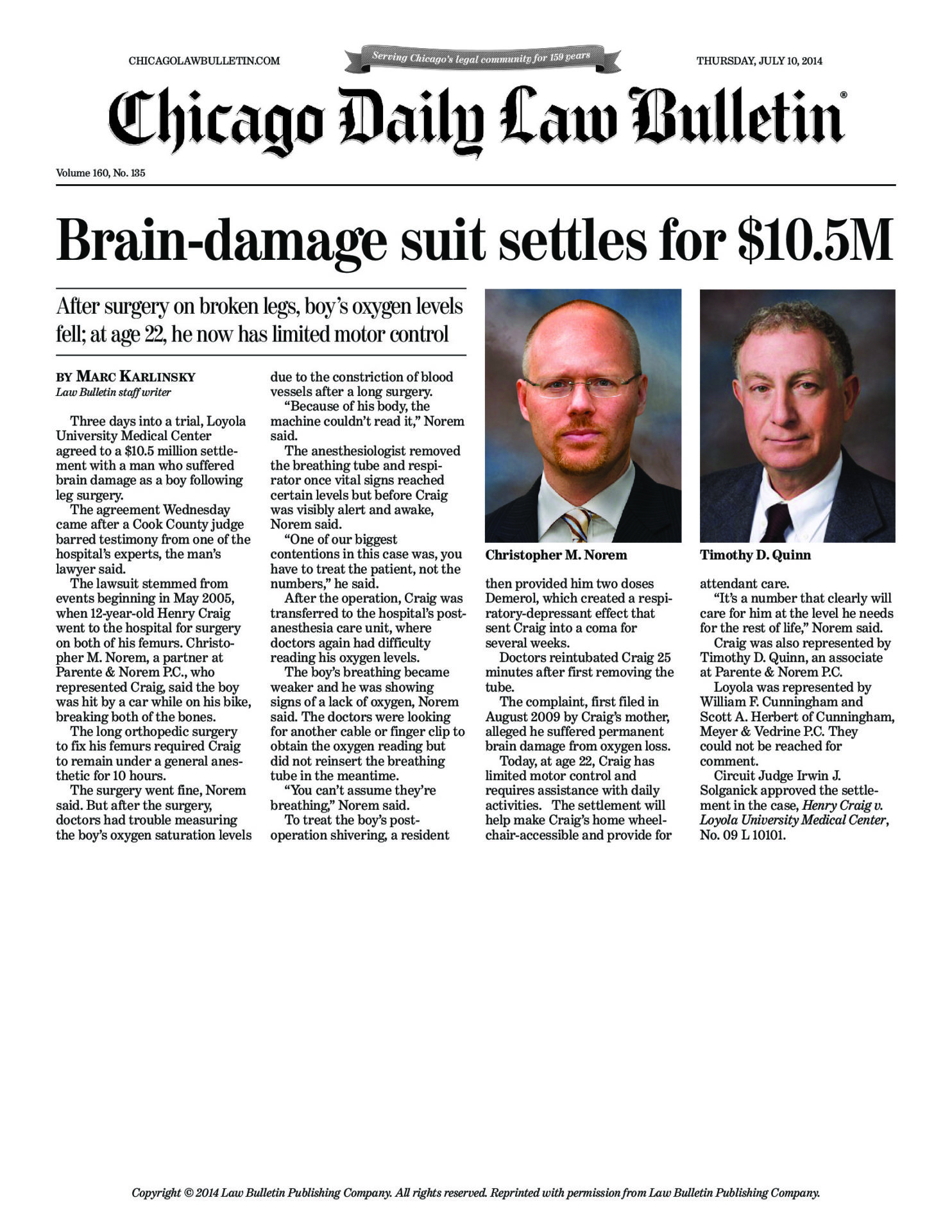 Brain-damage suit settles for $10.5M
BY MARC KARLINSKY Law Bulletin staff writer
Three days into a trial, Loyola University Medical Center agreed to a $10.5 million settle- ment with a man who suffered brain damage as a boy following leg surgery.
The agreement Wednesday came after a Cook County judge barred testimony from one of the hospital's experts, the man's lawyer said.
The lawsuit stemmed from events beginning in May 2005, when 12-year-old Henry Craig went to the hospital for surgery on both of his femurs. Christo- pher M. Norem, a partner at Parente & Norem P.C., who represented Craig, said the boy was hit by a car while on his bike, breaking both of the bones.
The long orthopedic surgery to fix his femurs required Craig to remain under a general anes- thetic for 10 hours.
The surgery went fine, Norem said. But after the surgery, doctors had trouble measuring the boy's oxygen saturation levels due to the constriction of blood vessels after a long surgery. "Because of his body, the machine couldn't read it," Norem said.
The anesthesiologist removed the breathing tube and respi- rator once vital signs reached certain levels but before Craig was visibly alert and awake, Norem said.
"One of our biggest contentions in this case was, you have to treat the patient, not the numbers," he said.
After the operation, Craig was transferred to the hospital's post- anesthesia care unit, where doctors again had difficulty reading his oxygen levels.
The boy's breathing became weaker and he was showing signs of a lack of oxygen, Norem said. The doctors were looking for another cable or finger clip to obtain the oxygen reading but did not reinsert the breathing tube in the meantime.
"You can't assume they're breathing," Norem said.
To treat the boy's post- operation shivering, a resident then provided him two doses Demerol, which created a respi- ratory-depressant effect that sent Craig into a coma for several weeks.
Doctors reintubated Craig 25 minutes after first removing the tube.
The complaint, first filed in August 2009 by Craig's mother, alleged he suffered permanent brain damage from oxygen loss. Today, at age 22, Craig has limited motor control and requires assistance with daily activities. The settlement will help make Craig's home wheel- chair-accessible and provide for attendant care.
"It's a number that clearly will care for him at the level he needs for the rest of life," Norem said.
Craig was also represented by Timothy D. Quinn, an associate at Parente & Norem P.C.
Loyola was represented by William F. Cunningham and Scott A. Herbert of Cunningham, Meyer & Vedrine P.C. They could not be reached for comment.
Circuit Judge Irwin J. Solganick approved the settle- ment in the case, Henry Craig v. Loyola University Medical Center, No. 09 L 10101.
———————————————————————-
CHICAGOLAWBULLETIN.COM // In the News
Volume 160, No. 135 // THURSDAY, JULY 10, 2014
Latest Posts
by Jennifer Gulbrandsen
The Law Offices of Parente & Norem, P.C. was proud to attend Roofers Local 11 Apprenticeship Program! This event was held on Saturday, December...
by Jennifer Gulbrandsen
Thanksgiving is a time for gratitude, family, and, inevitably, travel. As we prepare for the festivities of Thanksgiving 2023, a familiar challenge...
by Jennifer Gulbrandsen
The Law Offices of Parente & Norem, P.C. would like to congratulate Chris Norem and Dennis Lynch, who were honored last Wednesday at the 2023...