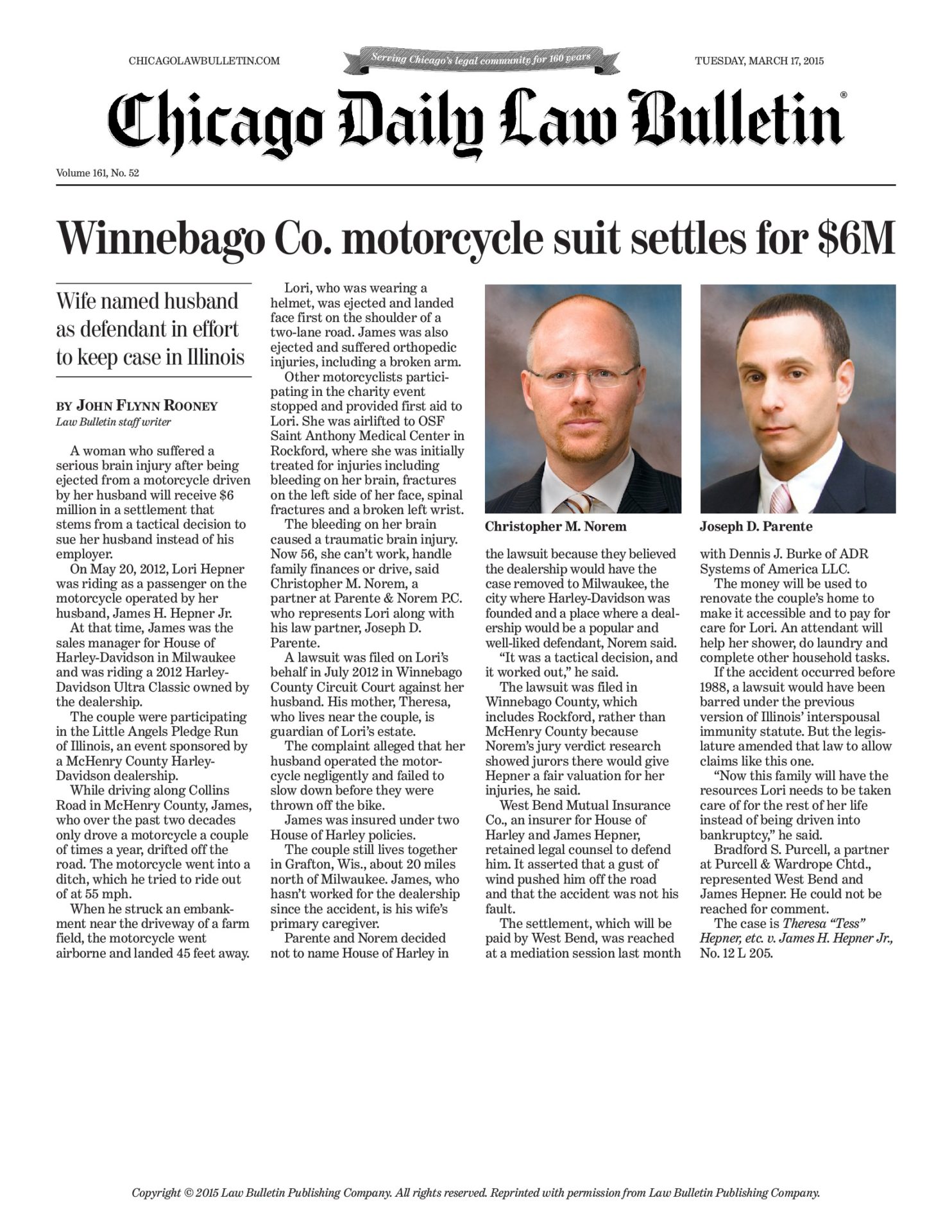 Winnebago Co. Motorcycle Suit Settles for $6M
BY JOHN FLYNN ROONEY Law Bulletin staff writer
A woman who suffered a serious brain injury after being ejected from a motorcycle driven by her husband will receive $6 million in a settlement that stems from a tactical decision to sue her husband instead of his employer.
On May 20, 2012, Lori Hepner was riding as a passenger on the motorcycle operated by her husband, James H. Hepner Jr.
At that time, James was the sales manager for House of Harley-Davidson in Milwaukee and was riding a 2012 Harley-Davidson Ultra Classic owned by the dealership.
The couple were participating in the Little Angels Pledge Run of Illinois, an event sponsored by a McHenry County Harley-Davidson dealership.
While driving along Collins Road in McHenry County, James, who over the past two decades only drove a motorcycle a couple of times a year, drifted off the road.The motorcycle went into a ditch, which he tried to ride out of at 55 mph.
When he struck an embankment near the driveway of a farm field, the motorcycle went airborne and landed 45 feet away.
Lori, who was wearing a helmet, was ejected and landed face first on the shoulder of a two-lane road. James was also ejected and suffered orthopedic injuries, including a broken arm.
Other motorcyclists participating in the charity event stopped and provided first aid to Lori. She was airlifted to OSF Saint Anthony Medical Center in Rockford, where she was initially treated for injuries including bleeding on her brain, fractures on the left side of her face, spinal fractures and a broken left wrist.
The bleeding on her brain caused a traumatic brain injury. Now 56, she can't work, handle family finances or drive, said Christopher M. Norem, a partner at Parente & Norem P.C. who represents Lori along with his law partner, Joseph D. Parente.
A lawsuit was filed on Lori's behalf in July 2012 in Winnebago County Circuit Court against her husband. His mother, Theresa, who lives near the couple, is guardian of Lori's estate.
The complaint alleged that her husband operated the motorcycle negligently and failed to slow down before they were thrown off the bike.
James was insured under two House of Harley policies.
The couple still lives together in Grafton, Wis., about 20 miles north of Milwaukee. James, who hasn't worked for the dealership since the accident, is his wife's primary caregiver.
Parente and Norem decided not to name House of Harley in the lawsuit because they believed the dealership would have the case removed to Milwaukee, the city where Harley-Davidson was founded and a place where a dealership would be a popular and well-liked defendant, Norem said.
"It was a tactical decision, and it worked out," he said.
The lawsuit was filed in Winnebago County, which includes Rockford, rather than McHenry County because Norem's jury verdict research showed jurors there would give Hepner a fair valuation for her injuries, he said.
West Bend Mutual Insurance Co., an insurer for House of Harley and James Hepner, retained legal counsel to defend him. It asserted that a gust of wind pushed him off the road and that the accident was not his fault.
The settlement, which will be paid by West Bend, was reached at a mediation session last month with Dennis J. Burke of ADR Systems of America LLC.
The money will be used to renovate the couple's home to make it accessible and to pay for care for Lori. An attendant will help her shower, do laundry and complete other household tasks.
If the accident occurred before 1988, a lawsuit would have been barred under the previous version of Illinois' interspousal immunity statute. But the legislature amended that law to allow claims like this one.
"Now this family will have the resources Lori needs to be taken care of for the rest of her life instead of being driven into bankruptcy," he said.
Bradford S. Purcell, a partner at Purcell & Wardrope Chtd., represented West Bend and James Hepner. He could not be reached for comment.
The case is Theresa "Tess" Hepner, etc. v. James H. Hepner Jr., No. 12 L 205.
———————————————————————-
CHICAGOLAWBULLETIN.COM // In the News
Volume 161, No. 52 // TUESDAY, MARCH 17, 2015
Latest Posts
by Jennifer Gulbrandsen
In the world of personal injury law, negligence is a concept that holds immense significance. It forms the foundation of many personal injury...
by Jennifer Gulbrandsen
The Law Offices of Parente & Norem, P.C. was proud to support the Elevators Local 2 Golf Outing! This outing was held on Saturday, September 16...
by Jennifer Gulbrandsen
The Law Offices of Parente & Norem, P.C. was proud to support the Fox Valley Building Trades Golf Outing! This outing was held on Wednesday,...