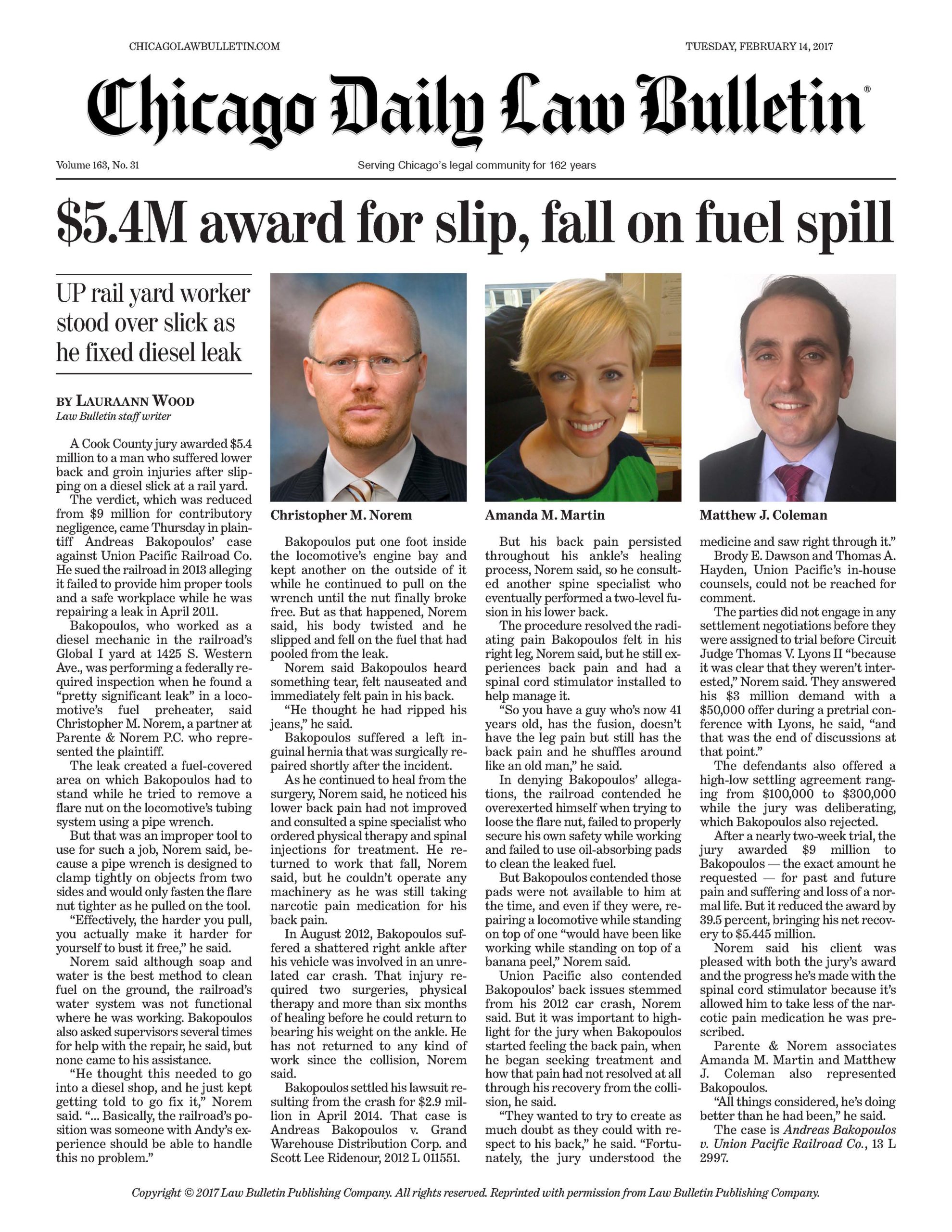 $5.4M Award for slip, fall on fuel spill
CHICAGOLAWBULLETIN.COM // In the News
Volume 163, No. 31 // TUESDAY, FEBRUARY 14, 2017
BY LAURAANN WOOD Law Bulletin staff writer
$5.445M net jury verdict against Union Pacific Rail Road for injured an
railroad worker brought under FELA.
37 year-old diesel mechanic was attempting to loosen a fitting on a fuel pre-heater with a pipe wrench
while standing in leaking diesel fuel when the fighting broke free causing him to twist and sustain an inguinal hernia along with a lumbar disk injury.
Plaintiff returned to work in a modified duty, but before having
back surgery was unfortunately in a serious car accident which fractured
his right ankle.
We obtained a $2.95M settlement for this man for his ankle injury.
Once he healed from the ankle fracture he returned to a spine surgeon and underwent a two-level lumbar fusion surgery on his back.
Union Pacific offered $50K during the start of the trial.
The jury awarded the entire $9M we requested of them and reduced it by 39.5% contributory negligence on the part of the mechanic, resulting in the net verdict of $5.445M or more than 100x the settlement offer at trial.
Latest Posts
by Jennifer Gulbrandsen
The Law Offices of Parente & Norem, P.C. is proud to announce that we were a dinner sponsor at this week's Annual Will & Grundy Building...
by Ryan
...following a long surgery where the patient's breathing tube was removed too quickly after surgery and he was then not properly monitored in the recovery...
by Ryan
...obtained against a south side medical group and hospital due to defendants' alleged medical negligence in prescribing an insufficient dose of blood...