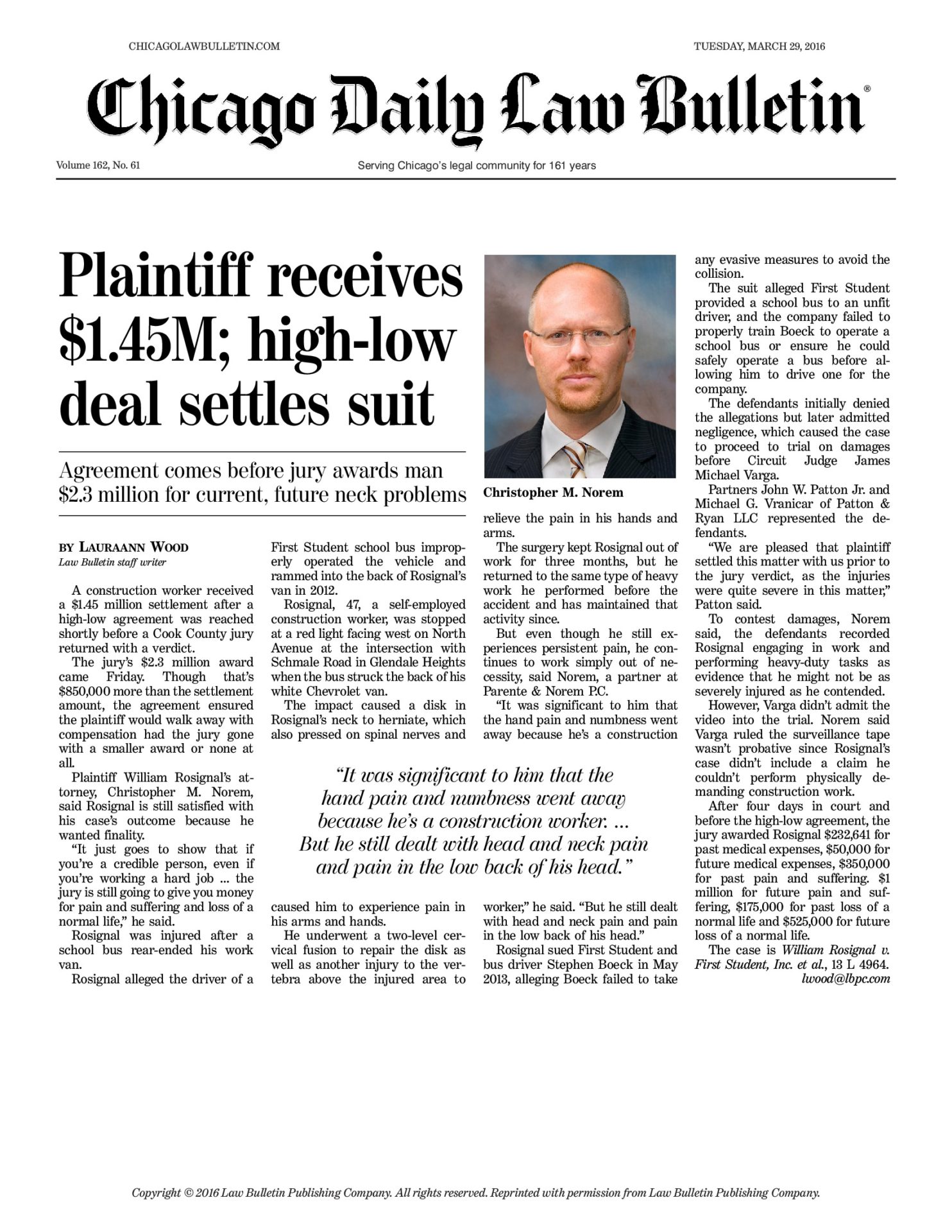 Plaintiff Receives $1.45M; High-Low Deal Settles Suit
BY LAURAANN WOOD Law Bulletin staff writer
A construction worker received a $1.45 million settlement after a high-low agreement was reached shortly before a Cook County jury returned with a verdict.
The jury's $2.3 million award came Friday. Though that's $850,000 more than the settlement amount, the agreement ensured the plaintiff would walk away with compensation had the jury gone with a smaller award or none at all.
Plaintiff William Rosignal's attorney, Christopher M. Norem, said Rosignal is still satisfied with his case's outcome because he wanted finality. "It just goes to show that if you 're a credible person, even if you 're working a hard job … the jury is still going to give you money for pain and suffering and loss of a normal life," he said.
Rosignal was injured after a school bus rear-ended his work van.
Rosignal alleged the driver of a First Student school bus improperly operated the vehicle and rammed into the back of Rosignal's van in 2012.
Rosignal, 47, a self-employed construction worker, was stopped at a red light facing west on North Avenue at the intersection with Schmale Road in Glendale Heights when the bus struck the back of his white Chevrolet van.
The impact caused a disk in Rosignal 's neck to herniate, which also pressed on spinal nerves and caused him to experience pain in his arms and hands.
He underwent a two-level cervical fusion to repair the disk as well as another injury to the vertebra above the injured area to relieve the pain in his hands and arms.
The surgery kept Rosignal out of work for three months, but he returned to the same type of heavy work he performed before the accident and has maintained that activity since.
But even though he still experiences persistent pain, he continues to work simply out of necessity, said Norem, a partner at Parente & Norem P.C.
"It was significant to him that the hand pain and numbness went away because he's a construction worker," he said. "But he still dealt with head and neck pain and pain in the low back of his head."
Rosignal sued First Student and bus driver Stephen Boeck in May 2013, alleging Boeck failed to take any evasive measures to avoid the collision .
The suit alleged First Student provided a school bus to an unfit driver, and the company failed to properly train Boeck to operate a school bus or ensure he could safely operate a bus before allowing him to drive one for the company.
The defendants initially denied the allegations but later admitted negligence, which caused the case to proceed to trial on damages before Circuit Judge James Michael Varga.
Partners John W. Patton Jr. and Michael G. Vranicar of Patton & Ryan LLC represented the defendants.
"We are pleased that plaintiff settled this matter with us prior to the jury verdict, as the injuries were quite severe in this matter," Patton said.
To contest damages, Norem said, the defendants recorded Rosignal engaging in work and performing heavy-duty tasks as evidence that he might not be as severely injured as he contended.
However, Varga didn't admit the video into the trial. Norem said Varga ruled the surveillance tape wasn't probative since Rosignal's case didn't include a claim he couldn't perform physically demanding construction work.
After four days in court and before the high-low agreement, the jury awarded Rosignal $232,641 for past medical expenses, $50,000 for future medical expenses, $350,000 for past pain and suffering. $1 million for future pain and suffering, $175,000 for past loss of a normal life and $525,000 for future loss of a normal life.
The case is William Rosignal v. First Student, Inc. et al., 13 L 4964.
———————————————————————-
CHICAGOLAWBULLETIN.COM // In the News
Volume 162, No. 61 // TUESDAY, MARCH 29, 2016
Latest Posts
by Jennifer Gulbrandsen
In the world of personal injury law, negligence is a concept that holds immense significance. It forms the foundation of many personal injury...
by Jennifer Gulbrandsen
The Law Offices of Parente & Norem, P.C. was proud to support the Elevators Local 2 Golf Outing! This outing was held on Saturday, September 16...
by Jennifer Gulbrandsen
The Law Offices of Parente & Norem, P.C. was proud to support the Fox Valley Building Trades Golf Outing! This outing was held on Wednesday,...