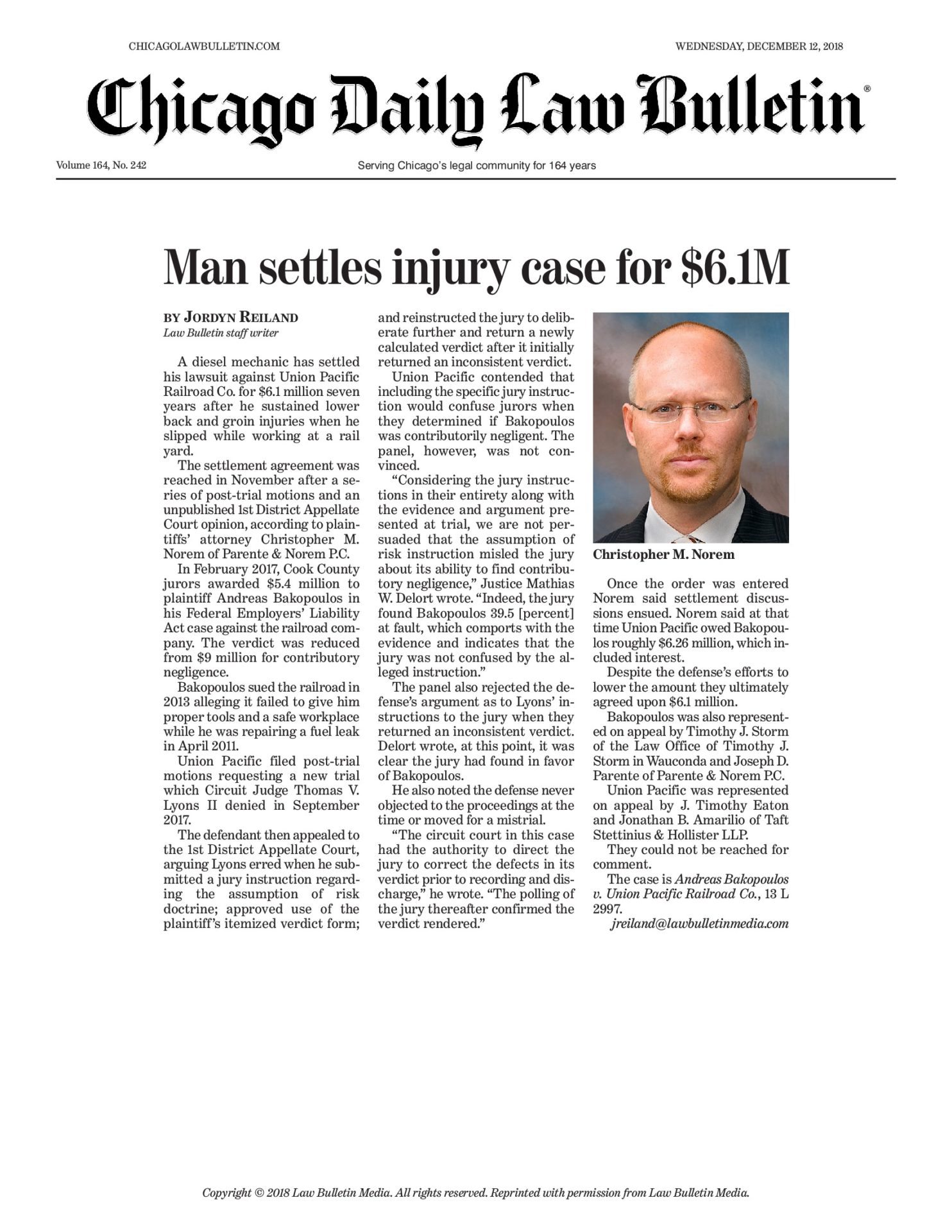 Man settles injury case for $6.1M, including $700K in post judgment interest, after the verdict was affirmed by the Appellate court.
Man settles injury case for $6.1 Million
BY JORDYN REILAND
Law Bulletin staff writer
A diesel mechanic has settled his lawsuit against Union Pacific Railroad Co. for $6.1 million seven years after he sustained lower back and groin injuries when he slipped while working at a rail yard.
The settlement agreement was reached in November after a series of post-trial motions and an unpublished 1st District Appellate Court opinion, according to plaintiffs' attorney Christopher M. Norem of Parente & Norem P.C.
In February 2017, Cook County jurors awarded $5.4 million to plaintiff Andreas Bakopoulos in his Federal Employers' Liability
Act case against the railroad company. The verdict was reduced from $9 million for contributory negligence.  Bakopoulos sued the railroad in 2013 alleging it failed to give him proper tools and a safe workplace while he was repairing a fuel leak in April 2011.
Union Pacific filed post-trial motions requesting a new trial which Circuit Judge Thomas V. Lyons II denied in September
2017.
The defendant then appealed to the 1st District Appellate Court, arguing Lyons erred when he submitted a jury instruction regarding the assumption of risk doctrine; approved use of the plaintiff's itemized verdict form; and reinstructed the jury to deliberate further and return a newly calculated verdict after it initially returned an inconsistent verdict.
Union Pacific contended that including the specific jury instruction would confuse jurors when they determined if Bakopoulos was contributorily negligent. The panel, however, was not convinced. "Considering the jury instructions in their entirety along with the evidence and argument presented at trial, we are not persuaded that the assumption of risk instruction misled the jury about its ability to find contributory negligence," Justice Mathias W. Delort wrote. "Indeed, the jury found Bakopoulos 39.5 [percent] at fault, which comports with the evidence and indicates that the jury was not confused by the alleged instruction."
The panel also rejected the defense's argument as to Lyons' instructions to the jury when they returned an inconsistent verdict.
Delort wrote, at this point, it was clear the jury had found in favor of Bakopoulos.
He also noted the defense never objected to the proceedings at the time or moved for a mistrial.
"The circuit court in this case had the authority to direct the jury to correct the defects in its verdict prior to recording and discharge," he wrote. "The polling of the jury thereafter confirmed the verdict rendered."
Once the order was entered Norem said settlement discussions ensued. Norem said at that time Union Pacific owed Bakopoulos roughly $6.26 million, which included interest.
Despite the defense's efforts to lower the amount they ultimately agreed upon $6.1 million.
Bakopoulos was also represented on appeal by Timothy J. Storm of the Law Office of Timothy J. Storm in Wauconda and Joseph D. Parente of Parente & Norem P.C.
Union Pacific was represented on appeal by J. Timothy Eaton and Jonathan B. Amarilio of Taft Stettinius & Hollister LLP.
They could not be reached for comment.
The case is Andreas Bakopoulos v. Union Pacific Railroad Co., 13 L 2997. jreiland@lawbulletinmedia.com
Latest Posts
by Jennifer Gulbrandsen
In the world of personal injury law, negligence is a concept that holds immense significance. It forms the foundation of many personal injury...
by Jennifer Gulbrandsen
The Law Offices of Parente & Norem, P.C. was proud to support the Elevators Local 2 Golf Outing! This outing was held on Saturday, September 16...
by Jennifer Gulbrandsen
The Law Offices of Parente & Norem, P.C. was proud to support the Fox Valley Building Trades Golf Outing! This outing was held on Wednesday,...