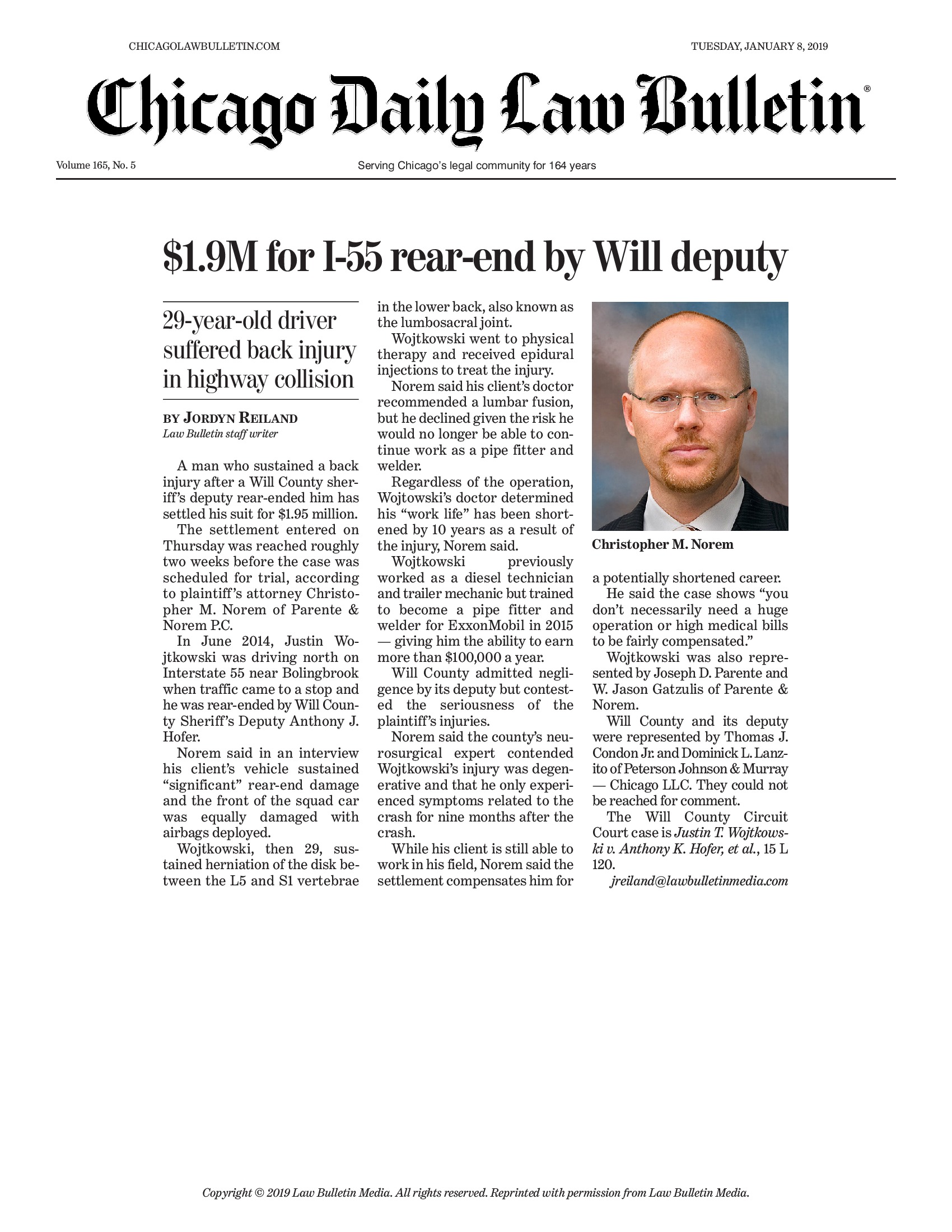 $1.95 Million for I-55 rear-end auto accident by Will County Deputy
29-year-old driver suffered back injury in highway collision
BY JORDYN REILAND
Law Bulletin staff writer
A man who sustained a back injury after a Will County sheriff's deputy rear-ended him has settled his suit for $1.95 million.
The settlement entered on Thursday was reached roughly two weeks before the case was scheduled for trial, according to plaintiff's attorney Christopher M. Norem of Parente & Norem P.C.
In June 2014, Justin Wojtkowski was driving north on Interstate 55 near Bolingbrook when traffic came to a stop and he was rear-ended by Will County Sheriff's Deputy Anthony J. Hofer.
Norem said in an interview his client's vehicle sustained "significant" rear-end damage and the front of the squad car was equally damaged with airbags deployed.
Wojtkowski, then 29, sustained herniation of the disk between the L5 and S1 vertebrae in the lower back, also known as the lumbosacral joint.
Wojtkowski went to physical therapy and received epidural injections to treat the injury. Norem said his client's doctor recommended a lumbar fusion, but he declined given the risk he would no longer be able to continue work as a pipe fitter and welder.
Regardless of the operation, Wojtowski's doctor determined his "work life" has been shortened by 10 years as a result of the injury, Norem said.
Wojtkowski previously worked as a diesel technician and trailer mechanic but trained to become a pipe fitter and welder for ExxonMobil in 2015 — giving him the ability to earn more than $100,000 a year.
Will County admitted negligence by its deputy but contested the seriousness of the plaintiff's injuries.
Norem said the county's neurosurgical expert contended Wojtkowski's injury was degenerative and that he only experienced symptoms related to the crash for nine months after the crash.
While his client is still able to work in his field, Norem said the settlement compensates him for a potentially shortened career.
He said the case shows "you don't necessarily need a huge operation or high medical bills to be fairly compensated." Wojtkowski was also represented by Joseph D. Parente and W. Jason Gatzulis of Parente & Norem.
Will County and its deputy were represented by Thomas J. Condon Jr. and Dominick L. Lanzito of  Peterson Johnson & Murray — Chicago LLC. They could not be reached for comment.
The Will County Circuit Court case is Justin T. Wojtkowski v. Anthony K. Hofer, et al., 15 L 120.
Latest Posts
by Jennifer Gulbrandsen
In the world of personal injury law, negligence is a concept that holds immense significance. It forms the foundation of many personal injury...
by Jennifer Gulbrandsen
The Law Offices of Parente & Norem, P.C. was proud to support the Elevators Local 2 Golf Outing! This outing was held on Saturday, September 16...
by Jennifer Gulbrandsen
The Law Offices of Parente & Norem, P.C. was proud to support the Fox Valley Building Trades Golf Outing! This outing was held on Wednesday,...