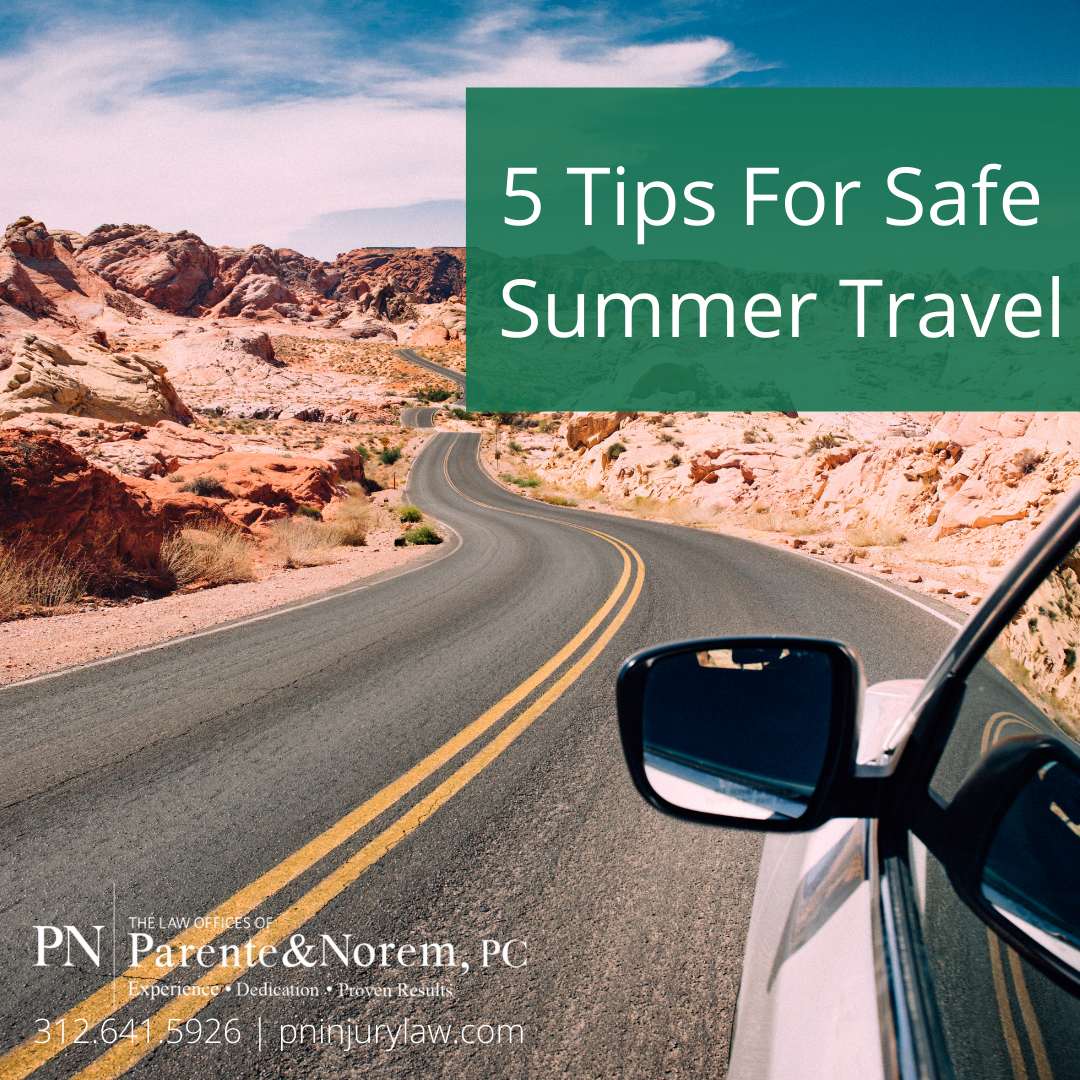 P&N BLOG | 5 Tips For Safe Summer Travel
Memorial Day kicks off the summer travel season. This year's volume on the roads is expected to be especially high as COVID-19 restrictions are rolled back and people are anxious to get out and see the world again after two years of staying close to home.
According to the NHTSA, over 9,000 fatal motor crashes occurred between the months of June through August in 2019. While not every motor vehicle accident is preventable, there are some things you can do to lessen the chances of an unfortunate incident occurring. Here are five summer travel safety tips to get you safely to your destination this summer.
Buckle Up
Buckle Up. Every Trip. Every Time. Be sure every passenger is restrained in their seat in an age appropriate manner. Children under thirteen should not ride in the front seat. Be sure to have all car seats, boosters, and other devices properly installed and secured. Never leave children unattended in the vehicle, and when the vehicle is not in use be sure to keep the doors locked and keys out of reach of children so they aren't tempted to play inside the car.
Stay Alert and Avoid Risky Behaviors
Be sure that all licensed drivers are well rested and ready to drive. Leave plenty of time for stops so you can stretch, walk around, eat, and answer emails, calls, and texts. Do not text and drive or drive distracted. It is always illegal to drive impaired on any substances whether they are legal or not. Always pull over if you are not feeling alert and up to driving.
Make Sure Your Vehicle is Up to Date On All Services
Before hitting the road, be sure your vehicle is up to date on all services including oil changes and emissions. Check for any recalls your vehicle may have, and have those addressed as well. Always drive with the gas tank close to full whenever possible, and check the condition of your tires and tire pressure often.
Complete a Vehicle Safety Checklist Before You Leave
Make sure the following items are running well before you take off on your trip:
Battery

Lights (Including brake lights and turn signals)

Cooling System

Oil Levels

Belts and Hoses

Wiper Blades

Air Conditioning

Floor Mats (these can bunch up under the gas and brake pedal if not installed properly)
Communicate Your Route And ETA With At Least Two People
Phone service and wifi isn't consistently available in rural areas, so be sure to let at least two people know what route you are taking, how long you plan to take on your drive, and check in with them each time you stop to give any updates or changes to your plans. That way if something goes wrong, they will have an idea of where you might be and how long it's been since they last spoke to you.
We at the Law Offices of Parente & Norem, P.C. hope all of you have a safe and happy summer travel season. Be sure to save our number, 312.641.5926 into your phone should you need our services at any time.
Latest Posts
by Jennifer Gulbrandsen
The Law Offices of Parente & Norem, P.C. was proud to attend Roofers Local 11 Apprenticeship Program! This event was held on Saturday, December...
by Jennifer Gulbrandsen
Thanksgiving is a time for gratitude, family, and, inevitably, travel. As we prepare for the festivities of Thanksgiving 2023, a familiar challenge...
by Jennifer Gulbrandsen
The Law Offices of Parente & Norem, P.C. would like to congratulate Chris Norem and Dennis Lynch, who were honored last Wednesday at the 2023...