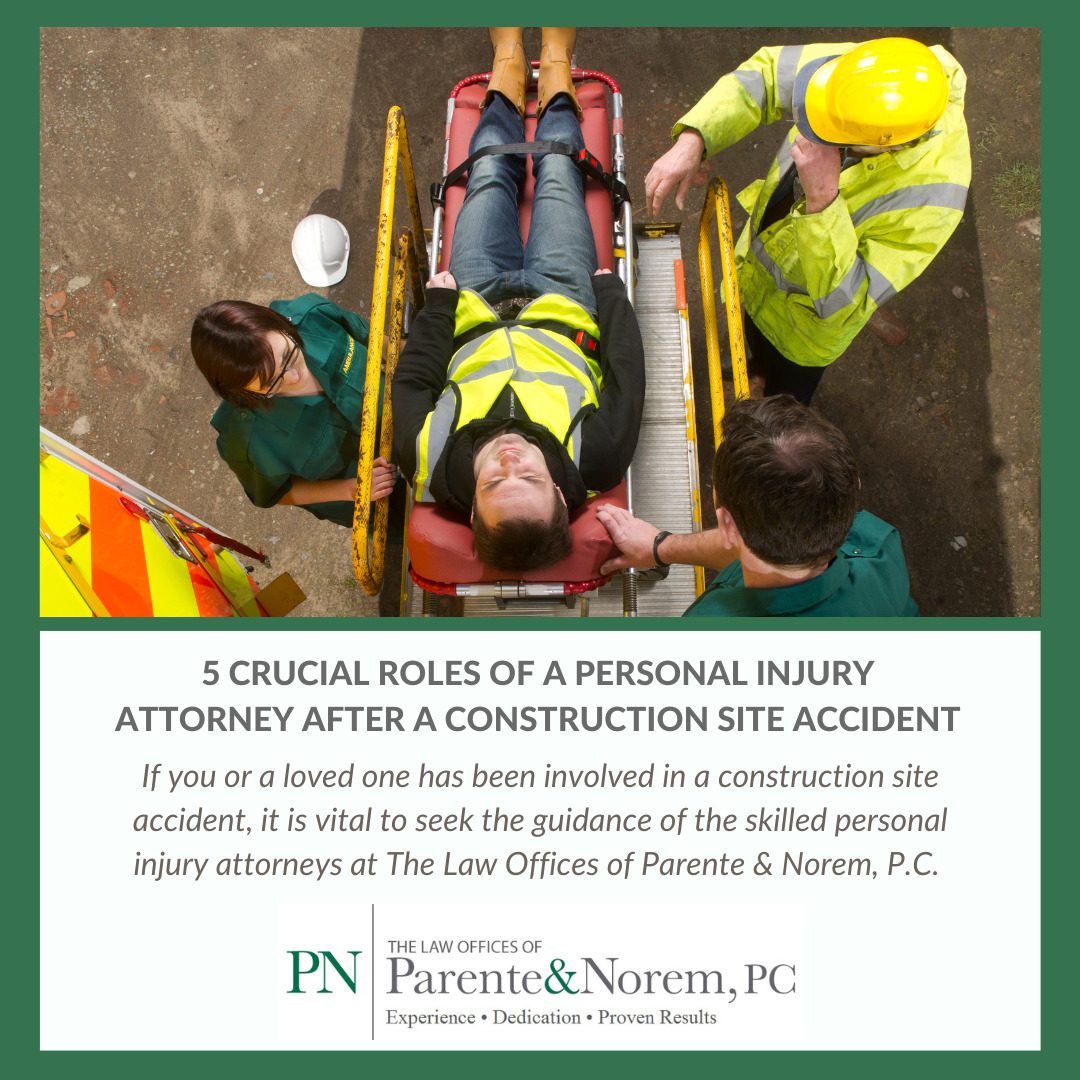 P&N BLOG | 5 Crucial Roles of a Personal Injury Attorney After a Construction Site Accident
Construction sites are inherently hazardous environments where accidents can occur due to a multitude of factors. When injuries happen, they can have a profound impact on the lives of those involved. If you or a loved one has been involved in a construction site accident, it is vital to seek the guidance of the skilled personal injury attorneys at The Law Offices of Parente & Norem, P.C. This article will explore the importance of contacting a personal injury attorney following such an incident; highlighting their invaluable expertise and the potential benefits they can offer.
Understanding the Complexities of Construction Site Accidents
Construction site accidents often involve a web of complex legal and regulatory frameworks. Personal injury attorneys are well-versed in the intricacies of construction accident law, allowing them to navigate the specific challenges associated with these cases. From identifying responsible parties to assessing liability and negligence, an experienced attorney will ensure that your rights are protected and that you receive the compensation you deserve.
Evaluating the Extent of Damages
Construction site accidents can result in a wide range of injuries, from minor cuts and bruises to catastrophic injuries and even fatalities. Determining the true extent of your damages goes beyond immediate medical expenses. A skilled personal injury attorney will work diligently to assess the full scope of your injuries, accounting for medical bills, ongoing treatment, loss of income, pain and suffering, emotional distress, and future rehabilitation needs. By thoroughly evaluating your damages, they can seek fair and just compensation on your behalf.
Establishing Liability
One of the primary challenges in construction site accidents is identifying the responsible party or parties. Construction sites often involve multiple contractors, subcontractors, suppliers, equipment manufacturers, and even government entities. Personal injury attorneys have the necessary resources and expertise to investigate the accident thoroughly. They will gather evidence, interview witnesses, consult with experts, and analyze safety protocols to establish liability. Holding the appropriate parties accountable is crucial for obtaining the compensation you deserve.
Dealing with Insurance Companies
Following a construction site accident, insurance companies representing various entities involved will likely approach you with settlement offers. It is essential to understand that insurance adjusters are primarily focused on minimizing their company's financial exposure. Having a personal injury attorney by your side provides you with a powerful advocate who can negotiate with insurance companies on your behalf. They will fight for your rights and ensure that any settlement offer is fair and reflective of your injuries and losses.
Maximizing Compensation
Personal injury attorneys are skilled negotiators, working diligently to secure the maximum compensation available in your case. They possess an in-depth understanding of the factors that can affect the value of your claim. By carefully evaluating the evidence, they will build a strong case that emphasizes the severity of your injuries, the impact on your life, and any future implications. With their expertise, they can pursue compensation for medical expenses, lost wages, pain and suffering, and other damages you may be entitled to under the law.
Representing You in Litigation, If Necessary
While many personal injury cases are resolved through settlement negotiations, some may require litigation. In such instances, having a knowledgeable personal injury attorney who is skilled in trial advocacy becomes invaluable. They will guide you through the litigation process, representing your interests before a judge and jury. Their courtroom experience and expertise in construction accident law will provide you with the best chance of obtaining a favorable outcome.
If you or someone you know has been involved in a construction site accident, reaching out to a personal injury attorney is paramount. Their expertise in construction accident law, experience with insurance companies, and ability to navigate the complexities of these cases will help ensure that your rights are protected, and you receive the compensation you deserve. Remember, time is of the essence when it comes to personal injury claims, so don't hesitate to call/text The Law Offices of Parente & Norem, P.C. at 312.641.5926, or fill out a contact form here on our website for a free case evaluation.
This article is for informational purposes only, and does not constitute legal advice.
Latest Posts
by Jennifer Gulbrandsen
The Law Offices of Parente & Norem, P.C. was proud to attend Roofers Local 11 Apprenticeship Program! This event was held on Saturday, December...
by Jennifer Gulbrandsen
Thanksgiving is a time for gratitude, family, and, inevitably, travel. As we prepare for the festivities of Thanksgiving 2023, a familiar challenge...
by Jennifer Gulbrandsen
The Law Offices of Parente & Norem, P.C. would like to congratulate Chris Norem and Dennis Lynch, who were honored last Wednesday at the 2023...