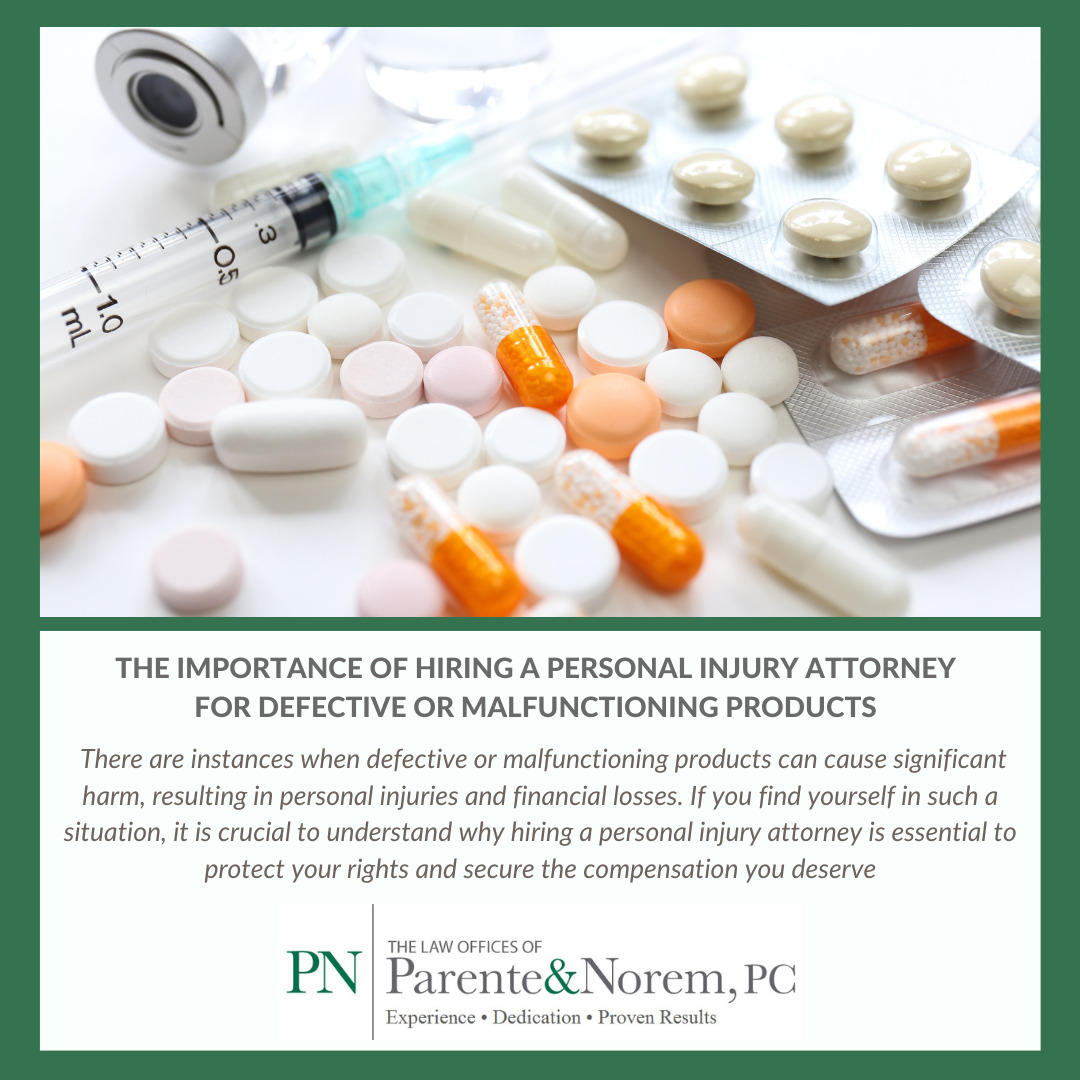 P&N BLOG | The Importance of Hiring a Personal Injury Attorney for Defective or Malfunctioning Products
In our modern consumer-driven society, we rely on products to enhance our lives, provide convenience, and ensure our safety. However, there are instances when defective or malfunctioning products can cause significant harm, resulting in personal injuries and financial losses. If you find yourself in such a situation, it is crucial to understand why hiring a personal injury attorney is essential to protect your rights and secure the compensation you deserve.
Expertise in Product Liability Laws
Navigating the complex legal landscape of product liability cases requires specialized knowledge and experience. Our personal injury attorneys at The Law Offices of Parente & Norem, P.C. specialize in product liability and understand the intricate laws and regulations governing these cases. They can help you determine who may be held responsible for your injuries, whether it's the manufacturer, distributor, retailer, or another party in the supply chain.
Thorough Investigation and Case Building
A skilled personal injury attorney will conduct a thorough investigation to gather evidence, analyze the product's defects or malfunctions, and establish the causal link between the product and your injuries. They work with experts, such as engineers and industry professionals, to build a strong case on your behalf. This comprehensive approach ensures that all relevant details are considered, increasing the chances of a successful claim.
Advocacy and Negotiation
When dealing with a defective or malfunctioning product, you may find yourself facing powerful corporations and their legal teams. Hiring a personal injury attorney levels the playing field. Your attorney becomes your advocate, representing your best interests and fighting for your rights. They have the negotiation skills necessary to engage in discussions with insurance companies and other parties involved, ensuring that you are not taken advantage of and that you receive fair compensation for your injuries.
Calculating Damages
Determining the full extent of your damages can be challenging without legal expertise. A personal injury attorney will evaluate all aspects of your case, including medical expenses, lost wages, pain and suffering, emotional distress, and potential long-term effects of the injury. They work with economic and medical experts to accurately calculate the value of your claim, ensuring that you pursue an appropriate amount of compensation to cover your past, present, and future losses.
Litigation Support
While most personal injury cases are settled out of court, some may require litigation. If a fair settlement cannot be reached, having a personal injury attorney by your side is crucial. They have the litigation experience necessary to represent you effectively in court, presenting a compelling case to the judge and jury. With their guidance, you can navigate the complexities of the courtroom and increase the likelihood of a favorable outcome.
Peace of Mind
Dealing with the aftermath of a personal injury caused by a defective or malfunctioning product can be incredibly stressful. By hiring a personal injury attorney, you can focus on your recovery while knowing that a skilled professional is handling the legal aspects of your case. Their expertise and guidance alleviate the burden, allowing you to have peace of mind during this challenging time.
Encountering a defective or malfunctioning product can have severe consequences for your well-being and finances. Hiring a personal injury attorney is vital to ensure that your rights are protected, and you receive the compensation you deserve. Their expertise in product liability laws, ability to conduct thorough investigations, advocacy skills, and negotiation expertise are invaluable in building a strong case. With a personal injury attorney by your side, you can pursue justice, obtain fair compensation, and focus on your recovery, knowing that your best interests are being represented.
If you or a loved one have been injured by a defective or malfunctioning product, call/text us today at 312.641.5926, or fill out a contact form here on our website.
This article is for informational purposes only and does not constitute legal advice.
Latest Posts
by Jennifer Gulbrandsen
The Law Offices of Parente & Norem, P.C. was proud to attend Roofers Local 11 Apprenticeship Program! This event was held on Saturday, December...
by Jennifer Gulbrandsen
Thanksgiving is a time for gratitude, family, and, inevitably, travel. As we prepare for the festivities of Thanksgiving 2023, a familiar challenge...
by Jennifer Gulbrandsen
The Law Offices of Parente & Norem, P.C. would like to congratulate Chris Norem and Dennis Lynch, who were honored last Wednesday at the 2023...