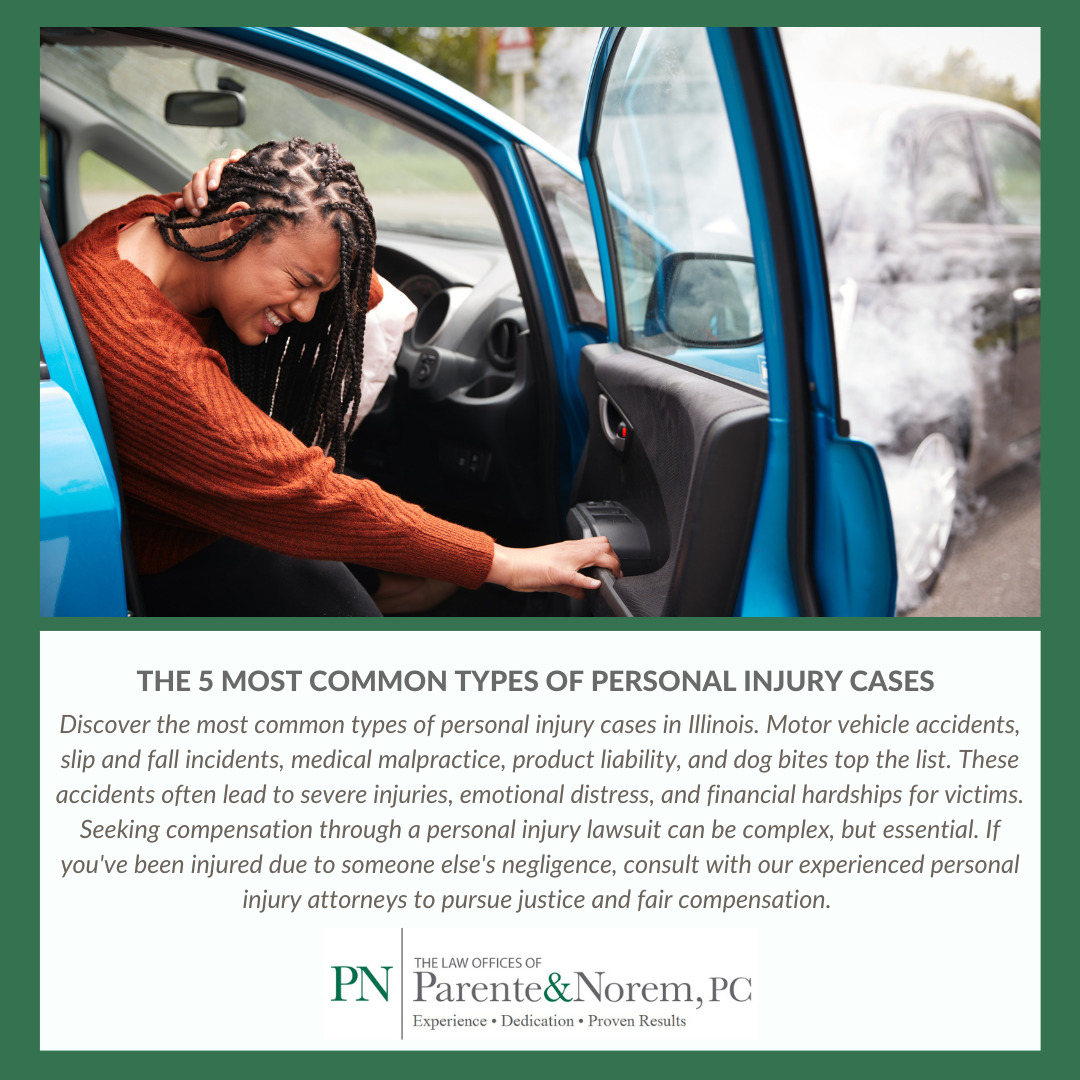 P&N BLOG | The 5 Most Common Types of Personal Injury Cases
Accidents can happen to anyone, anywhere, and at any time. Unfortunately, some accidents result in personal injuries, leaving victims facing physical pain, emotional distress, and financial hardships. When these injuries occur due to someone else's negligence or wrongful actions, victims may have the right to seek compensation through a personal injury lawsuit. In Illinois, as in any other state, personal injury cases can arise from a variety of situations. In this blog post, we will delve into the most common types of personal injury cases, shedding light on their causes and implications, and exploring the legal aspects involved.
Motor Vehicle Accidents
Motor vehicle accidents top the list as the most prevalent cause of personal injury cases in Illinois. Whether it's a car collision, motorcycle crash, or truck accident, these incidents can result in severe injuries, property damage, and even fatalities. According to the National Highway Traffic Safety Administration (NHTSA), Illinois experienced over 1,000 fatal crashes and tens of thousands of injuries in motor vehicle accidents in the past year alone.
Slip and Fall Accidents
Slip and fall accidents are another common type of personal injury case. Property owners have a duty to maintain their premises in a safe condition and warn visitors of potential hazards. When they fail to do so, and someone suffers injuries due to a slip, trip, or fall, the property owner may be held liable. This may occur in various settings, such as supermarkets, restaurants, or poorly maintained public areas.
Medical Malpractice
Medical malpractice occurs when a healthcare professional's negligence or substandard care leads to harm or injury to a patient. These cases can be complex and challenging to prove, but they often involve instances of misdiagnosis, surgical errors, medication mistakes, or birth injuries. Victims of medical malpractice may endure serious physical injuries and emotional trauma, along with mounting medical bills and ongoing treatment needs.
Product Liability
Product liability cases arise when a defective or dangerous product causes harm to a consumer. This could be due to design flaws, manufacturing defects, or inadequate warnings and instructions. Companies that design, manufacture, or distribute these products may be held responsible for injuries or damages caused by their defective items.
Dog Bites
Dog bite incidents can lead to severe injuries, especially for children and the elderly. Illinois has strict liability laws that hold dog owners accountable for injuries caused by their pets, regardless of the dog's past behavior or the owner's knowledge of it. In many cases, homeowner's insurance policies cover dog bite claims, providing compensation for medical expenses and other damages.
Personal injury cases can be life-altering, affecting victims physically, emotionally, and financially. Understanding the common types of personal injury cases can help individuals recognize their rights and seek appropriate legal recourse when they suffer harm due to someone else's negligence. If you or a loved one find yourself in such a situation, consulting with an experienced personal injury attorney is crucial in pursuing justice and obtaining the compensation you deserve.
Sources:
– Yale Ledger: "5 Common Types of Personal Injury Cases"
– Cornell Law School: "Personal Injury"
– SMU Daily Campus: "The 10 Most Common Personal Injury Claims"
Latest Posts
by Jennifer Gulbrandsen
In the world of personal injury law, negligence is a concept that holds immense significance. It forms the foundation of many personal injury...
by Jennifer Gulbrandsen
The Law Offices of Parente & Norem, P.C. was proud to support the Elevators Local 2 Golf Outing! This outing was held on Saturday, September 16...
by Jennifer Gulbrandsen
The Law Offices of Parente & Norem, P.C. was proud to support the Fox Valley Building Trades Golf Outing! This outing was held on Wednesday,...