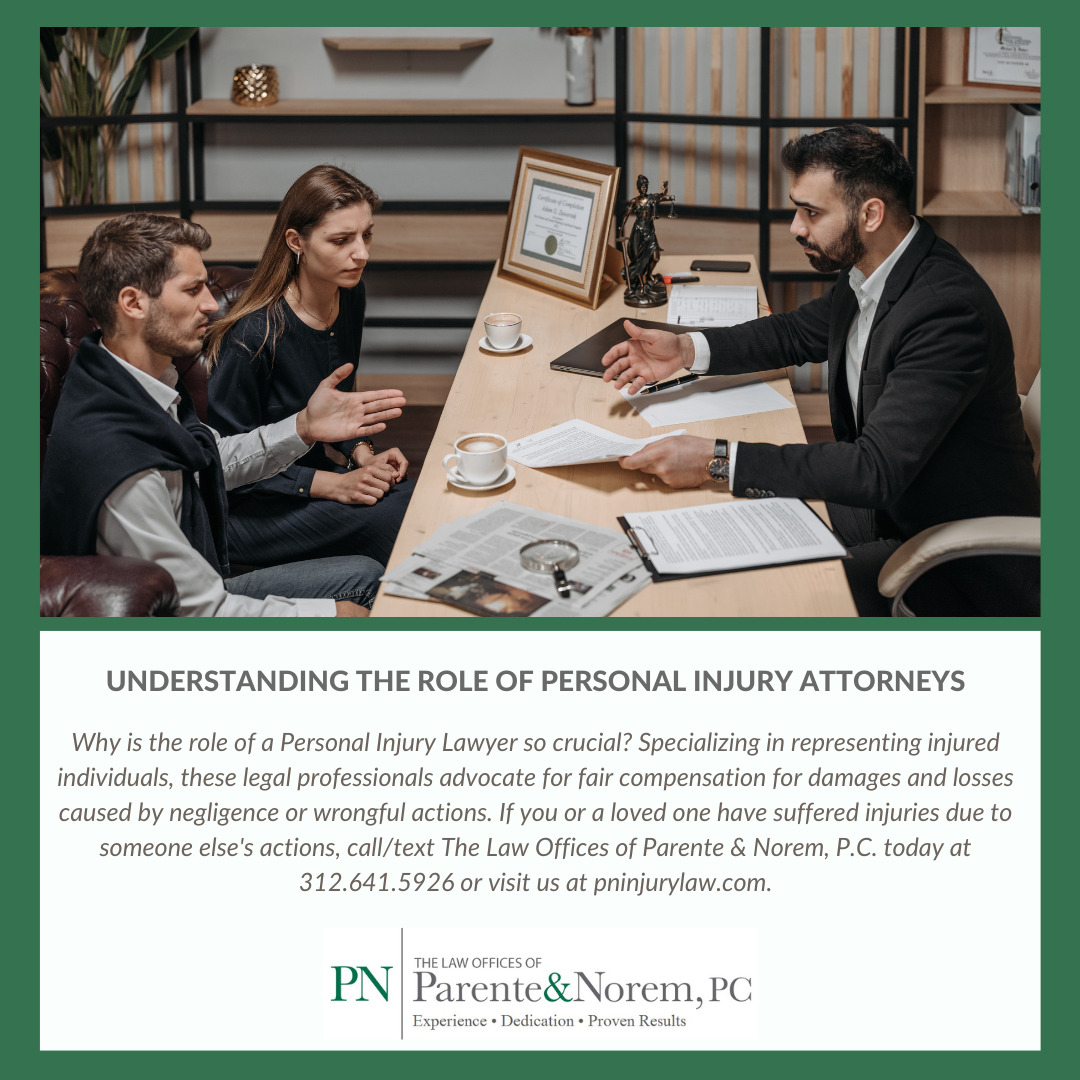 P&N BLOG | Understanding the Role of Personal Injury Attorneys
Accidents and injuries can be life-altering events, leaving victims physically and emotionally shattered. When these incidents occur due to someone else's negligence or wrongful actions, the affected individuals have the right to seek compensation for their damages and losses. This is where personal injury attorneys step in. In Illinois, as in other states, personal injury lawyers play a crucial role in helping injured individuals navigate the complex legal process and advocate for their rights. In this blog post, we will explore the role of personal injury attorneys, highlighting their unique qualities and providing essential information for laypersons to understand how these legal professionals can assist them in their time of need.
The Distinctive Role of Personal Injury Lawyers
Personal injury lawyers are legal professionals who specialize in representing individuals who have suffered injuries or harm due to the negligence or wrongful actions of others. Unlike other types of lawyers who may handle various legal matters, personal injury attorneys focus solely on advocating for the rights of injured clients. Their primary goal is to help victims obtain fair compensation for their injuries, medical expenses, lost wages, pain, and suffering, as well as other damages incurred as a result of the accident.
Specialization and Expertise
One of the key aspects that set personal injury attorneys apart is their specialization and in-depth expertise in this specific area of law. Their knowledge and experience allow them to understand the intricacies of personal injury cases, including the applicable laws, statutes of limitations, and legal precedents that could affect the outcome of a claim.
Investigating and Building Strong Cases
A crucial part of a personal injury attorney's role is to conduct a thorough investigation into the circumstances surrounding the accident. This investigation may involve gathering evidence, interviewing witnesses, consulting with experts, and reconstructing the events that led to the injury. By building a strong case, attorneys can present compelling arguments to insurance companies or in court, seeking maximum compensation for their clients.
Negotiating with Insurance Companies
In many personal injury cases, victims must deal with insurance companies to obtain compensation. Unfortunately, insurance companies often try to minimize payouts to protect their profits. Personal injury lawyers have experience in negotiating with insurance adjusters and are well-versed in the tactics used to undervalue claims. Having an attorney on your side can level the playing field and ensure that your rights are protected throughout the negotiation process.
Litigation and Trial Representation
While many personal injury cases are settled through negotiations, some may require litigation and trial representation. Experienced personal injury attorneys are prepared to take a case to court if necessary. They will represent their clients zealously in front of a judge and jury, presenting a compelling case to secure the compensation deserved.
Personal injury attorneys play a crucial role in helping injured individuals seek justice and compensation after accidents caused by negligence or wrongful actions. With their specialized expertise, negotiation skills, and dedication to their clients' well-being, these legal professionals ensure that the rights of the injured are protected. If you or a loved one have suffered injuries due to someone else's negligence, call or text The Law Offices of Parente & Norem, P.C. today at 312.641.5926 or fill out a contact form here on our website.
Sources:
– Lawyer Monthly: "What Makes Personal Injury Lawyers Different?"
– American Bar Association: "Injury Law: What You Need to Know"
Latest Posts
by Jennifer Gulbrandsen
In the world of personal injury law, negligence is a concept that holds immense significance. It forms the foundation of many personal injury...
by Jennifer Gulbrandsen
The Law Offices of Parente & Norem, P.C. was proud to support the Elevators Local 2 Golf Outing! This outing was held on Saturday, September 16...
by Jennifer Gulbrandsen
The Law Offices of Parente & Norem, P.C. was proud to support the Fox Valley Building Trades Golf Outing! This outing was held on Wednesday,...