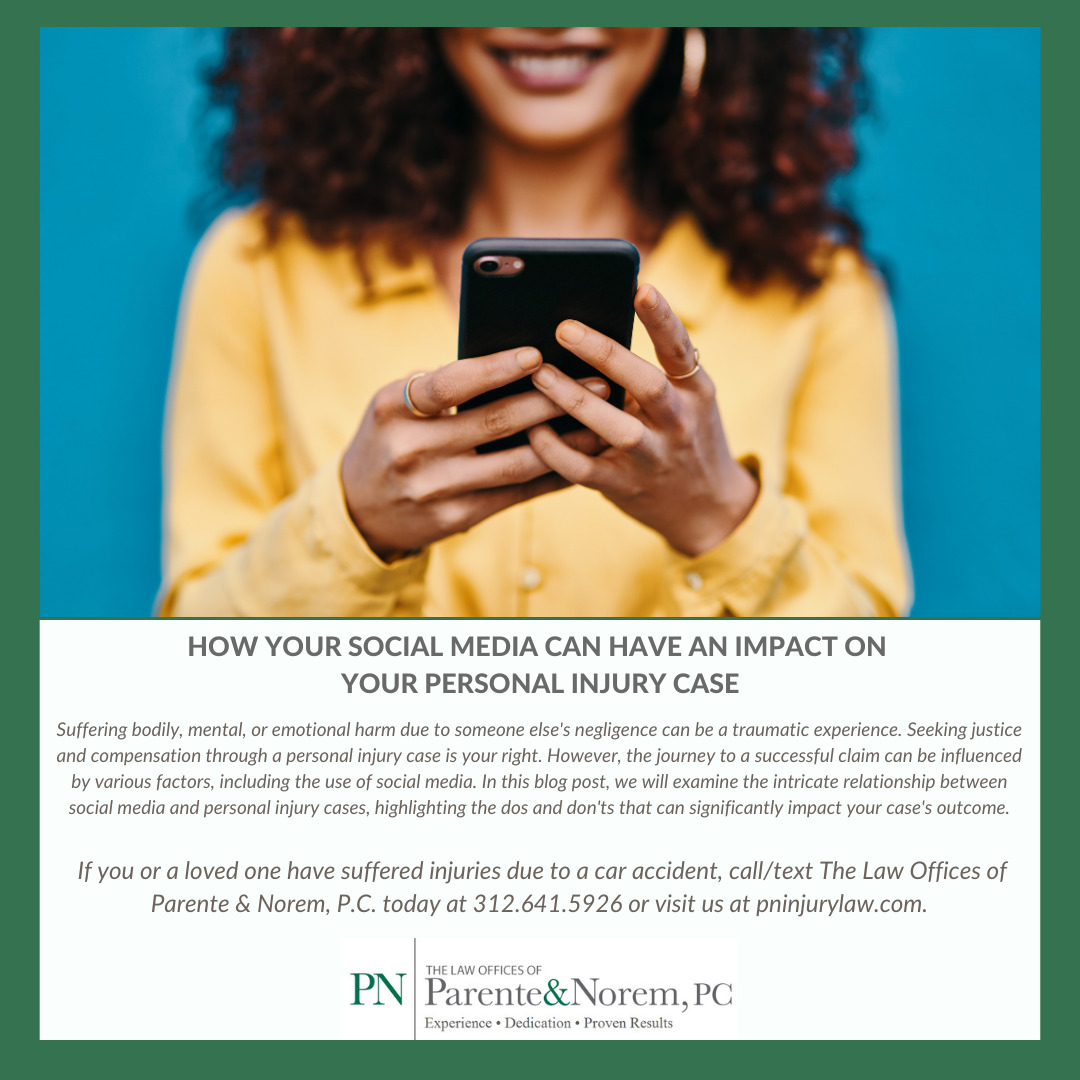 P&N BLOG | How Your Social Media Can Have an Impact on Your Personal Injury Case
Suffering bodily, mental, or emotional harm due to someone else's negligence can be a traumatic experience. Seeking justice and compensation through a personal injury case is your right. However, the journey to a successful claim can be influenced by various factors, including the use of social media. In this blog post, we will examine the intricate relationship between social media and personal injury cases, highlighting the dos and don'ts that can significantly impact your case's outcome.
The Role of Social Media in Personal Injury Cases
When you file a personal injury case, typically against an insurance provider, the investigation process begins. Investigating claims involves thorough scrutiny, and one of the tools insurance companies now utilize is social media. By requesting access to your social media activity, including even deleted posts, these insurers aim to gather as much information as possible to support their arguments.This step is crucial as insurance companies are primarily focused on minimizing payouts to maximize profits.
The Preservation of Social Media Evidence
Preservation of your social media activity is vital during a personal injury case. Insurance companies will analyze your posts to gain insights into the extent of your injuries, the recovery process, and any potential discrepancies. To avoid jeopardizing your claim, exercise caution in your online activity. An innocuous post could inadvertently provide the opposing team with ammunition to downplay your injuries or even assign blame to you, ultimately weakening your case.
Don't Share Details About Your Injuries
While documenting information about your injuries is essential for your claim, refrain from posting it online. Revealing too much could provide the opposing team with insights to counter your case.
Don't Post About Your Recovery Process
Sharing details of your recovery process on social media might inadvertently undermine the seriousness of your injuries. Keep discussions about your recovery private and limited to conversations with your attorney.
Do Share Relevant Evidence with Your Attorney
Provide your attorney with crucial evidence such as medical scans, bills, and photos or videos of your injuries. This information will bolster your case, substantiate your claims, and facilitate strong negotiations.
Don't Share Vacation Pictures
While it's natural to want to share happy vacation moments, refrain from posting pictures that might suggest your injuries are less severe than claimed. Opposing parties could use such posts to challenge the extent of your harm.
Inform Friends and Family About Posting
Request that friends and family avoid tagging you in their social media posts related to your accident. Investigators may scour their accounts for information that could be used against your claim. It can also be helpful to adjust your privacy settings to disable the ability for people to tag you in their photos or comments.
Consider Pausing Social Media Activity
Consider suspending your social media activity during the case to prevent any unintentional harm. Focus on essential aspects like healing, recovery, and working closely with your legal team. While some things may seem harmless to post on social media, it is always better to err on the side of caution and be safe rather than sorry.
The integration of social media into our lives has brought both opportunities and challenges, especially in personal injury cases. It's crucial to recognize the potential impact of your online activity on your claim's success. Remember, seeking legal representation promptly is your best defense against the intricacies of a personal injury case. For a free consultation with one of our experienced personal injury trial attorneys here at The Law Offices of Parente & Norem, P.C. call or text us today at 312.641.5926 or fill out a contact form here on our website.
Latest Posts
by Jennifer Gulbrandsen
In the world of personal injury law, negligence is a concept that holds immense significance. It forms the foundation of many personal injury...
by Jennifer Gulbrandsen
The Law Offices of Parente & Norem, P.C. was proud to support the Elevators Local 2 Golf Outing! This outing was held on Saturday, September 16...
by Jennifer Gulbrandsen
The Law Offices of Parente & Norem, P.C. was proud to support the Fox Valley Building Trades Golf Outing! This outing was held on Wednesday,...