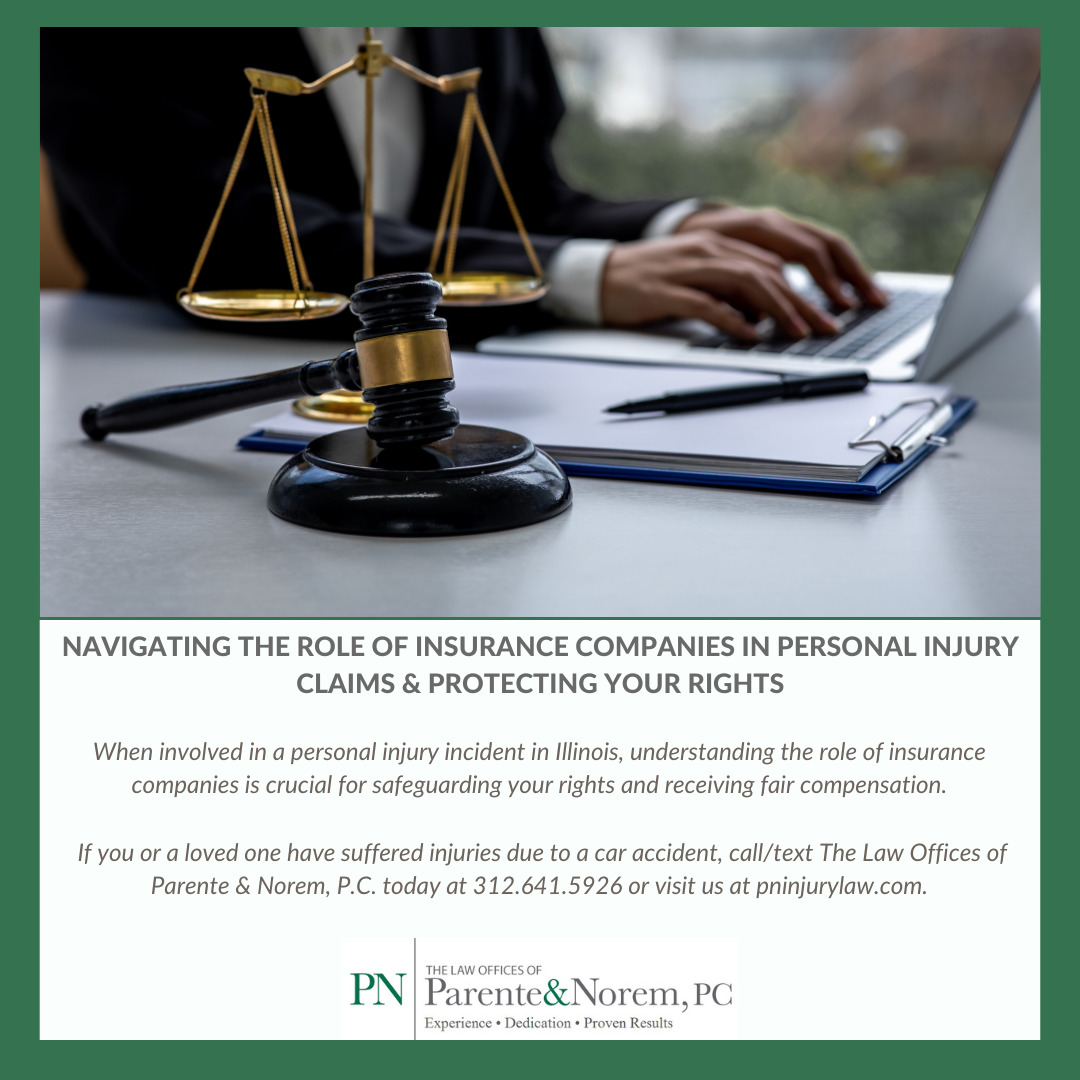 P&N BLOG | Navigating the Role of Insurance Companies in Personal Injury Claims & Protecting Your Rights
When involved in a personal injury incident in Illinois, understanding the role of insurance companies is crucial for safeguarding your rights and receiving fair compensation. Insurance companies play a significant role in personal injury claims, as they are responsible for compensating injured parties. However, their primary goal is to protect their bottom line and minimize payouts. As a result, dealing with insurance companies can be complex and challenging, requiring informed decision-making and legal expertise.
The Insurance Company's Objective
Insurance companies are for-profit entities, and their primary goal is to make money. Their profits depend on collecting premiums from policyholders while minimizing payouts to claimants. In the context of personal injury claims, this often means attempting to settle for the lowest possible amount, sometimes even denying legitimate claims.
When dealing with insurance companies, it is essential to recognize that they have teams of experienced adjusters, lawyers, and investigators working on their behalf. These professionals are skilled at negotiating and may use various tactics to diminish the value of your claim.
Steps to Protect Your Rights During the Claims Process
Seek Legal Representation
One of the most effective ways to protect your rights and level the playing field when dealing with insurance companies is by seeking legal representation from an experienced personal injury attorney. A reliable attorney can navigate the complexities of the legal system, handle communication with the insurance company, and advocate for your best interests.
According to Entrepreneur magazine, personal injury law firms are thriving due to their expertise in handling complex cases and providing the support that injured individuals need to secure fair compensation.
Gather Evidence and Document the Incident
To strengthen your personal injury claim, gather as much evidence as possible and document the incident thoroughly. This includes obtaining contact information from witnesses, taking photographs of the accident scene, any damages, and your injuries, and keeping track of medical records and expenses.
As noted in BOSS Magazine, thorough documentation can serve as critical evidence to support your claim and demonstrate the extent of your injuries and damages.
Avoid Signing Premature Settlements
Insurance companies may try to offer a quick settlement soon after the accident, hoping to resolve the claim for less than it's worth. However, accepting an early settlement may not adequately cover all your present and future expenses related to the injury.
Forbes Advisor emphasizes the importance of consulting with an attorney before accepting any settlement offers, as they can assess the full extent of your losses and negotiate a fair and just settlement on your behalf.
Be Cautious with Recorded Statements
Insurance adjusters may ask for recorded statements regarding the accident. While it's essential to cooperate, be cautious with your responses. Anything you say may be used against you later to downplay the severity of your injuries or shift liability.
Consult with an attorney before providing any recorded statements to ensure that your rights are protected.
Stay Off Social Media
Insurance companies often scour social media platforms to gather information about claimants. Avoid posting anything related to the accident or your injuries on social media, as this information may be used to undermine your claim.
Dealing with Delays and Denials
Insurance companies may intentionally delay the claims process or deny your claim outright to pressure you into accepting a lesser settlement. If you encounter such delays or denials, having legal representation can be invaluable.
Your attorney can communicate with the insurance company, file necessary paperwork, and take legal action if your claim is unjustly denied. Additionally, your lawyer can negotiate aggressively on your behalf to avoid prolonged delays.
In personal injury claims, insurance companies play a significant role in determining the outcome of your case. While their objective is to minimize payouts, you have the right to protect your interests and receive fair compensation for your injuries and losses. Seeking legal representation, gathering thorough evidence, avoiding premature settlements, and being cautious with recorded statements can all contribute to safeguarding your rights during the claims process. To speak with an experienced personal injury attorney here at The Law Offices of Parente & Norem, P.C. call/text us today at 312.641.5926 or fill out a contact form here on our website.
By understanding the tactics used by insurance companies and enlisting the help of a skilled personal injury attorney, you can level the playing field and increase your chances of obtaining the compensation you deserve. Remember, your well-being is of utmost importance, and securing fair compensation can aid in your recovery and ensure a more secure future.
Latest Posts
by Jennifer Gulbrandsen
In the world of personal injury law, negligence is a concept that holds immense significance. It forms the foundation of many personal injury...
by Jennifer Gulbrandsen
The Law Offices of Parente & Norem, P.C. was proud to support the Elevators Local 2 Golf Outing! This outing was held on Saturday, September 16...
by Jennifer Gulbrandsen
The Law Offices of Parente & Norem, P.C. was proud to support the Fox Valley Building Trades Golf Outing! This outing was held on Wednesday,...