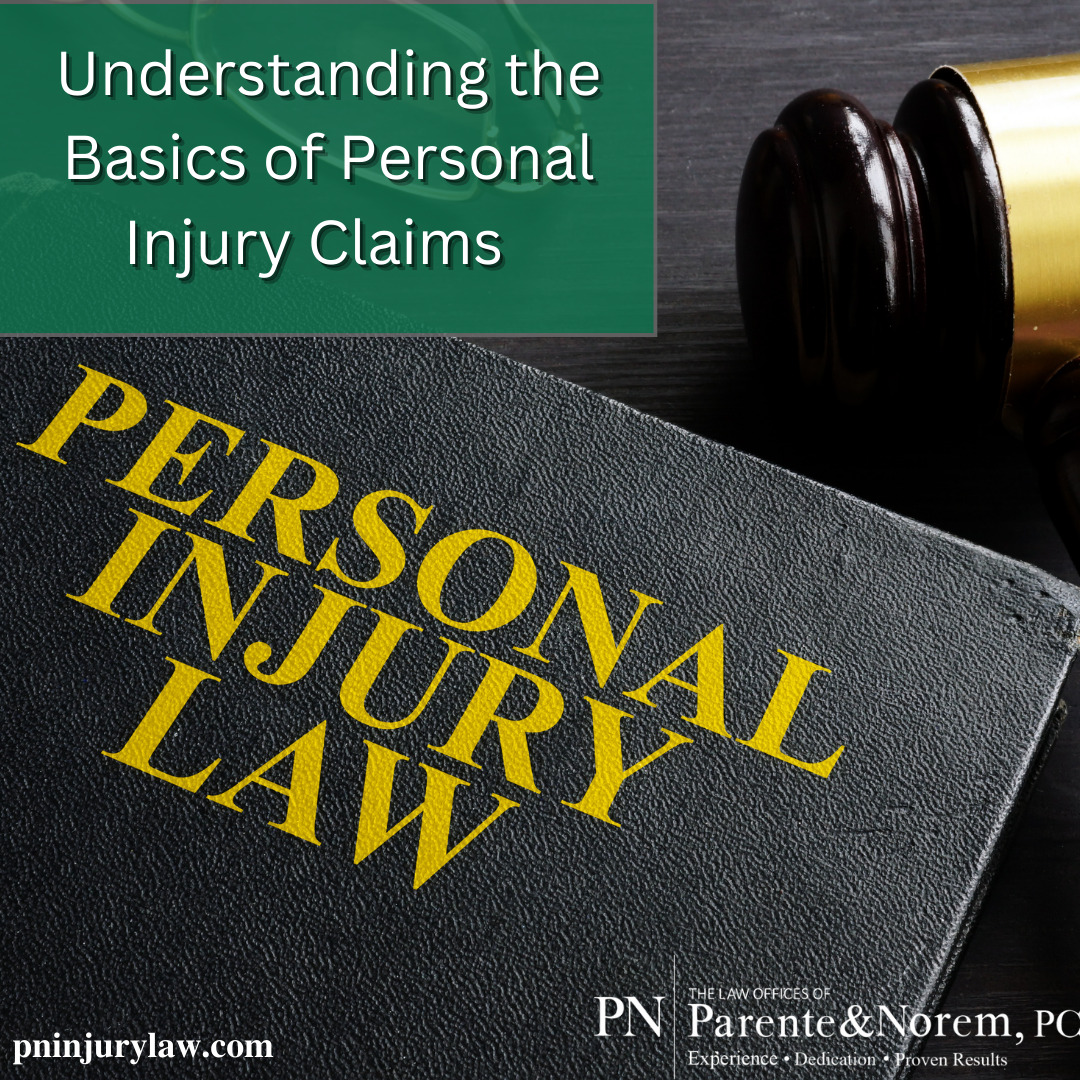 P&N BLOG | Understanding the Basics of Personal Injury Claims
Personal injuries can be life-altering events, and when they occur due to someone else's negligence or intentional actions, it's important to understand your rights and options under personal injury law. In this comprehensive guide, we'll explore the fundamentals of personal injury claims, the types of cases that fall under this category, who you can sue, what you need to prove, and the compensation you may be entitled to. Whether you're facing the aftermath of a car accident, medical malpractice, or another personal injury situation in Illinois, this information can be invaluable in helping you navigate the legal process.
What Is Personal Injury Law?
Personal injury law is a branch of the legal system that defines your rights when you suffer harm due to the actions or negligence of another party. Whether you file your claim in state or federal court, you are the plaintiff, and the individuals, companies, or entities you are taking legal action against become the defendants. Personal injury laws outline the situations that can be grounds for a claim, the parties you can sue, the evidence required to win your case, and the damages you may receive if your claim is successful.
Types of Legal Claims Under Personal Injury Law
Personal injury law encompasses a wide range of situations, including:
Accidental Injuries: These occur when someone's mistake, negligence, or failure to meet professional standards leads to your harm. Examples include medical malpractice, slip and fall accidents, car accidents, and more.
Strict Liability Claims: In some cases, you can make a personal injury claim even without proving negligence or wrongdoing. For instance, if a defective product causes harm, the manufacturer can be held strictly liable.
Intentional Torts: Personal injury laws also allow you to pursue a claim if someone harms you intentionally, such as in cases of assault and battery.
It's essential to consult with an experienced personal injury attorney to understand how these laws apply to your specific situation. Our attorneys here at the Law Offices of Parente & Norem, P.C. are available to discuss your case and its specifics.
Who Can You Sue Under Personal Injury Law?
In most cases, you can sue the individual, company, or entity directly responsible for your injuries. However, there are situations where multiple parties may be liable. For example, in medical malpractice claims, you may sue both the negligent doctor and the clinic that employed them due to a legal doctrine called vicarious liability. This doctrine holds employers responsible for their employees' actions during job duties.
Regardless of the defendants you choose, you will likely deal with insurance companies during your personal injury claim. Insurers providing various coverage types, such as homeowners, auto, business, or malpractice insurance, may offer settlements to compensate you for your losses.
What Must You Prove to Win a Personal Injury Case?
To prevail in a personal injury case, you, as the plaintiff, must prove the defendant's liability. The specifics of your claim depend on whether it involves intentional torts, negligence, or strict liability. In general, you need to demonstrate:
1. The defendant had a duty or obligation, such as driving safely or producing safe products.
2. The defendant failed to meet this obligation, either intentionally or negligently.
3. The defendant's actions or inactions directly caused your harm.
4. You suffered losses that are compensable under the law.
Typically, you must prove your claim by a preponderance of the evidence, meaning it is more likely than not that the evidence you present is accurate and justifies holding the defendant liable.
What Damages Can You Receive in a Personal Injury Claim?
If you successfully pursue a personal injury claim, you are entitled to be "made whole," which means returning you to the state you were in before the injury occurred. Compensation may include:
Medical Bills: Coverage for medical expenses related to your injury.
Lost Wages and Loss of Earning Power: Compensation for income you lost due to the injury.
Pain and Suffering: Damages for physical and emotional distress resulting from the injury.
Emotional Distress: Compensation for the psychological impact of the injury.
Punitive Damages: In rare cases, punitive damages are awarded to punish the defendant.
Keep in mind that some states impose limits on punitive and non-economic damages for specific types of cases. Consulting Parente & Norem's experienced attorneys is crucial to understanding these limitations and maximizing your compensation.
Filing a Lawsuit
If you or a loved one has suffered an injury due to another party's fault, taking immediate steps can significantly impact your case. Seek medical attention, gather relevant medical records and evidence, and consult an attorney. To initiate a personal injury claim in Illinois, you typically begin by filing a "complaint" with the court, detailing the parties involved, the harmful act, the damages, and the compensation sought. Most personal injury cases are settled before trial, but for those that proceed to trial, legal representation is essential.
Additionally, personal injury claims are subject to a statute of limitations, which restricts the time frame for filing a claim after the incident. Seeking legal counsel promptly can prevent your case from being dismissed on the grounds of exceeding this time limit.
The Cost of Hiring a Personal Injury Lawyer
Many personal injury lawyers work on a contingency fee basis, which means they are paid a percentage of the compensation only if they win your case. If the case is lost, you typically do not owe the attorney fees. This arrangement can provide access to legal representation without upfront costs.
Personal injuries can happen unexpectedly, but understanding your rights and the basics of personal injury claims in Illinois can help alleviate additional stress during this challenging time. Whether you're dealing with the aftermath of an accident, medical malpractice, or intentional harm, consulting an experienced personal injury attorney is crucial to protect your interests and seek the compensation you deserve. Call or text us today at 312.641.5926 or fill out a contact form here on our website.
Latest Posts
by Jennifer Gulbrandsen
In the world of personal injury law, negligence is a concept that holds immense significance. It forms the foundation of many personal injury...
by Jennifer Gulbrandsen
The Law Offices of Parente & Norem, P.C. was proud to support the Elevators Local 2 Golf Outing! This outing was held on Saturday, September 16...
by Jennifer Gulbrandsen
The Law Offices of Parente & Norem, P.C. was proud to support the Fox Valley Building Trades Golf Outing! This outing was held on Wednesday,...