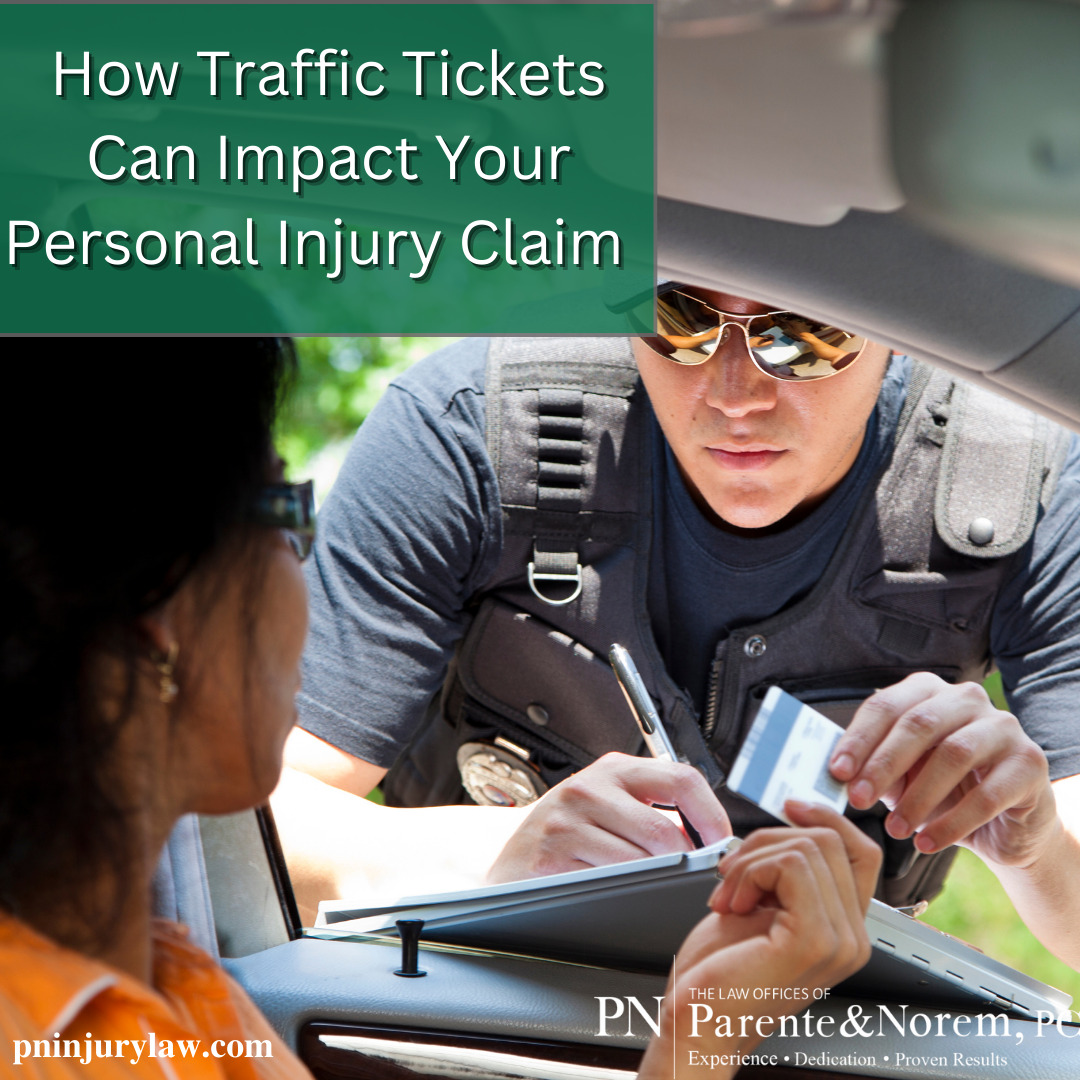 P&N BLOG | How Traffic Tickets Can Impact Your Personal Injury Claim
When you've been involved in a motor vehicle accident, you may already be grappling with physical injuries, emotional distress, and mounting medical bills. It's a challenging time, and you may be considering pursuing a personal injury claim to seek compensation for your damages. However, it's crucial to understand that your driving record can play a significant role in the outcome of your personal injury claim.
In this blog post, we'll explore the ways in which traffic tickets can affect the compensation you could receive in your personal injury case. Whether you're the injured party or the one accused of a traffic violation, knowing the impact of your driving record is vital for navigating the complex legal landscape.
The Role of Your Driving Record
Your driving record is not only a reflection of your history on the road but also a potential factor that insurance companies and courts consider when determining the outcome of your personal injury claim. Here's how it can affect your case:
Pre-Existing Conditions and Injuries
If you have a history of accidents or traffic violations, the at-fault party's insurance company may argue that you are more likely to have pre-existing conditions or injuries that were exacerbated by the accident. This argument can lead to a reduction in the compensation you receive. The challenge often lies in distinguishing between injuries caused by the accident and those stemming from pre-existing conditions.
Credibility and Sympathy
On the flip side, having a clean driving record can strengthen your personal injury case. Insurance companies and courts are more likely to view you as a reliable witness and may be more sympathetic to your situation. This can potentially result in a more favorable outcome for your claim.
Common Traffic Violations Leading to Accidents
It's important to recognize that a significant number of accidents are caused by driver error and negligent driving. These commonly involve traffic violations that lead to collisions. Some of the most frequent traffic violations that increase the risk of accidents include:
– Speeding
– Running a red light
– Running a stop sign
– Failure to yield
– Failure to stop
– Failure to use turn signals
– Disobeying road signs
– Improper U-turn
– Improper lane change
– Improper passing
– Driving off the road
Traffic Tickets and Their Impact
Now, let's look deeper into how traffic tickets can directly affect the outcome of your injury claim.
Police Officers' Role
Police officers at the scene of a car accident often issue traffic tickets when they observe evidence of a traffic violation, such as running a red light or speeding. These tickets serve as the foundation for a criminal case against the offending driver.
Importantly, police officers are aware that the police report and any traffic tickets issued can significantly impact the outcome of a car accident claim. This is because insurance companies request these reports to find evidence either in favor of their client or to demonstrate the fault of the other driver. However, it's crucial to note that winning a traffic ticket case does not determine fault in an accident; fault is separately determined in a civil lawsuit or dispute over damages.
Traffic Tickets and Liability
Traffic tickets, on their own, represent an allegation that a person violated a traffic law or failed to adhere to the rules of the road. If the recipient of the ticket pleads guilty or pays the fine without contesting the citation, it serves as proof of a violation. When the traffic violation is established as the cause of a car accident, the traffic ticket and guilty plea can be essential pieces of evidence in proving liability and collecting damages from the driver who received the ticket.
Negotiating Process
During the negotiation process for your personal injury claim, traffic tickets can be highly relevant. If one driver involved in the accident receives a traffic ticket while the other does not, it may become easier to determine fault, with the driver who received the ticket likely bearing more responsibility for the accident.
Sharing Fault
In cases where both drivers receive traffic tickets, it may be determined that fault is shared in the accident. Illinois operates under comparative fault rules, meaning that fault can be divided between parties in a personal injury case. Damages are awarded based on contributory fault law, which stipulates that your compensation may be reduced in proportion to the percentage of fault attributed to you. For example, if you were found responsible for 20% of the accident, your settlement or award would be reduced by 20%.
Seek Legal Assistance
If you or a loved one has suffered injuries in a collision due to another driver's negligence, it's imperative to contact a personal injury lawyer to discuss your legal rights. An experienced car accident attorney can fight for the full compensation you deserve. In many cases, having legal representation can lead to a settlement from the insurance company that is significantly larger, often five to ten times more, than what you might obtain without legal help.
In Illinois, your driving record can significantly impact the outcome of your personal injury claim following a motor vehicle accident. Whether you have a clean record or have received traffic tickets, understanding how this aspect can affect your case is essential. If you find yourself in such a situation, it's wise to consult with a qualified personal injury lawyer who can navigate the complexities of the legal system on your behalf and work towards securing the compensation you need to recover from your injuries and move forward with your life. Remember, your rights and your future well-being are worth fighting for, and a skilled attorney can be your strongest advocate in seeking justice. For more information or a free case evaluation call/text The Law Offices of Parente & Norem, P.C. today at 312.641.5926 or fill out a contact form here on our website.
Latest Posts
by Jennifer Gulbrandsen
In the world of personal injury law, negligence is a concept that holds immense significance. It forms the foundation of many personal injury...
by Jennifer Gulbrandsen
The Law Offices of Parente & Norem, P.C. was proud to support the Elevators Local 2 Golf Outing! This outing was held on Saturday, September 16...
by Jennifer Gulbrandsen
The Law Offices of Parente & Norem, P.C. was proud to support the Fox Valley Building Trades Golf Outing! This outing was held on Wednesday,...