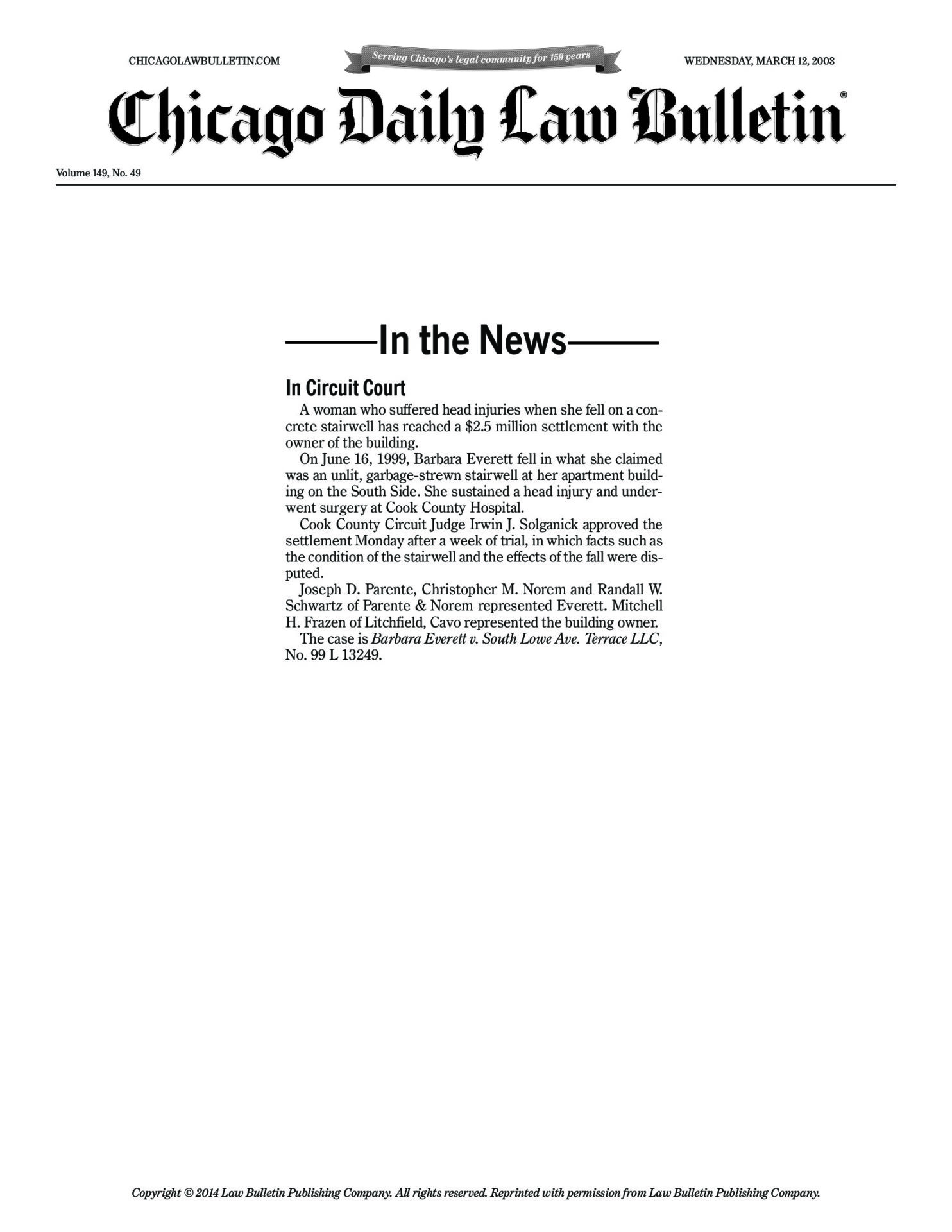 Woman suffered head injuries when she fell on a concrete stairwell
Chicago Daily Law Bulletin  // In Circuit Court
A woman who suffered head injuries when she fell on a concrete stairwell has reached a $2.5 million settlement with the owner of the building.
On June 16, 1999, Barbara Everett fell in what she claimed was an unlit, garbage-strewn stairwell at her apartment build- ing on the South Side. She sustained a head injury and underwent surgery at Cook County Hospital.
Cook County Circuit Judge Irwin J. Solganick approved the settlement Monday after a week of trial, in which facts such as the condition of the stairwell and the effects of the fall were disputed.
Joseph D. Parente, Christopher M. Norem and Randall W. Schwartz of Parente & Norem represented Everett. Mitchell H. Frazen of Litchfield, Cavo represented the building owner.
The case is Barbara Everett v. South Lowe Ave. Terrace LLC, No. 99 L 13249.
—————————————————————
CHICAGOLAWBULLETIN.COM // In the News
Volume 149, No. 49 // WEDNESDAY, MARCH 12, 2003
Latest Posts
by Jennifer Gulbrandsen
The Law Offices of Parente & Norem, P.C. is proud to announce that we were a dinner sponsor at this week's Annual Will & Grundy Building...
by Ryan
...following a long surgery where the patient's breathing tube was removed too quickly after surgery and he was then not properly monitored in the recovery...
by Ryan
...obtained against a south side medical group and hospital due to defendants' alleged medical negligence in prescribing an insufficient dose of blood...