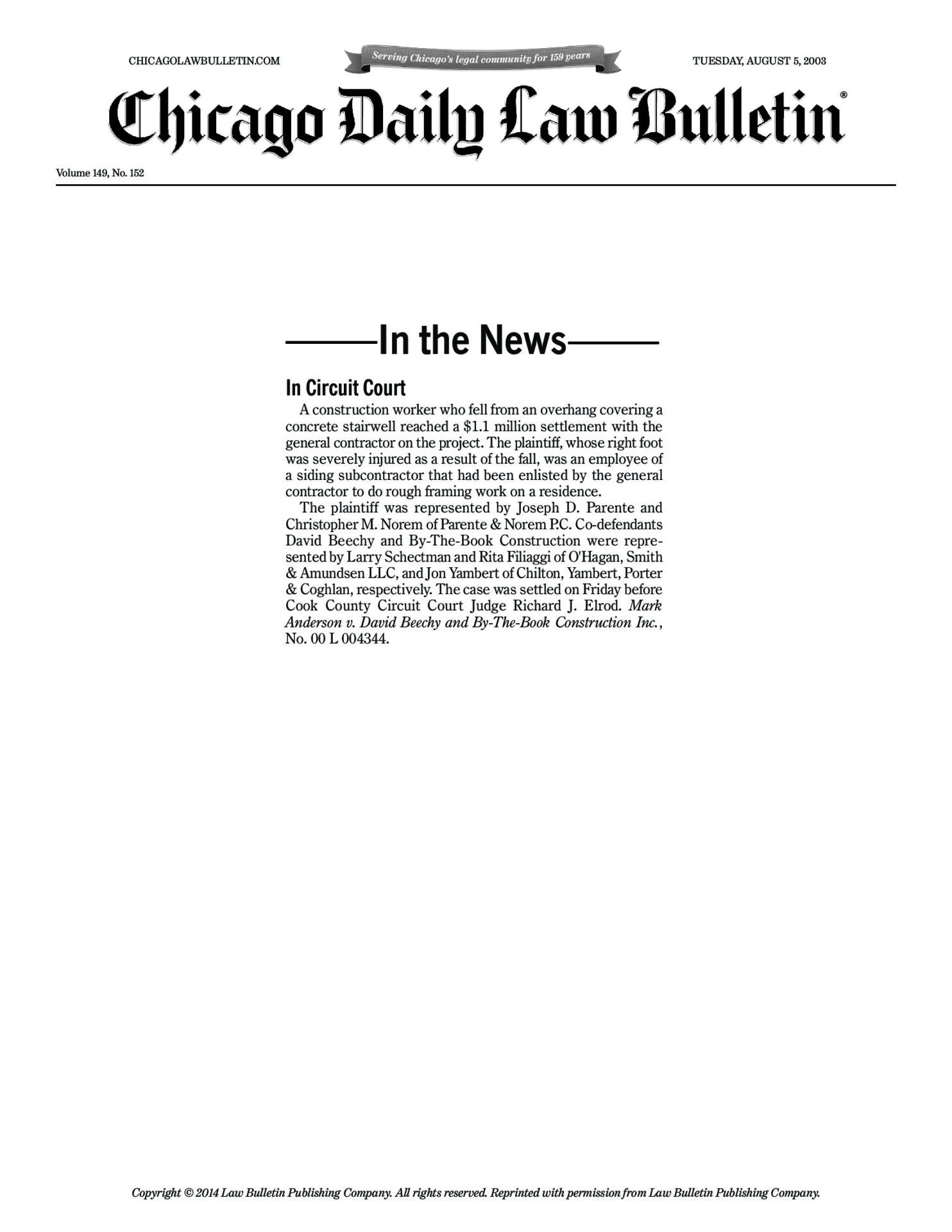 Construction worker falls from overhang
Chicago Daily Law Bulletin  // In Circuit Court
A construction worker who fell from an overhang covering a concrete stairwell reached a $1.1 million settlement with the general contractor on the project. The plaintiff, whose right foot was severely injured as a result of the fall, was an employee of a siding subcontractor that had been enlisted by the general contractor to do rough framing work on a residence.
The plaintiff was represented by Joseph D. Parente and Christopher M. Norem of Parente & Norem P.C. Co-defendants David Beechy and By-The-Book Construction were repre- sented by Larry Schectman and Rita Filiaggi of O'Hagan, Smith & Amundsen LLC, and Jon Yambert of Chilton, Yambert, Porter & Coghlan, respectively. The case was settled on Friday before Cook County Circuit Court Judge Richard J. Elrod. Mark Anderson v. David Beechy and By-The-Book Construction Inc., No. 00 L 004344.
Copyright (c) 2014 Law Bulletin Publishing Company. All rights reserved. Reprinted with permission from Law Bulletin Publishing Company.
—————————————————————
CHICAGOLAWBULLETIN.COM // In the News
TUESDAY, AUGUST 5, 2003 // Volume 149, No. 152
Latest Posts
by Jennifer Gulbrandsen
The Law Offices of Parente & Norem, P.C. is proud to announce that we were a dinner sponsor at this week's Annual Will & Grundy Building...
by Ryan
...following a long surgery where the patient's breathing tube was removed too quickly after surgery and he was then not properly monitored in the recovery...
by Ryan
...obtained against a south side medical group and hospital due to defendants' alleged medical negligence in prescribing an insufficient dose of blood...