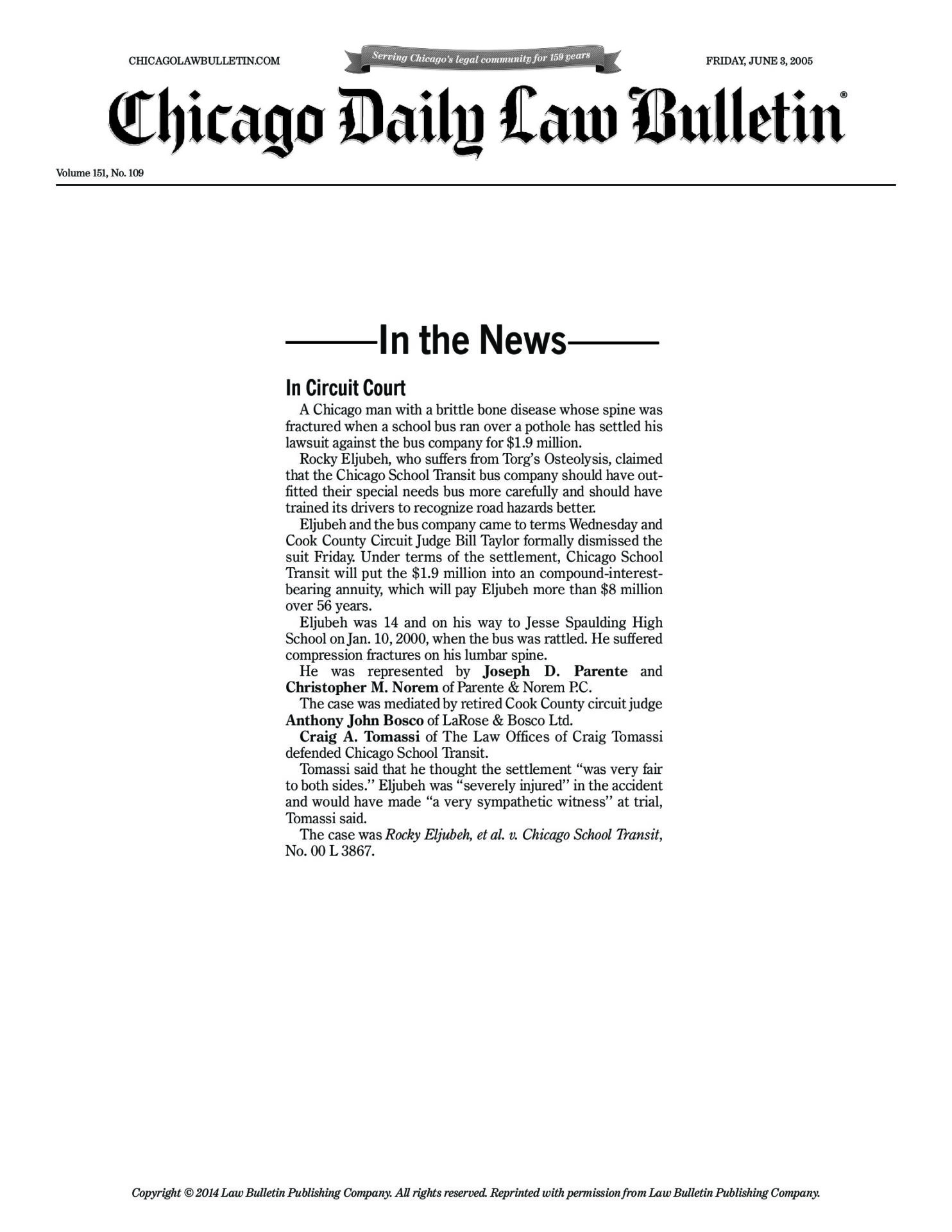 Man fractured spine when a school bus ran over a pothole
Chicago Daily Law Bulletin  // In Circuit Court
A Chicago man with a brittle bone disease whose spine was fractured when a school bus ran over a pothole has settled his lawsuit against the bus company for $1.9 million.
Rocky Eljubeh, who suffers from Torg's Osteolysis, claimed that the Chicago School Transit bus company should have out- fitted their special needs bus more carefully and should have trained its drivers to recognize road hazards better.
Eljubeh and the bus company came to terms Wednesday and Cook County Circuit Judge Bill Taylor formally dismissed the suit Friday. Under terms of the settlement, Chicago School Transit will put the $1.9 million into an compound-interest- bearing annuity, which will pay Eljubeh more than $8 million over 56 years.
Eljubeh was 14 and on his way to Jesse Spaulding High School on Jan. 10, 2000, when the bus was rattled. He suffered compression fractures on his lumbar spine.
He was represented by Joseph D. Parente and Christopher M. Norem of Parente & Norem P.C.
The case was mediated by retired Cook County circuit judge Anthony John Bosco of LaRose & Bosco Ltd.
Craig A. Tomassi of The Law Offices of Craig Tomassi defended Chicago School Transit.
Tomassi said that he thought the settlement "was very fair to both sides." Eljubeh was "severely injured" in the accident and would have made "a very sympathetic witness" at trial, Tomassi said.
The case was Rocky Eljubeh, et al. v. Chicago School Transit, No. 00 L 3867.
Copyright (c) 2014 Law Bulletin Publishing Company. All rights reserved. Reprinted with permission from Law Bulletin Publishing Company.
—————————————————————
CHICAGOLAWBULLETIN.COM // In the News

FRIDAY, JUNE 3, 2005 // Volume 151, No. 109
Latest Posts
by Jennifer Gulbrandsen
The Law Offices of Parente & Norem, P.C. is proud to congratulate Christopher M. Norem, Dennis M. Lynch, and Joseph D. Parente for achieving the...
by Jennifer Gulbrandsen
$6.785M settlement (plus the complete waiver of a $269K worker's comp. lien) in the matter of Juan Hernandez Aguilar v. Kinzie Builders,...