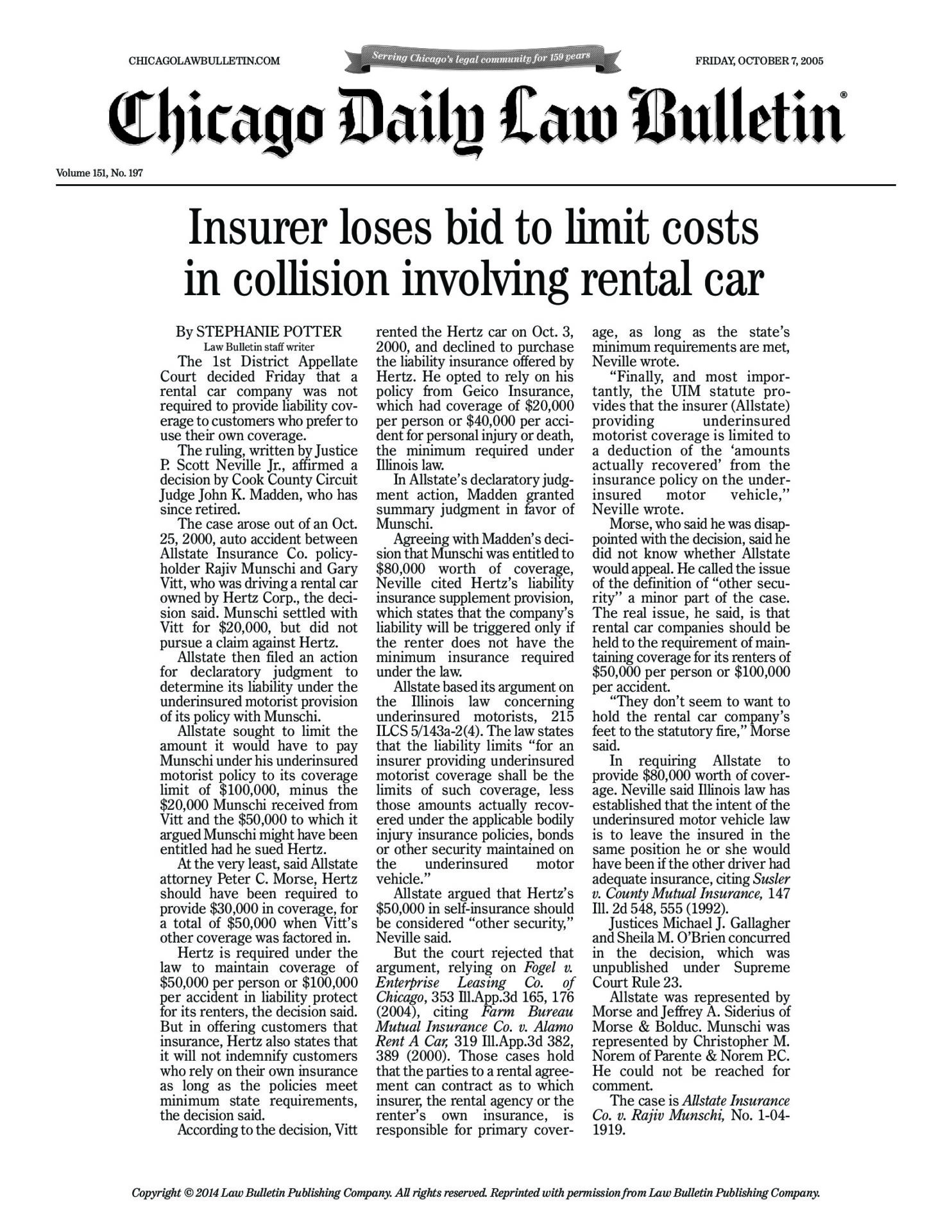 Insurer loses bid to limit costs in collision involving rental car
By Stephanie Potter Law Bulletin staff writer
The 1st District Appellate Court decided Friday that a rental car company was not required to provide liability cov- erage to customers who prefer to use their own coverage.
The ruling, written by Justice P. Scott Neville Jr., affirmed a decision by Cook County Circuit Judge John K. Madden, who has since retired.
The case arose out of an Oct. 25, 2000, auto accident between Allstate Insurance Co. policy- holder Rajiv Munschi and Gary Vitt, who was driving a rental car owned by Hertz Corp., the deci- sion said. Munschi settled with Vitt for $20,000, but did not pursue a claim against Hertz.
Allstate then filed an action for declaratory judgment to determine its liability under the underinsured motorist provision of its policy with Munschi.
Allstate sought to limit the amount it would have to pay Munschi under his underinsured motorist policy to its coverage limit of $100,000, minus the $20,000 Munschi received from Vitt and the $50,000 to which it argued Munschi might have been entitled had he sued Hertz.
At the very least, said Allstate attorney Peter C. Morse, Hertz should have been required to provide $30,000 in coverage, for a total of $50,000 when Vitt's other coverage was factored in.
Hertz is required under the law to maintain coverage of $50,000 per person or $100,000 per accident in liability protect for its renters, the decision said. But in offering customers that insurance, Hertz also states that it will not indemnify customers who rely on their own insurance as long as the policies meet minimum state requirements, the decision said.
According to the decision, Vitt
rented the Hertz car on Oct. 3, 2000, and declined to purchase the liability insurance offered by Hertz. He opted to rely on his policy from Geico Insurance, which had coverage of $20,000 per person or $40,000 per acci- dent for personal injury or death, the minimum required under Illinois law.
In Allstate's declaratory judg- ment action, Madden granted summary judgment in favor of Munschi.
Agreeing with Madden's deci- sion that Munschi was entitled to $80,000 worth of coverage, Neville cited Hertz's liability insurance supplement provision, which states that the company's liability will be triggered only if the renter does not have the minimum insurance required under the law.
Allstate based its argument on the Illinois law concerning underinsured motorists, 215 ILCS 5/143a-2(4). The law states that the liability limits "for an insurer providing underinsured motorist coverage shall be the limits of such coverage, less those amounts actually recov- ered under the applicable bodily injury insurance policies, bonds or other security maintained on the underinsured motor vehicle."
Allstate argued that Hertz's $50,000 in self-insurance should be considered "other security," Neville said.
But the court rejected that argument, relying on Fogel v. Enterprise Leasing Co. of Chicago, 353 Ill.App.3d 165, 176 (2004), citing Farm Bureau Mutual Insurance Co. v. Alamo Rent A Car, 319 Ill.App.3d 382, 389 (2000). Those cases hold that the parties to a rental agree- ment can contract as to which insurer, the rental agency or the renter's own insurance, is responsible for primary cover-
age, as long as the state's minimum requirements are met, Neville wrote.
"Finally, and most impor- tantly, the UIM statute pro- vides that the insurer (Allstate) providing underinsured motorist coverage is limited to a deduction of the 'amounts actually recovered' from the insurance policy on the under- insured motor vehicle," Neville wrote.
Morse, who said he was disap- pointed with the decision, said he did not know whether Allstate would appeal. He called the issue of the definition of "other secu- rity" a minor part of the case. The real issue, he said, is that rental car companies should be held to the requirement of main- taining coverage for its renters of $50,000 per person or $100,000 per accident.
"They don't seem to want to hold the rental car company's feet to the statutory fire," Morse said.
In requiring Allstate to provide $80,000 worth of cover- age. Neville said Illinois law has established that the intent of the underinsured motor vehicle law is to leave the insured in the same position he or she would have been if the other driver had adequate insurance, citing Susler v. County Mutual Insurance, 147 Ill. 2d 548, 555 (1992).
Justices Michael J. Gallagher and Sheila M. O'Brien concurred in the decision, which was unpublished under Supreme Court Rule 23.
Allstate was represented by Morse and Jeffrey A. Siderius of Morse & Bolduc. Munschi was represented by Christopher M. Norem of Parente & Norem P.C. He could not be reached for comment.
The case is Allstate Insurance Co. v. Rajiv Munschi, No. 1-04- 1919.
———————————————————————-
CHICAGOLAWBULLETIN.COM // In the News

Volume 151, No. 197 // FRIDAY, OCTOBER 7, 2005
Latest Posts
by Jennifer Gulbrandsen
The Law Offices of Parente & Norem, P.C. was proud to attend Roofers Local 11 Apprenticeship Program! This event was held on Saturday, December...
by Jennifer Gulbrandsen
Thanksgiving is a time for gratitude, family, and, inevitably, travel. As we prepare for the festivities of Thanksgiving 2023, a familiar challenge...
by Jennifer Gulbrandsen
The Law Offices of Parente & Norem, P.C. would like to congratulate Chris Norem and Dennis Lynch, who were honored last Wednesday at the 2023...