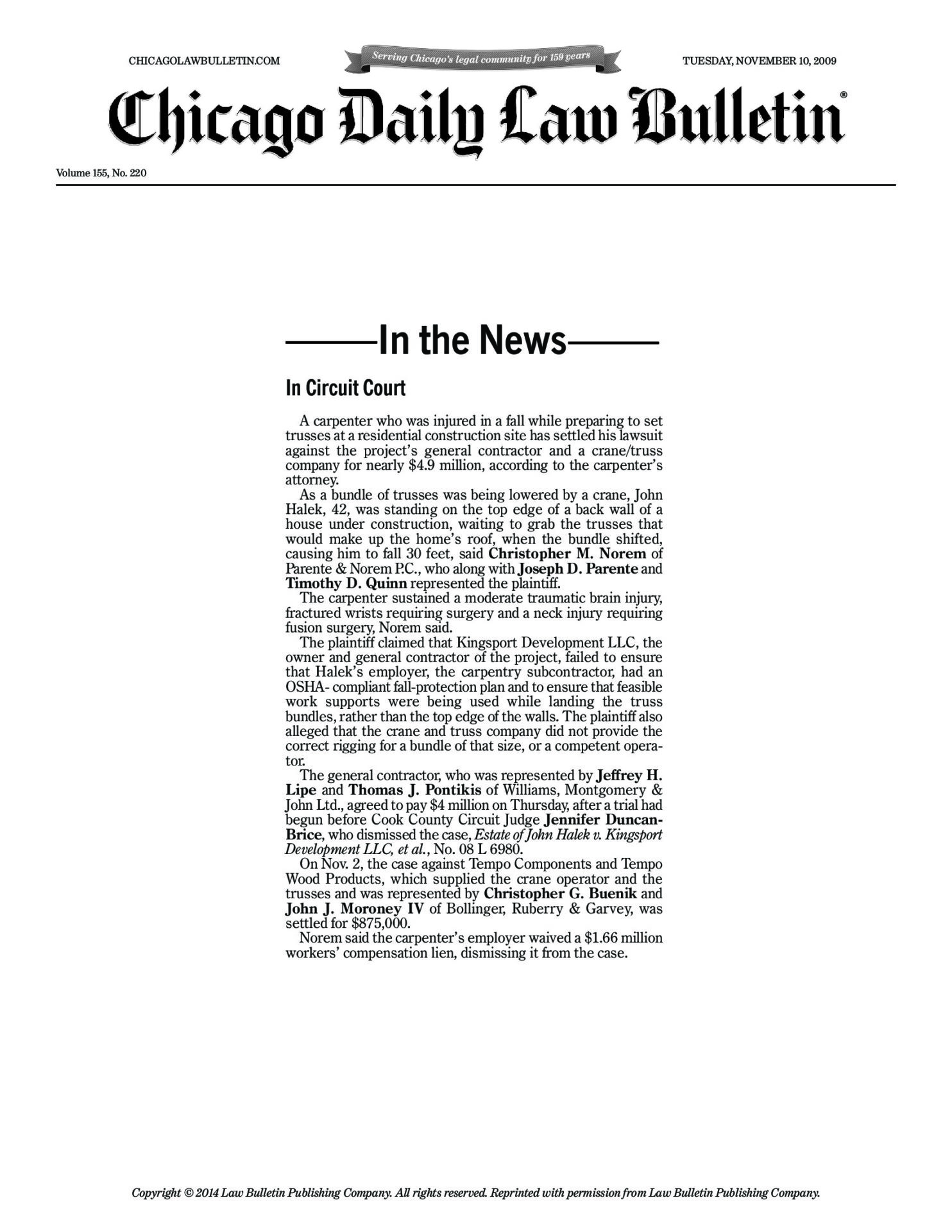 Carpenter injured in a fall preparing to set trusses
Chicago Daily Law Bulletin  // In Circuit Court
 A carpenter who was injured in a fall while preparing to set trusses at a residential construction site has settled his lawsuit against the project's general contractor and a crane/truss company for nearly $4.9 million, according to the carpenter's attorney.
As a bundle of trusses was being lowered by a crane, John Halek, 42, was standing on the top edge of a back wall of a house under construction, waiting to grab the trusses that would make up the home's roof, when the bundle shifted, causing him to fall 30 feet, said Christopher M. Norem of Parente & Norem P.C., who along with Joseph D. Parente and Timothy D. Quinn represented the plaintiff.
The carpenter sustained a moderate traumatic brain injury, fractured wrists requiring surgery and a neck injury requiring fusion surgery, Norem said.
The plaintiff claimed that Kingsport Development LLC, the owner and general contractor of the project, failed to ensure that Halek's employer, the carpentry subcontractor, had an OSHA- compliant fall-protection plan and to ensure that feasible work supports were being used while landing the truss bundles, rather than the top edge of the walls. The plaintiff also alleged that the crane and truss company did not provide the correct rigging for a bundle of that size, or a competent opera- tor.
The general contractor, who was represented by Jeffrey H. Lipe and Thomas J. Pontikis of Williams, Montgomery & John Ltd., agreed to pay $4 million on Thursday, after a trial had begun before Cook County Circuit Judge Jennifer Duncan- Brice, who dismissed the case, Estate of John Halek v. Kingsport Development LLC, et al., No. 08 L 6980.
On Nov. 2, the case against Tempo Components and Tempo Wood Products, which supplied the crane operator and the trusses and was represented by Christopher G. Buenik and John J. Moroney IV of Bollinger, Ruberry & Garvey, was settled for $875,000.
Norem said the carpenter's employer waived a $1.66 million workers' compensation lien, dismissing it from the case.
—————————————————————
CHICAGOLAWBULLETIN.COM // In the News
TUESDAY, AUGUST 5, 2003 // Volume 149, No. 152
Latest Posts
by Jennifer Gulbrandsen
The Law Offices of Parente & Norem, P.C. is proud to congratulate Christopher M. Norem, Dennis M. Lynch, and Joseph D. Parente for achieving the...
by Jennifer Gulbrandsen
$6.785M settlement (plus the complete waiver of a $269K worker's comp. lien) in the matter of Juan Hernandez Aguilar v. Kinzie Builders,...