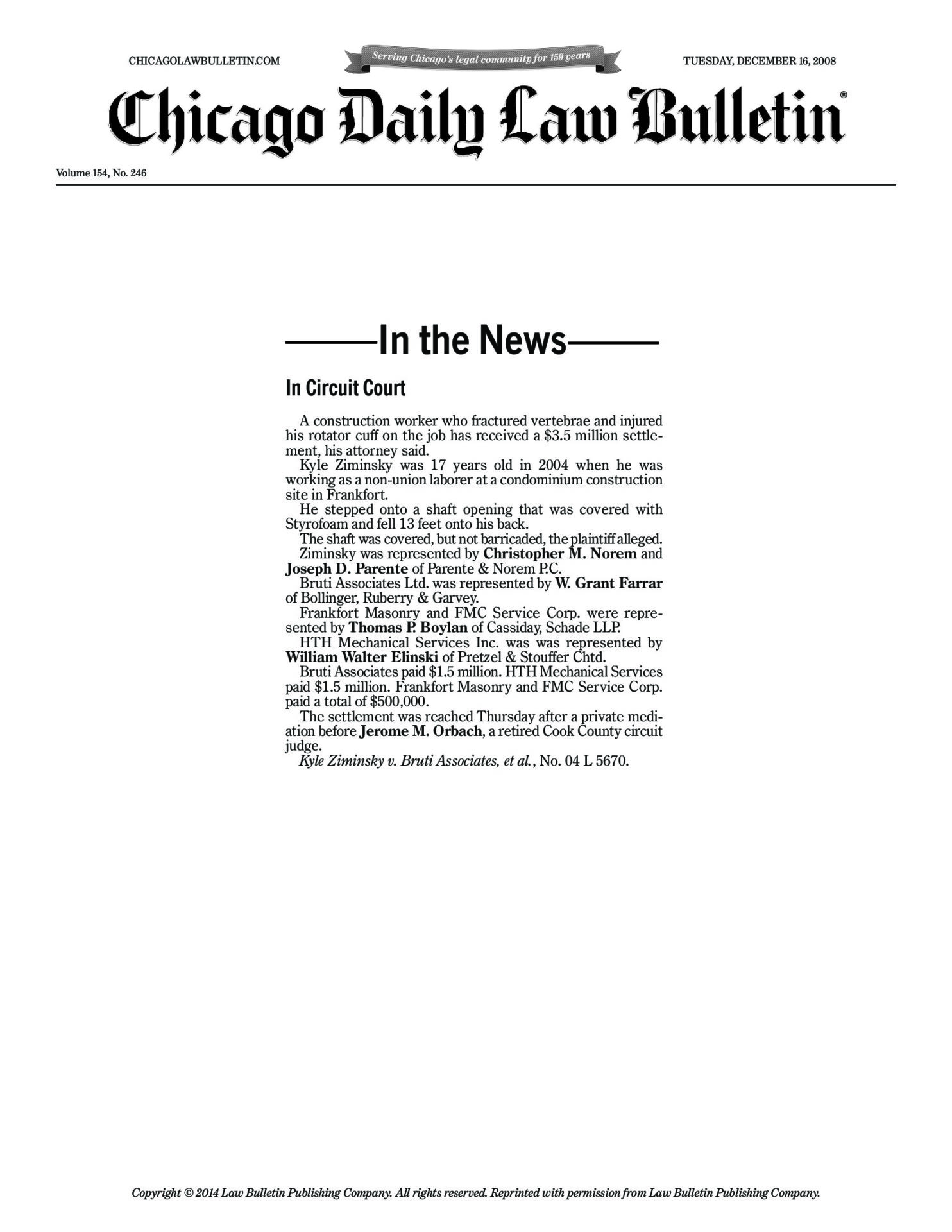 Construction worker fractured vertebrae and injured his rotator cuff
Chicago Daily Law Bulletin  // In Circuit Court
A construction worker who fractured vertebrae and injured his rotator cuff on the job has received a $3.5 million settle- ment, his attorney said.
Kyle Ziminsky was 17 years old in 2004 when he was working as a non-union laborer at a condominium construction site in Frankfort.
He stepped onto a shaft opening that was covered with Styrofoam and fell 13 feet onto his back.
The shaft was covered, but not barricaded, the plaintiff alleged.
Ziminsky was represented by Christopher M. Norem and Joseph D. Parente of Parente & Norem P.C.
Bruti Associates Ltd. was represented by W. Grant Farrar of Bollinger, Ruberry & Garvey.
Frankfort Masonry and FMC Service Corp. were repre- sented by Thomas P. Boylan of Cassiday, Schade LLP.
HTH Mechanical Services Inc. was was represented by William Walter Elinski of Pretzel & Stouffer Chtd.
Bruti Associates paid $1.5 million. HTH Mechanical Services paid $1.5 million. Frankfort Masonry and FMC Service Corp. paid a total of $500,000.
The settlement was reached Thursday after a private medi- ation before Jerome M. Orbach, a retired Cook County circuit judge.
Kyle Ziminsky v. Bruti Associates, et al., No. 04 L 5670.
CHICAGOLAWBULLETIN.COM // In the News

TUESDAY, DECEMBER 16, 2008 // Volume 154, No. 246
Latest Posts
by Jennifer Gulbrandsen
$6.785M settlement (plus the complete waiver of a $269K worker's comp. lien) in the matter of Juan Hernandez Aguilar v. Kinzie Builders,...
by Jennifer Gulbrandsen
Parente & Norem trial attorney, Dennis Lynch, has been published in this month's Illinois State Bar Association Tort Trends newsletter. The...