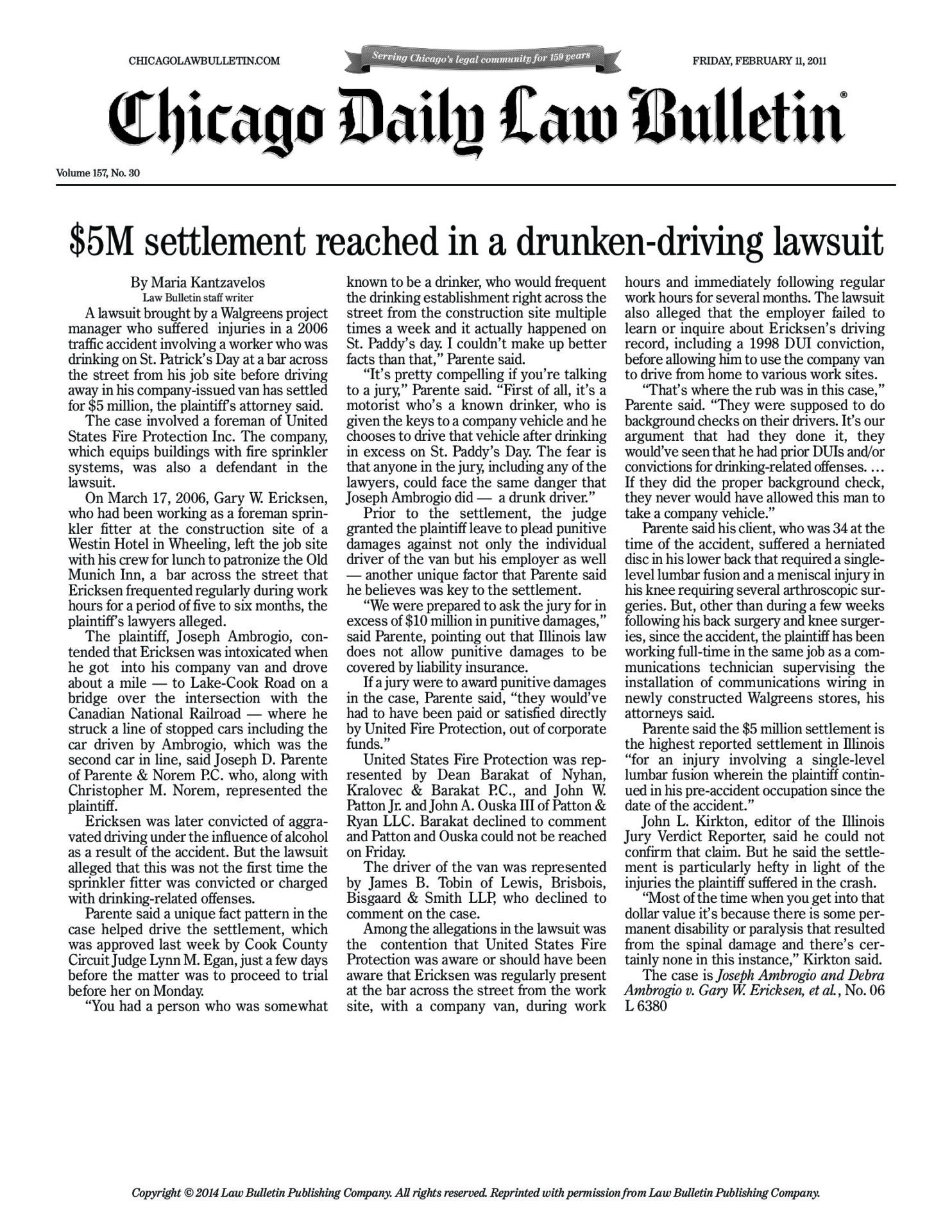 $5M settlement reached in a drunken-driving lawsuit
Chicago Daily Law Bulletin  // In Circuit Court
By Maria Kantzavelos Law Bulletin staff writer
A lawsuit brought by a Walgreens project manager who suffered injuries in a 2006 traffic accident involving a worker who was drinking on St. Patrick's Day at a bar across the street from his job site before driving away in his company-issued van has settled for $5 million, the plaintiff's attorney said.
The case involved a foreman of United States Fire Protection Inc. The company, which equips buildings with fire sprinkler systems, was also a defendant in the lawsuit.
On March 17, 2006, Gary W. Ericksen, who had been working as a foreman sprin- kler fitter at the construction site of a Westin Hotel in Wheeling, left the job site with his crew for lunch to patronize the Old Munich Inn, a bar across the street that Ericksen frequented regularly during work hours for a period of five to six months, the plaintiff's lawyers alleged.
The plaintiff, Joseph Ambrogio, con- tended that Ericksen was intoxicated when he got into his company van and drove about a mile — to Lake-Cook Road on a bridge over the intersection with the Canadian National Railroad — where he struck a line of stopped cars including the car driven by Ambrogio, which was the second car in line, said Joseph D. Parente of Parente & Norem P.C. who, along with Christopher M. Norem, represented the plaintiff.
Ericksen was later convicted of aggra- vated driving under the influence of alcohol as a result of the accident. But the lawsuit alleged that this was not the first time the sprinkler fitter was convicted or charged with drinking-related offenses.
Parente said a unique fact pattern in the case helped drive the settlement, which was approved last week by Cook County Circuit Judge Lynn M. Egan, just a few days before the matter was to proceed to trial before her on Monday.
"You had a person who was somewhat
known to be a drinker, who would frequent the drinking establishment right across the street from the construction site multiple times a week and it actually happened on St. Paddy's day. I couldn't make up better facts than that," Parente said.
"It's pretty compelling if you're talking to a jury," Parente said. "First of all, it's a motorist who's a known drinker, who is given the keys to a company vehicle and he chooses to drive that vehicle after drinking in excess on St. Paddy's Day. The fear is that anyone in the jury, including any of the lawyers, could face the same danger that Joseph Ambrogio did — a drunk driver."
Prior to the settlement, the judge granted the plaintiff leave to plead punitive damages against not only the individual driver of the van but his employer as well — another unique factor that Parente said he believes was key to the settlement.
"We were prepared to ask the jury for in excess of $10 million in punitive damages," said Parente, pointing out that Illinois law does not allow punitive damages to be covered by liability insurance.
If a jury were to award punitive damages in the case, Parente said, "they would've had to have been paid or satisfied directly by United Fire Protection, out of corporate funds."
United States Fire Protection was rep- resented by Dean Barakat of Nyhan, Kralovec & Barakat P.C., and John W. Patton Jr. and John A. Ouska III of Patton & Ryan LLC. Barakat declined to comment and Patton and Ouska could not be reached on Friday.
The driver of the van was represented by James B. Tobin of Lewis, Brisbois, Bisgaard & Smith LLP, who declined to comment on the case.
Among the allegations in the lawsuit was the contention that United States Fire Protection was aware or should have been aware that Ericksen was regularly present at the bar across the street from the work site, with a company van, during work
hours and immediately following regular work hours for several months. The lawsuit also alleged that the employer failed to learn or inquire about Ericksen's driving record, including a 1998 DUI conviction, before allowing him to use the company van to drive from home to various work sites.
"That's where the rub was in this case," Parente said. "They were supposed to do background checks on their drivers. It's our argument that had they done it, they would've seen that he had prior DUIs and/or convictions for drinking-related offenses. … If they did the proper background check, they never would have allowed this man to take a company vehicle."
Parente said his client, who was 34 at the time of the accident, suffered a herniated disc in his lower back that required a single- level lumbar fusion and a meniscal injury in his knee requiring several arthroscopic sur- geries. But, other than during a few weeks following his back surgery and knee surger- ies, since the accident, the plaintiff has been working full-time in the same job as a com- munications technician supervising the installation of communications wiring in newly constructed Walgreens stores, his attorneys said.
Parente said the $5 million settlement is the highest reported settlement in Illinois "for an injury involving a single-level lumbar fusion wherein the plaintiff contin- ued in his pre-accident occupation since the date of the accident."
John L. Kirkton, editor of the Illinois Jury Verdict Reporter, said he could not confirm that claim. But he said the settle- ment is particularly hefty in light of the injuries the plaintiff suffered in the crash.
"Most of the time when you get into that dollar value it's because there is some per- manent disability or paralysis that resulted from the spinal damage and there's cer- tainly none in this instance," Kirkton said.
The case is Joseph Ambrogio and Debra Ambrogio v. Gary W. Ericksen, et al., No. 06 L 6380
—————————————————————
CHICAGOLAWBULLETIN.COM // In the News
Volume 157, No. 30 // FRIDAY, FEBRUARY 11, 2011
Latest Posts
by Jennifer Gulbrandsen
The Law Offices of Parente & Norem, P.C. was proud to attend Roofers Local 11 Apprenticeship Program! This event was held on Saturday, December...
by Jennifer Gulbrandsen
Thanksgiving is a time for gratitude, family, and, inevitably, travel. As we prepare for the festivities of Thanksgiving 2023, a familiar challenge...
by Jennifer Gulbrandsen
The Law Offices of Parente & Norem, P.C. would like to congratulate Chris Norem and Dennis Lynch, who were honored last Wednesday at the 2023...