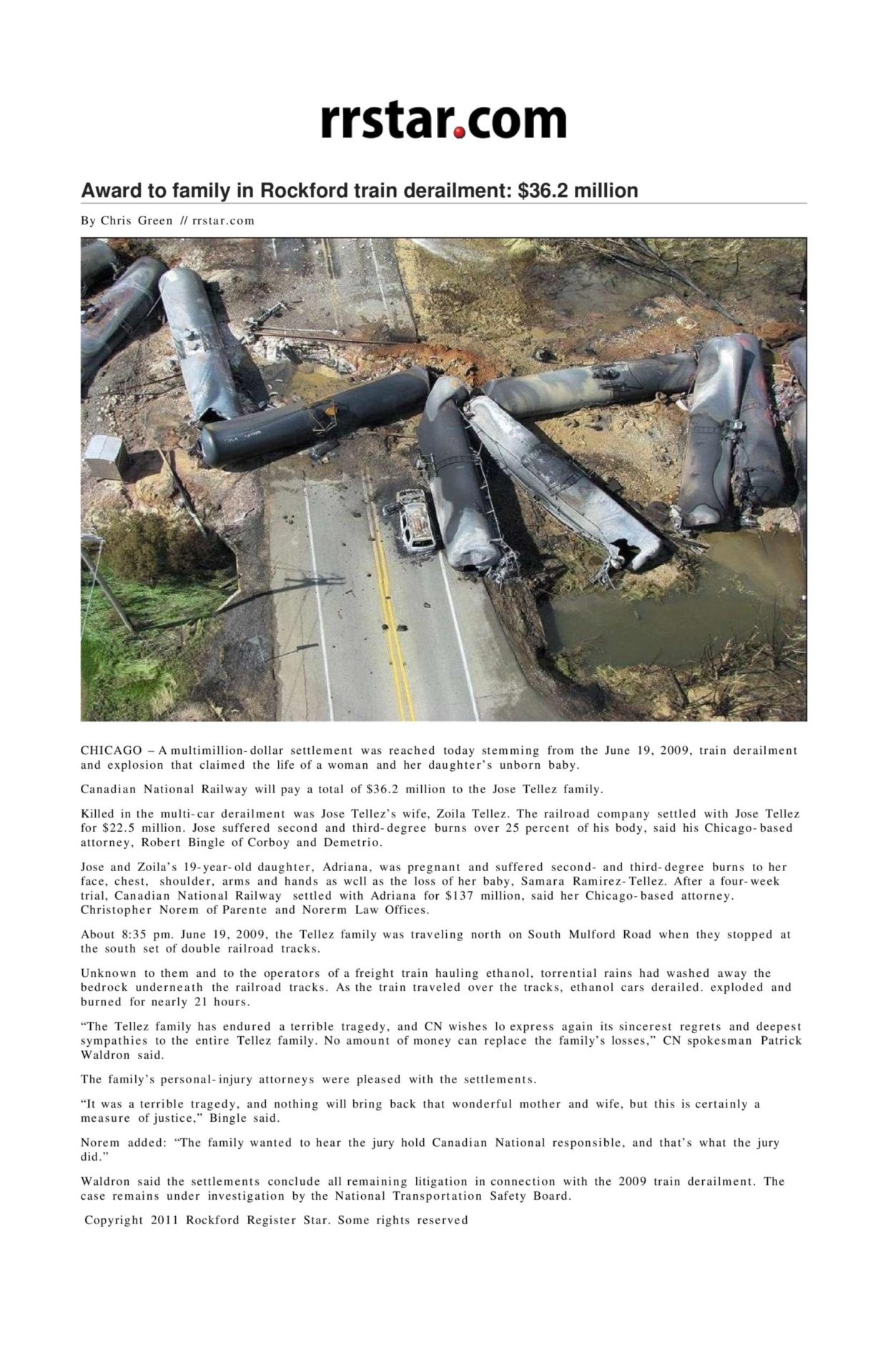 Award to family in Rockford train derailment: $36.2 million
By Chris Green // rrstar.com
CHICAGO – A multimillion-dollar settlement was reached today stemming from the June 19, 2009, train derailment and explosion that claimed the life of a woman and her daughter's unborn baby.
Canadian National Railway will pay a total of $36.2 million to the Jose Tellez family.
Killed in the multi-car derailment was Jose Tellez's wife, Zoila Tellez. The railroad company settled with Jose Tellez for $22.5 million. Jose suffered second and third-degree burns over 25 percent of his body, said his Chicago-based attorney, Robert Bingle of Corboy and Demetrio.
Jose and Zoila's 19-year-old daughter, Adriana, was pregnant and suffered second- and third-degree burns to her face, chest,  shoulder, arms and hands as wcll as the loss of her baby, Samara Ramirez-Tellez. After a four-week trial, Canadian National Railway  settled with Adriana for $137 million, said her Chicago-based attorney. Christopher Norem of Parente and Norerm Law Offices.
About 8:35 pm. June 19, 2009, the Tellez family was traveling north on South Mulford Road when they stopped at the south set of double railroad tracks.
Unknown to them and to the operators of a freight train hauling ethanol, torrential rains had washed away the bedrock underneath the railroad tracks. As the train traveled over the tracks, ethanol cars derailed. exploded and burned for nearly 21 hours.
"The Tellez family has endured a terrible tragedy, and CN wishes lo express again its sincerest regrets and deepest sympathies to the entire Tellez family. No amount of money can replace the family's losses," CN spokesman Patrick Waldron said.
The family's personal-injury attorneys were pleased with the settlements.
"It was a terrible tragedy, and nothing will bring back that wonderful mother and wife, but this is certainly a measure of justice," Bingle said.
Norem added: "The family wanted to hear the jury hold Canadian National responsible, and that's what the jury did."
Waldron said the settlements conclude all remaining litigation in connection with the 2009 train derailment. The case remains under investigation by the National Transportation Safety Board.
Copyright 2011 Rockford Register Star. Some rights reserved
Latest Posts
by Jennifer Gulbrandsen
The Law Offices of Parente & Norem, P.C. is proud to congratulate Christopher M. Norem, Dennis M. Lynch, and Joseph D. Parente for achieving the...
by Jennifer Gulbrandsen
$6.785M settlement (plus the complete waiver of a $269K worker's comp. lien) in the matter of Juan Hernandez Aguilar v. Kinzie Builders,...