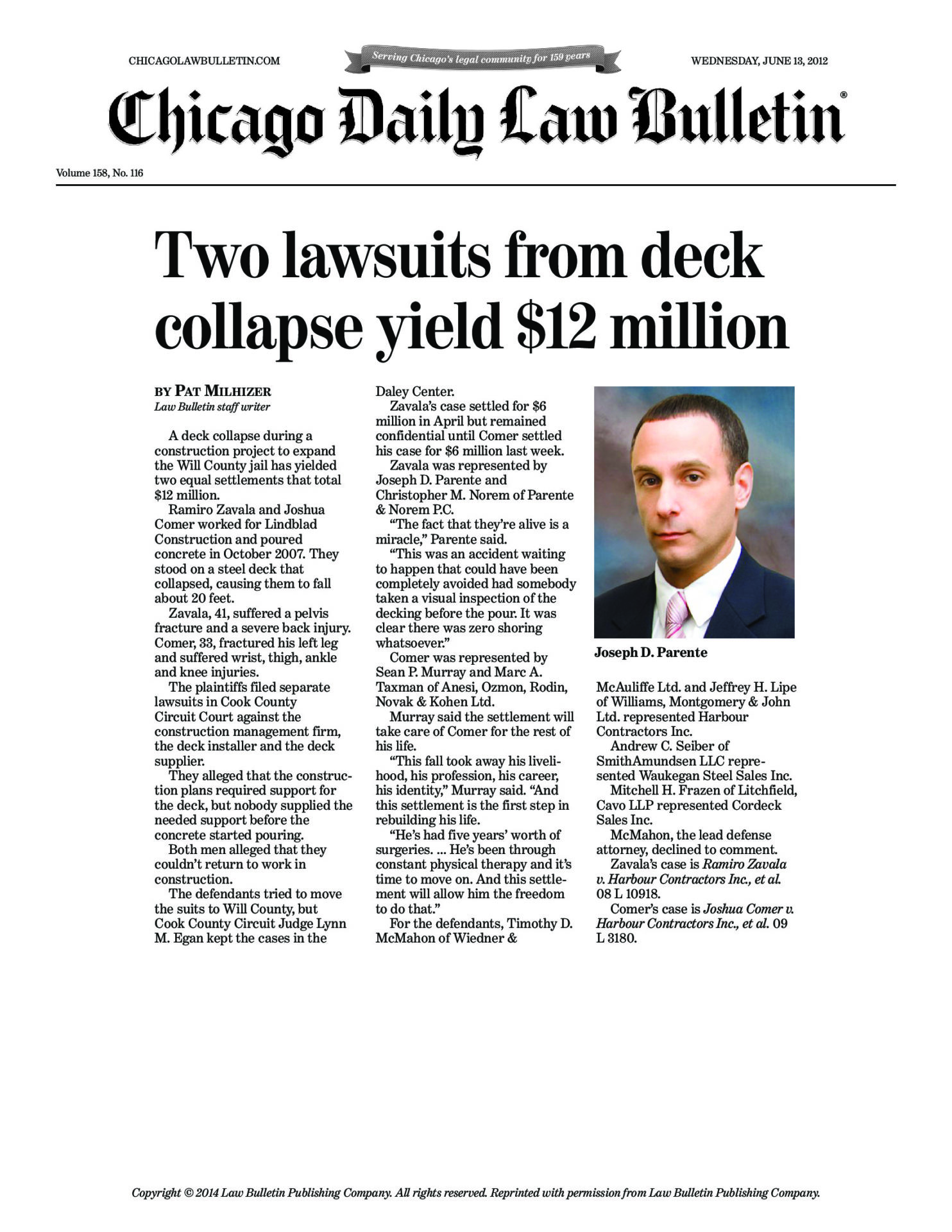 Two lawsuits from deck collapse yield $12 million
BY PAT MILHIZER // Law Bulletin staff writer
A deck collapse during a construction project to expand the Will County jail has yielded two equal settlements that total $12 million.
Ramiro Zavala and Joshua Comer worked for Lindblad Construction and poured concrete in October 2007. They stood on a steel deck that collapsed, causing them to fall about 20 feet.
Zavala, 41, suffered a pelvis fracture and a severe back injury. Comer, 33, fractured his left leg and suffered wrist, thigh, ankle and knee injuries.
The plaintiffs filed separate lawsuits in Cook County Circuit Court against the construction management firm, the deck installer and the deck supplier.
They alleged that the construction plans required support for the deck, but nobody supplied the needed support before the concrete started pouring.
Both men alleged that they couldn't return to work in construction.
The defendants tried to move the suits to Will County, but Cook County Circuit Judge Lynn M. Egan kept the cases in the Daley Center.
Zavala's case settled for $6 million in April but remained confidential until Comer settled his case for $6 million last week.
Zavala was represented by Joseph D. Parente and Christopher M. Norem of Parente & Norem P.C.
"The fact that they're alive is a miracle," Parente said.
"This was an accident waiting to happen that could have been completely avoided had somebody taken a visual inspection of the decking before the pour. It was clear there was zero shoring whatsoever."
Comer was represented by Sean P. Murray and Marc A. Taxman of Anesi, Ozmon, Rodin, Novak & Kohen Ltd.
Murray said the settlement will take care of Comer for the rest of his life.
"This fall took away his livelihood, his profession, his career, his identity," Murray said. "And this settlement is the first step in rebuilding his life.
"He's had five years' worth of surgeries. … He's been through constant physical therapy and it's time to move on. And this settlement will allow him the freedom to do that."
For the defendants, Timothy D. McMahon of Wiedner & McAuliffe Ltd. and Jeffrey H. Lipe of Williams, Montgomery & John Ltd. represented Harbour Contractors Inc.
Andrew C. Seiber of SmithAmundsen LLC repre- sented Waukegan Steel Sales Inc.
Mitchell H. Frazen of Litchfield, Cavo LLP represented Cordeck Sales Inc.
McMahon, the lead defense attorney, declined to comment.
Zavala's case is Ramiro Zavala v. Harbour Contractors Inc., et al. 08 L 10918.
Comer's case is Joshua Comer v. Harbour Contractors Inc., et al. 09 L 3180.
—————————————————————
CHICAGOLAWBULLETIN.COM // In the News
WEDNESDAY, JUNE 13, 2012 // Volume 158, No. 116
Latest Posts
by Jennifer Gulbrandsen
In the world of personal injury law, negligence is a concept that holds immense significance. It forms the foundation of many personal injury...
by Jennifer Gulbrandsen
The Law Offices of Parente & Norem, P.C. was proud to support the Elevators Local 2 Golf Outing! This outing was held on Saturday, September 16...
by Jennifer Gulbrandsen
The Law Offices of Parente & Norem, P.C. was proud to support the Fox Valley Building Trades Golf Outing! This outing was held on Wednesday,...