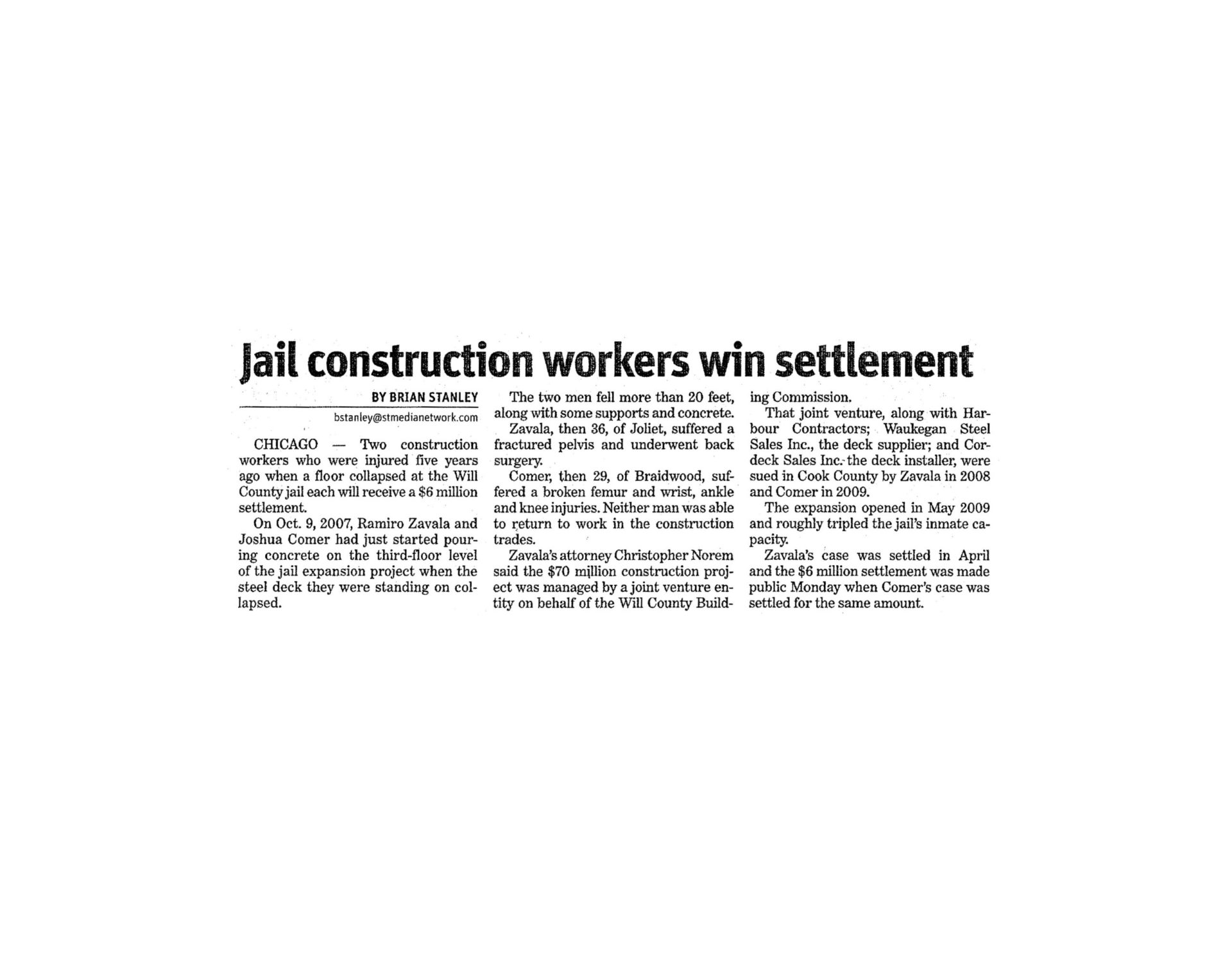 Jail construction worker win settlement
By Brian Stanley // bstanley@stmedianetwork.com
CHICAGO  –  Two construction workers who were injured years ago when a floor collapsed at the Will County jail each will receive a $6 million settlement.
On Oct. 9, 2007, Ramiro Zavala and Joshua Comer had just started pouring concrete on the third-floor level of the jail expansion project when the steel deck they were standing on col- lapsed.
The two men fell more than 20 feet, along with some supports and concrete.
Zavala, then 36, of Joliet, suffered a fractured pelvis and underwent back surgery.
Comer, then 29, of Braidwood, suffered a broken femur and wrist, ankle and knee injuries. Neither man was able to return to work in the construction trades.
Zavala's attorney Christopher Norem said the $70 million construction project was managed by a joint venture entity on behalf of the Will County Building Commission.
That joint venture, along with Harbour Contractors; Waukegan Steel Sales Inc., the deck supplier; and Cordeck Sales Inc. the deck installer, were sued in Cook County by Zavala in 2008 and Comer in 2009.
The expansion opened in May 2009 and roughly tripled the jail's inmate capacity. 
Zavala's case was settled in April and the $6 million settlement was made public Monday when Comer's case was settled for the same amount.
Latest Posts
by Jennifer Gulbrandsen
The Law Offices of Parente & Norem, P.C. is proud to congratulate Christopher M. Norem, Dennis M. Lynch, and Joseph D. Parente for achieving the...
by Jennifer Gulbrandsen
$6.785M settlement (plus the complete waiver of a $269K worker's comp. lien) in the matter of Juan Hernandez Aguilar v. Kinzie Builders,...