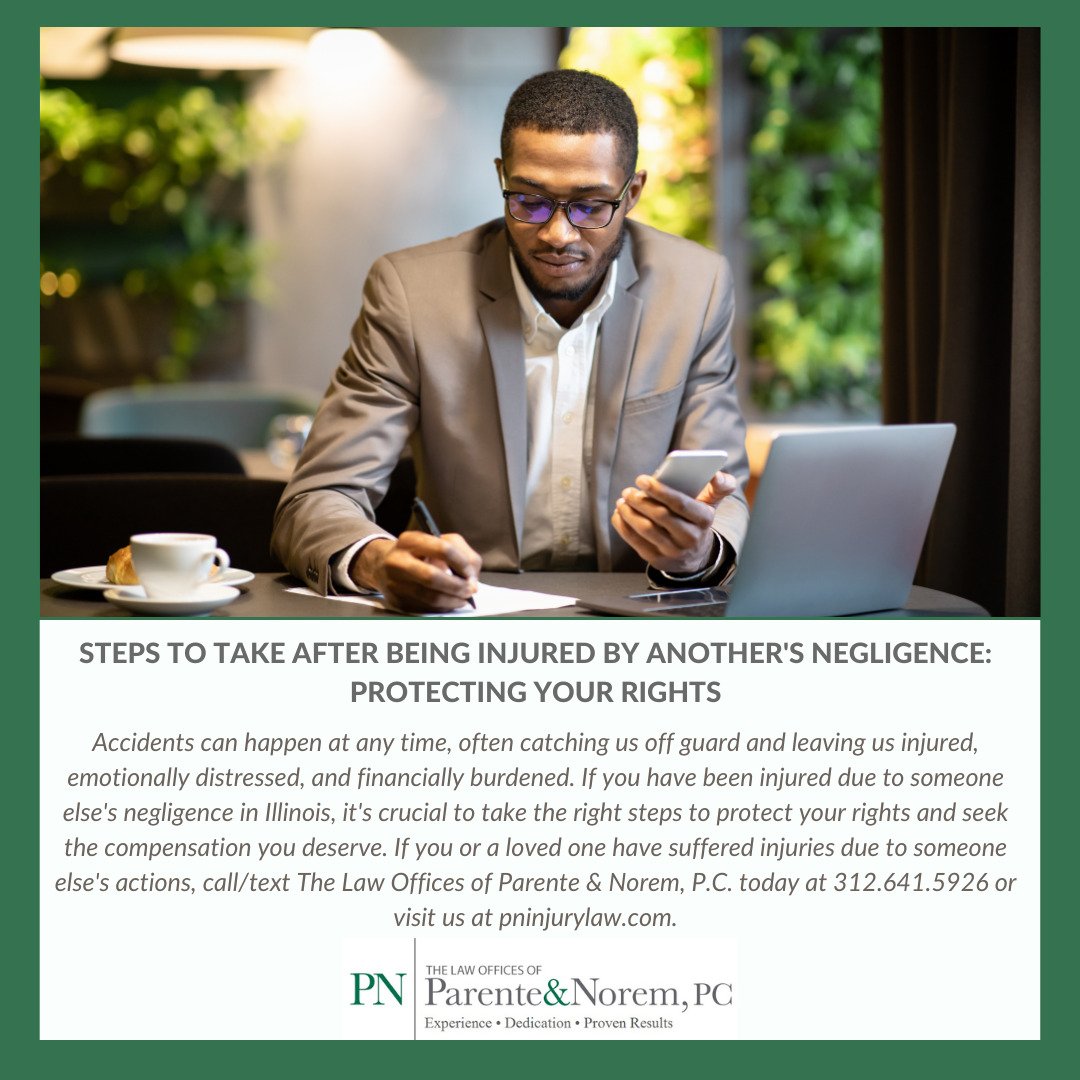 P&N BLOG | Steps to Take After Being Injured by Another's Negligence: Protecting Your Rights
Accidents can happen at any time, often catching us off guard and leaving us injured, emotionally distressed, and financially burdened. If you have been injured due to someone else's negligence in Illinois, it's crucial to take the right steps to protect your rights and seek the compensation you deserve. In this blog post, we'll guide you through the process of handling a personal injury case, highlighting the essential steps you need to take to safeguard your rights.
Seek Medical Attention Immediately
Your health and well-being are the top priority after an injury caused by another's negligence. The first step you must take is to seek medical attention promptly, even if you believe your injuries are minor. Sometimes, injuries can worsen over time, and a medical evaluation will not only ensure your well-being but also create a crucial record of your injuries for your case.
Preserve Evidence
As soon as possible after the incident, gather and preserve any evidence related to the accident and your injuries. This includes taking photographs of the accident scene, any property damage, and your injuries. If there are witnesses, obtain their contact information as their testimonies can be invaluable in supporting your claim.
Notify the Relevant Parties
Inform the responsible parties about the accident and your intention to file a personal injury claim. If it's a slip and fall incident on someone else's property, inform the property owner or manager. If it's a car accident, notify the police and your insurance company. Be cautious when speaking about the accident and avoid admitting fault, as this can be used against you later.
Consult with a Personal Injury Attorney
Navigating the legal complexities of a personal injury case in Illinois can be overwhelming, especially when dealing with injuries and recovery. Hiring a skilled personal injury attorney is essential to protect your rights and ensure fair compensation. Your attorney will guide you through the process, handle communication with insurance companies, and build a strong case on your behalf.
Gather Medical Records and Documentation
To build a robust personal injury claim, you will need detailed medical records and other relevant documentation. Keep track of medical bills, prescriptions, therapy costs, and any other expenses related to your injuries. These documents will help establish the extent of your damages and the compensation you are entitled to receive.
Determine Liability and Damages
Your personal injury attorney will investigate the circumstances of the accident to determine liability, which is crucial for establishing fault. They will also assess the damages you have suffered, including medical expenses, lost wages, pain and suffering, and potential future damages related to your injuries.
Negotiate with Insurance Companies
In many cases, insurance companies will try to offer a low settlement to save money. However, it's important not to accept any offers without consulting your attorney first. Your lawyer will negotiate with the insurance companies on your behalf to ensure you receive fair compensation for your injuries and losses.
File a Lawsuit, If Necessary
If negotiations with the insurance company don't result in a satisfactory settlement, your attorney may advise you to file a personal injury lawsuit. This legal action will initiate the formal process of seeking compensation through the court system.
Mediation and Settlement
Before your case goes to trial, you may have the option to participate in mediation. This process involves both parties and their attorneys discussing the case with the help of a neutral third party mediator. Mediation aims to reach a settlement agreement that is acceptable to both parties, saving time and costs associated with a trial.
Prepare for Trial
If mediation doesn't lead to a resolution, your case will proceed to trial. Your attorney will prepare you for trial, gather additional evidence, and present your case in court. The trial outcome will be determined by a judge or jury, and you will be awarded compensation if the court rules in your favor.
Suffering injuries due to someone else's negligence can be physically, emotionally, and financially draining. However, by taking the right steps, you can protect your rights and seek the compensation you deserve. Seeking medical attention, preserving evidence, and consulting with a personal injury attorney are crucial actions that will help build a strong case. Remember to document all relevant information, negotiate wisely with insurance companies, and be prepared to go to trial if necessary. By following these steps, you increase your chances of obtaining the compensation needed to aid your recovery and move forward with your life.
This article is for informational purposes only and should not be considered legal advice. If you need legal assistance, call/text the Law Offices of Parente & Norem, P.C. to speak with an experienced attorney at 312.641.5926 or fill out a contact form here on our website.
Latest Posts
by Jennifer Gulbrandsen
In the world of personal injury law, negligence is a concept that holds immense significance. It forms the foundation of many personal injury...
by Jennifer Gulbrandsen
The Law Offices of Parente & Norem, P.C. was proud to support the Elevators Local 2 Golf Outing! This outing was held on Saturday, September 16...
by Jennifer Gulbrandsen
The Law Offices of Parente & Norem, P.C. was proud to support the Fox Valley Building Trades Golf Outing! This outing was held on Wednesday,...