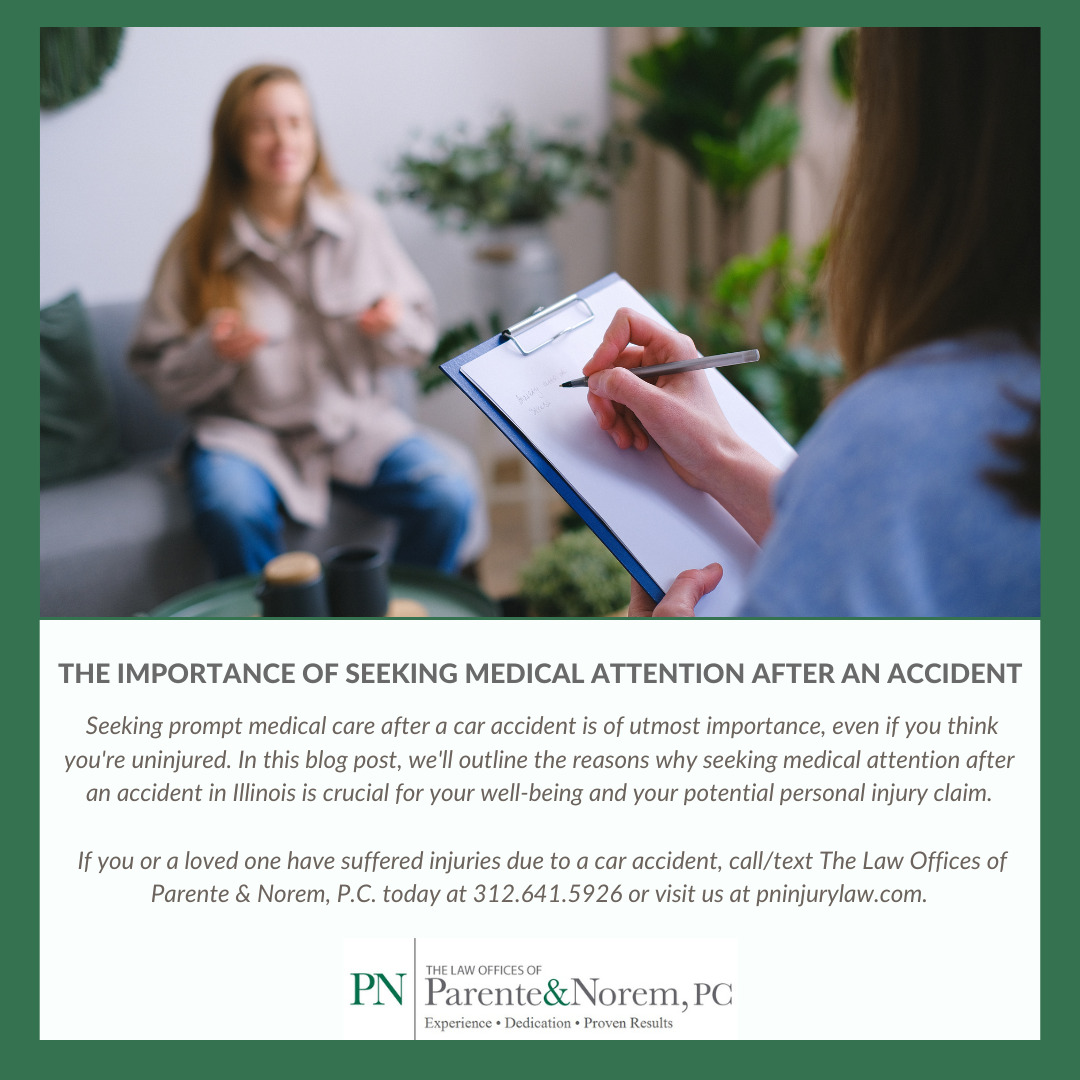 P&N BLOG | The Importance of Seeking Medical Attention After an Accident
Car accidents can be frightening and chaotic experiences, leaving victims overwhelmed and unsure of what to do next. In the aftermath of a collision, immediate medical attention might be the last thing on your mind, especially if the accident seems minor or if you're feeling relatively okay. However, seeking prompt medical care after a car accident is of utmost importance, even if you think you're uninjured. In this blog post, we'll outline the reasons why seeking medical attention after an accident in Illinois is crucial for your well-being and your potential personal injury claim.
The Hidden Dangers of Delayed Symptoms
After a car accident, your body can release adrenaline, a natural response to the shock and stress of the incident. This adrenaline surge may mask pain and injuries, making you believe you are unscathed. However, this can be deceptive, as many car accident injuries do not manifest immediate symptoms. Delayed symptoms can arise hours, days, or even weeks after the accident, and failing to address them promptly can lead to complications and worsened conditions.
This Healthline article on "Dizziness After a Car Accident" highlights how dizziness can be one such delayed symptom, indicating potential head or neck injuries. Other symptoms to watch out for include headaches, neck and back pain, and numbness or tingling in extremities.
Preserving Your Right to Compensation
If you are considering filing a personal injury claim following a car accident, seeking immediate medical attention is vital for preserving your legal rights. The Illinois statute of limitations sets a time limit within which you must file a personal injury lawsuit. By delaying medical treatment, you risk missing crucial evidence connecting your injuries to the accident, which could weaken your case.
According to Forbes, medical records serve as essential evidence in personal injury claims, substantiating the extent of your injuries and the treatments received. Insurance companies and opposing parties may use any gaps in medical treatment to argue that your injuries were not caused by the accident or were not severe enough to warrant compensation.
Establishing Causation and Damages
Prompt medical attention not only strengthens your personal injury claim but also helps establish a direct link between the accident and your injuries. When you seek medical care immediately, it creates a clear timeline of events, making it easier to demonstrate that your injuries were caused by the accident.
As stated in the AARP article on "What to Do After a Car Accident," obtaining a thorough medical evaluation after the accident can help identify less visible injuries, such as internal damage or soft tissue injuries, that may not be immediately apparent. Having a comprehensive medical report can provide the necessary evidence to pursue compensation for the full extent of your damages.
Mitigating Long-Term Consequences
Failure to seek immediate medical attention can exacerbate injuries and lead to long-term consequences. Undiagnosed or untreated injuries can develop into chronic conditions, causing chronic pain, mobility issues, and reduced quality of life.
The National Law Review article on the "10 Biggest Mistakes Made After a Car Accident" emphasizes that some injuries, like concussions, may not show symptoms right away, but they can have severe implications if left untreated. Timely medical care can prevent such injuries from deteriorating and help you receive appropriate treatment, reducing the likelihood of long-term complications.
Adhering to the "Duty to Mitigate" Principle
In Illinois, the legal principle of "duty to mitigate" applies to personal injury cases. This means that as a victim, you have a legal obligation to take reasonable steps to minimize the impact of your injuries and mitigate the damages. Seeking immediate medical attention is a fundamental aspect of fulfilling this duty.
According to Nolo's article on "Get Necessary Medical Care After Your Car Accident," failure to comply with the duty to mitigate principle could potentially reduce the compensation you receive. Insurance companies and courts may argue that your failure to seek timely medical attention worsened your injuries, and therefore, you should bear responsibility for the increased damages.
Seeking immediate medical attention after a car accident is a critical step that should never be overlooked or delayed. Not only does it prioritize your well-being and ensure that hidden injuries are discovered and treated promptly, but it also plays a pivotal role in strengthening your potential personal injury claim. By documenting your injuries, obtaining medical records, and establishing causation, you are better equipped to pursue fair compensation for your damages and protect your legal rights.
Remember, your health and well-being are paramount, and seeking medical attention after an accident is the first step towards healing and regaining control over your life. Always consult with a personal injury attorney to understand your rights and options fully and to navigate the complex legal process effectively. If you or a loved one have been injured in an accident, call/text The Law Offices of Parente & Norem, P.C. today to speak with one of our experienced attorneys today at 312.641.5926, or fill out a contact form here on our website.
Latest Posts
by Jennifer Gulbrandsen
In the world of personal injury law, negligence is a concept that holds immense significance. It forms the foundation of many personal injury...
by Jennifer Gulbrandsen
The Law Offices of Parente & Norem, P.C. was proud to support the Elevators Local 2 Golf Outing! This outing was held on Saturday, September 16...
by Jennifer Gulbrandsen
The Law Offices of Parente & Norem, P.C. was proud to support the Fox Valley Building Trades Golf Outing! This outing was held on Wednesday,...