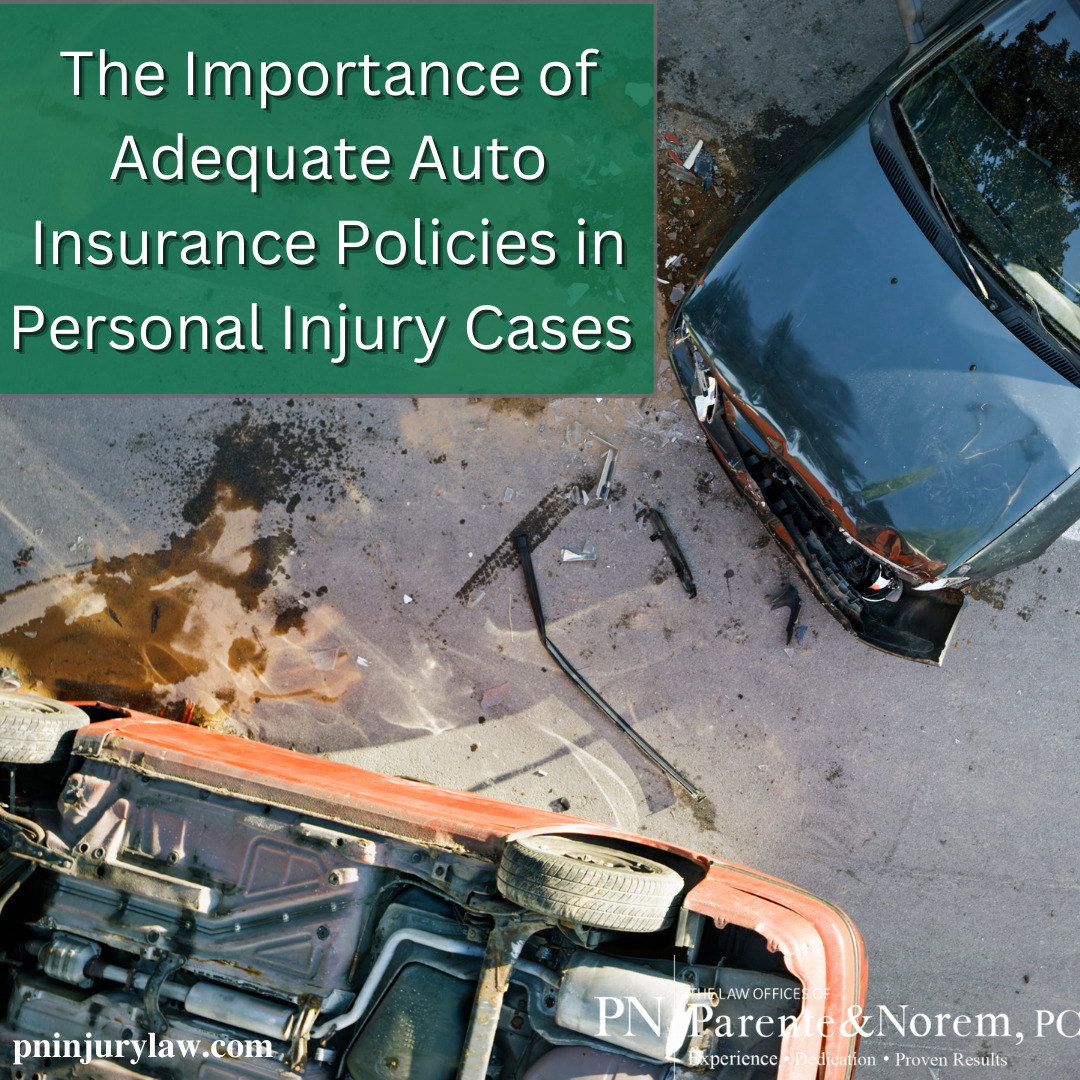 P&N BLOG | The Importance of Adequate Auto Insurance Policies in Personal Injury Cases
Car accidents can happen to anyone, anywhere, and anytime. Injuries can range from minor bruises to life-changing disabilities that require lifelong medical care. When you are involved in an accident, the insurance policies you have will determine the compensation you will receive for your injuries and damages incurred. In Illinois, having adequate auto insurance coverage is crucial, especially in personal injury cases. This blog will emphasize the importance of having sufficient auto insurance coverage for personal injury cases in Illinois.
Importance of Auto Insurance Policies
Auto insurance policies are essential because they provide coverage for injuries and damages incurred in accidents that are the insured's responsibility. It compensates injured parties who suffered various losses, including medical expenses, lost wages, pain, and suffering, and other economic and non-economic damages. Auto insurance policies provide a safety net for unforeseen events that could occur while driving.
The State of Illinois Auto Insurance Law
In Illinois, it is mandatory to have basic auto insurance coverage, which consists of minimum liability insurance limits of 25/50/20. This means that for an accident-caused by the insured, the insurance company will pay up to $25,000 for bodily injury per person, $50,000 for all injured persons in an accident, and up to $20,000 for property damage. However, these minimum limits may not be enough to cover damages and injuries that result from accidents that are at or beyond the limits of your insurance policy. Therefore, it is crucial to have adequate insurance coverage in case of personal injury cases.
The Importance of Having An Adequate Auto Insurance Policy
In Illinois, personal injury cases are initiated by making claims towards the at-fault party's insurance company. In the case that the at-fault party's insurance limits are insufficient to cover your damages and injuries adequately, you need to have the most extensive coverage available under your insurance policy to contain the further costs that you may incur.
It is essential to consider high-limit insurance policies that offer coverage beyond the Illinois minimum liability limits. Moreover, you can also consider purchasing added protection, such as underinsured or uninsured motorist coverage, to protect you in the case of an accident caused by an uninsured or underinsured driver. This extra coverage can be the difference between significant financial hardship or just a minor inconvenience in the event of an accident.
Auto insurance policies are critical to mitigating the damages and costs incurred following a car accident. In Illinois, personal injury claimants rely primarily on the insurance policies of the at-fault party to receive compensation for their damages and injuries. Therefore, it is crucial to have adequate auto insurance coverage to protect you from financial hardship that could arise from an accident. Having high-limit coverage and supplementary coverage, in addition to the mandatory minimum requirements, are essential to ensure that you are fully protected during an accident. So be sure to get yourself the best insurance policy for your driving needs and have peace of mind when you're behind the wheel.
Latest Posts
by Jennifer Gulbrandsen
In the world of personal injury law, negligence is a concept that holds immense significance. It forms the foundation of many personal injury...
by Jennifer Gulbrandsen
The Law Offices of Parente & Norem, P.C. was proud to support the Elevators Local 2 Golf Outing! This outing was held on Saturday, September 16...
by Jennifer Gulbrandsen
The Law Offices of Parente & Norem, P.C. was proud to support the Fox Valley Building Trades Golf Outing! This outing was held on Wednesday,...