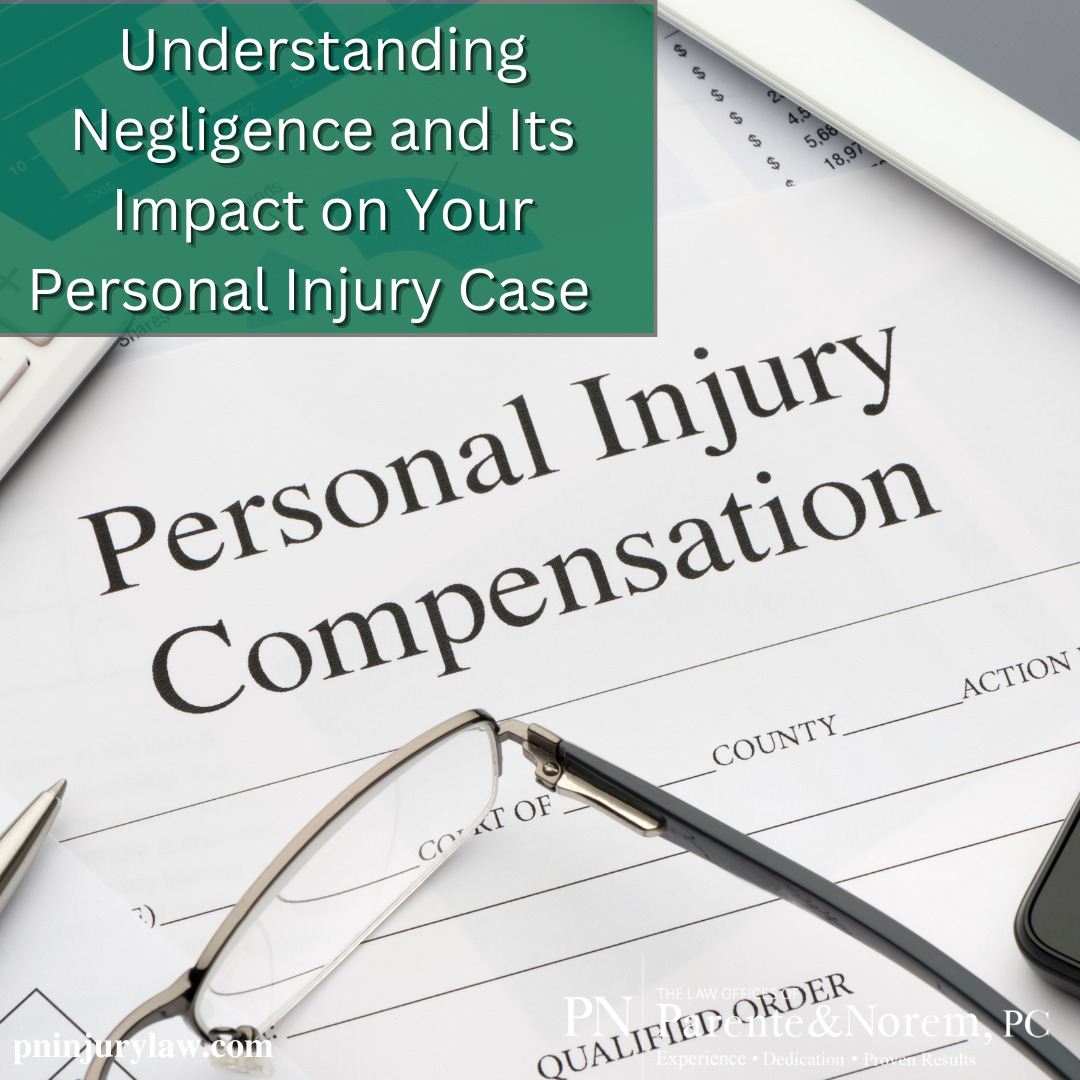 P&N BLOG | Understanding Negligence and Its Impact on Your Personal Injury Case
In the world of personal injury law, negligence is a concept that holds immense significance. It forms the foundation of many personal injury claims, and understanding what it entails can be instrumental in seeking compensation for injuries and damages resulting from someone else's carelessness. In this blog post, we will explore the intricacies of negligence, how it impacts personal injury cases, and what you need to know to prove it in your claim.
Defining Negligence
Negligence, in legal terms, is the failure to exercise an appropriate level of care. It occurs when someone's actions or inaction fall below a legally recognized standard of care, resulting in harm or damages to another person. Simply put, if an individual is careless, and this carelessness leads to harm, they can be held liable for their negligent conduct.
Elements of Proving Negligence
To establish a negligence claim and seek compensation, you, as the plaintiff (the injured party), must demonstrate three essential elements:
Duty of Care: This is the first element and involves showing that the defendant (the person responsible for the injury) owed you a duty of care. Duty of care arises when the law recognizes a specific relationship between you and the defendant that requires the defendant to exercise a certain standard of care to avoid causing harm.
Breach of Duty: The second element requires proving that the defendant breached their duty of care. A breach occurs when the defendant fails to meet the recognized standard of care required under the circumstances.
Causation: The third element connects the defendant's breach of duty to the injuries or damages you sustained. It must be established that the defendant's negligence directly caused the harm you experienced.
Let's take a closer look at each of these elements:
Establishing a Duty of Care
In most situations, the law imposes a general duty on individuals to act with "reasonable care" or "due care" when their actions could foreseeably harm others. Reasonable care is defined as the level of care that a "reasonably prudent person" would exercise in a similar situation. However, specific circumstances may dictate a higher or more specialized duty of care, such as in premises liability cases or when dealing with common carriers.
Establishing a Breach of Duty
Once you've established the duty of care owed by the defendant, the next step is to prove that the defendant breached this duty. There is no fixed formula for determining a breach; it's a question decided by a judge or jury. Often, negligence is framed in terms of foreseeability: would an ordinary person in the defendant's position have anticipated that their conduct could have caused the harm? If so, the conduct is deemed negligent. In cases involving professionals, experts may be called upon to testify regarding industry norms and whether the professional's actions aligned with those norms.
Establishing Causation
Before the court holds the defendant liable, you must demonstrate that the defendant's carelessness directly caused your injury. To determine causation, ask whether the harm would have occurred if the defendant hadn't acted as they did. If the answer is no, then the defendant's actions caused the harm. Causation can become complex when experts disagree on whether a specific action led to an injury, requiring thorough examination and evidence.
How Negligence Impacts Compensation
Negligence is a pivotal factor in determining compensation in personal injury cases. When someone's negligence results in your injuries, it plays a critical role in your ability to seek compensation for the harm you've endured. The extent of compensation depends on several factors, including:
The Duration of Injury: Compensation is often higher for injuries that have long-lasting effects, as they can significantly impact your life, both physically and financially.
Permanent or Long-lasting Injuries: In cases where injuries result in permanent disabilities or ongoing medical treatment, compensation is typically higher to cover these future expenses.
Medical Expenses: The cost of medical bills, including past and future expenses, is a crucial factor in determining compensation. This includes hospital bills, surgeries, medications, therapy, and rehabilitation.
Lost Wages: If your injuries have caused you to miss work or have diminished your earning capacity, compensation may include reimbursement for lost wages and potential future income.
Negligence is not just a legal concept but a fundamental principle that shapes personal injury cases. When someone's carelessness leads to harm, understanding the elements of negligence and how they apply to your case is essential. If you believe you have been a victim of negligence, seeking legal representation from an experienced personal injury attorney is the first step toward pursuing the compensation you deserve. Remember, negligence is about accountability, ensuring that those responsible for your injuries are held liable for their actions. With the right legal guidance, you can navigate the complexities of negligence and work towards a fair resolution for your personal injury claim. If you or a loved one have been injured due to another's negligence, call/text The Law Offices of Parente & Norem, P.C. at 312.641.5926 for a free consultation with one of our experienced trial attorneys, or fill out a contact form here on our website.
Latest Posts
by Jennifer Gulbrandsen
The Law Offices of Parente & Norem, P.C. was proud to attend Roofers Local 11 Apprenticeship Program! This event was held on Saturday, December...
by Jennifer Gulbrandsen
Thanksgiving is a time for gratitude, family, and, inevitably, travel. As we prepare for the festivities of Thanksgiving 2023, a familiar challenge...
by Jennifer Gulbrandsen
The Law Offices of Parente & Norem, P.C. would like to congratulate Chris Norem and Dennis Lynch, who were honored last Wednesday at the 2023...